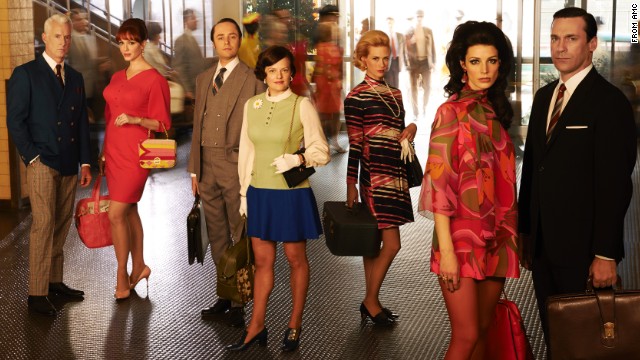 In honor of the last season of "Mad Men," we look back at the television show's wardrobe, which reflects the 1960s and inspired modern looks.
Wearing dark, formal suits was a nearly century-old tradition by the time "Mad Men" ad men donned identical looks -- with highballs -- at the Sterling Cooper agency in 1960. Their suits' slim silhouettes came from the returning WWII soldiers' athletic figures, said University of Notre Dame history professor and author Linda Przybyszewski. Suits narrowed in the shoulders, torso and legs to fit the new physique.
The Peter Pan collar Peggy wears in the first season of "Mad Men" was popular in the early 1960s, and signaled the emergence of youth-oriented fashion, Przybyszewski said. At the time, Joan's bow collar was considered feminine and restrained. In the '70s, bow collars would plunge to new, revealing lengths.
Housewives like Betty Draper were expected to wear cheerful colors in 1960 because they dealt with children and the home, Przybyszewsi said. They also represented life in the suburbs; women working in offices in the city wore darker, muted colors and more formal attire.
This outfit, which Joan wore in the second season, is a great example of early 1960s minimalism, Przybyszewski said. The sweater and pencil skirt are fitted and accessorized simply, which felt modern in the 1960s.
The maternity ensemble Betty wears in the third season represents a social norm about privacy that eroded as the 1960s came to a close. The concealing nature of her outfit maintained the idea that a woman's body and personal life were only to be clear to intimate relations, Przybyszewski said.
Roger Sterling's three-piece suit in the fourth season represents the division of public and private at the office, Przybyszewski said. Even in 1964, a businessman would keep his jacket on to meet clients, and take it off only in the privacy of his office.
The episode "The Beautiful Women" from the fourth season took place in 1965 and showed the different trajectories of three professional women's lives. Peggy's hat and gloves indicate formality in the workplace that starts to erode quickly within the next few years, Przybyszewski said.
Bare arms, short hemlines and plaid jackets, oh my! In 1966, busy patterns and bright colors became part of the decade's signature fashion, Przybyszewski said. At the time, short dresses led some men to rate women's exposed legs, with some of those "reviews" published in newspapers, she said.
"It looks like a convention of men selling used cars," Przybyszewski said of the bold blazers worn in the fifth season of "Mad Men." Ad men would never wear these outfits to the office in 1966, but it signifies a move away from their previously slender silhouettes. "Many a large person has been scared off from wearing plaids," she said. "Plaids always look bigger."
By the sixth season, it was 1968 and Megan Draper embodies the spirit of fashion experimentation, Przybyszewski said. Megan and Arlene are "supergroomed, superkempt," she said, as they take on new personas with wigs, caftans, colors and silhouettes. "It's an interesting '60s phenomenon that utterly disappears," she said.
Black women carried a heavy style burden when their workplaces were run by white people, like Sterling Cooper Draper Price, Przybyszewski said. Many felt pressure to dress better than anyone else in the workplace, she said, and they still faced judgment -- especially of their hair -- from white and African-American colleagues alike.
After Don Draper's personal crisis in the sixth season left Peggy to try to assume his role, she looks every bit the executive, Przybyszewsi said -- and every bit the fashion leader. Her knitwear ensemble was meant to show she has more important things to do than iron shirts.
The advertising industry has always been opportunistic when it comes to new ideas, and so is fashion, Przybyszewski said. Maybe the "Mad Men" execs weren't ready to don dashikis and beads -- yet -- but they surely tried to capture some of the groovy, creative spirit they suggested in the late 1960s.
Over eight years in the "Mad Men" world, hemlines for women raised nearly as many inches, Przybyszewski said. By 1968, miniskirts were so engrained in the public that women came up with solutions for flashing people when sitting down. One banker from Miami, interviewed by TIME magazine, said his office's solution was to make women wear matching underpants, she said.
The seventh and final season of "Mad Men" will debut on April 13, and it's not clear in what years it will unfold. But with wild cravats, bolero ties, daisy broaches and fringed jackets, these advertisers are suiting up like the creatives of the late '60s, Przybyszewski said. "If you're in a creative field, you have to dress creatively," she said of this promotional photo. "These guys are living it."
In this promotional photo for the seventh season, Joan opts out of the "it dress" of the 1960s -- a mini-skirted A-line that "made everyone look stumpy," Przybyszewski said. In order to carry off the look of the day, many women lost weight to emulate models like Twiggy, she said.
The Francis family shows off some fancy traveling duds in this promotional photo for the seventh season. Notice that the boys are wearing sneakers, but they're also wearing a vest and tie, she said. Sally's style is fashion forward but still formal, and appropriate for airplane travel at the time.
Don and Megan Draper show up to the airport in fashionably bright colors in this promotional photo for the seventh season. While researching 1960s fashion, Przybyszewski was surprised to find that women's dresses in the late 1960s could be even shorter than Megan's. The money spent on tights and pantyhose worn with these dresses was "mind boggling," she said.
Evolution of 'Mad Men' fashion
1960: Evolution of 'Mad Men' fashion
1960: Evolution of 'Mad Men' fashion
1960: Evolution of 'Mad Men' fashion
1962: Evolution of 'Mad Men' fashion
1963: Evolution of 'Mad Men' fashion
1964: Evolution of 'Mad Men' fashion
1965: Evolution of 'Mad Men' fashion
1966: Evolution of 'Mad Men' fashion
1966: Evolution of 'Mad Men' fashion
1968: Evolution of 'Mad Men' fashion
1968: Evolution of 'Mad Men' fashion
1968: Evolution of 'Mad Men' fashion
1968: Evolution of 'Mad Men' fashion
1968: Evolution of 'Mad Men' fashion
Evolution of 'Mad Men' fashion
Evolution of 'Mad Men' fashion
Evolution of 'Mad Men' fashion
Evolution of 'Mad Men' fashion