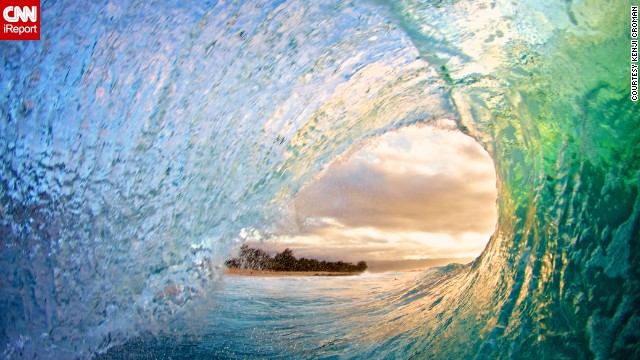 Kenji Croman's love of the ocean became the focus of his photography in 2008. Croman says he took this shot at Rocky Point on the North Shore of Oahu, Hawaii. "The sunset was absolutely amazing."
As a competitive swimmer and body surfer, Croman could never find the words to describe what the experience of riding a large ocean wave was like to family and friends, so he decided to let his pictures speak for him.
Using a slow shutter speed, Croman was able to make the waves on Ke Iki Beach in Oahu, Hawaii, look like they were breaking on the shore in slow motion. "The waves get so nice here, and I proposed to my wife here," he says.
Croman shot this wave on Sandy Beach in Oahu using a slow shutter speed with a flash. This technique, he says, is very difficult because the photos usually come out blurry. "But this photo actually made me dedicate the rest of the summer to perfecting this type of style."
Croman took this photo "while a big wave was passing above me." The good lighting enabled him to capture the air vortex bands in the waves, he says.
Croman will never forget the day he took this photo at Big Beach on Maui. The waves were the best he had seen in 10 years. "My camera got wet, and I was unable to take any additional photos," he said. "I got too excited and I didn't tighten my water housing correctly."
It took Croman six months to get what he calls "the Shot," taken at Sandy Beach. He woke up at 4:30 every morning to try and photograph the sun inside the barrel of a wave.
Croman says there was no special technique he used to get this shot. Where did he take it? "This is one of the places I'm not allowed to mention because the locals asked me not to."
Photographing waves from this angle makes it seem like they are rising and breaking in slow motion, which is exactly how Croman sees them.
Croman used a slow shutter speed to capture a surfer going through a wave at Ehukai Beach Park on Oahu's North Shore.
"This is a shot from the back of a wave as it passes me" at Sandy Beach.
Croman loves photographing waves when the sun is rising over Sandy Beach.
Croman took this photo during the pitch-black night at Sandy Beach in Oahu, using special flashes to make the waves look like lava. "I've been trying to perfect this shot for a couple months now," he says. "These are the first ones that I got that I truly like."
The next great break
The next great break
The next great break
The next great break
The next great break
The next great break
The next great break
The next great break
The next great break
The next great break
The next great break
The next great break
The next great break