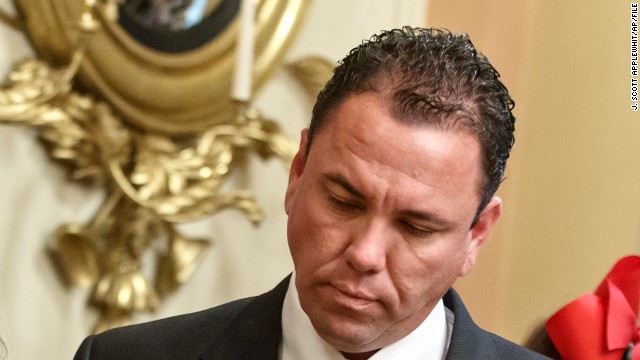 Rep. Vance McAllister, shown here as he awaits to be sworn in to the House last fall, asked for forgiveness from God, his family and his constituents after a newspaper published what it said was surveillance video showing the married Louisiana Republican making out with a female staffer. Click through the images for some other politicians behaving badly.
Toronto Mayor Rob Ford addresses members of the media outside his office in Toronto, on November 7, after the release of a video showing Ford in a rage. Ford has admitted smoking crack cocaine.
Former U.S. Rep. Jesse Jackson Jr., D-Illinois, and his wife, Sandra, arrive at federal court in Washington on August 14, 2013, for sentencing. Jackson was sentenced to 30 months in prison for improper use of campaign funds, while his wife got 12 months for filing false tax returns.
Former Illinois Gov. Rod Blagojevich was sentenced to 14 years in prison in 2012 after being convicted of 18 criminal counts, including trying to sell the appointment to fill the U.S. Senate seat vacated by President Barack Obama's election as president.
Former House Majority Leader Tom DeLay, R-Texas, leaves the Travis County Jail in Austin, Texas, after being sentenced to three years in prison, with probation in 2011, for money laundering and conspiracy.
Lewis "Scooter" Libby, former Vice President Dick Cheney's chief of staff, was convicted in 2007 of obstructing a federal investigation into who revealed the identity of CIA agent Valerie Plame Wilson. He was sentenced to 30 months in prison and fined $250,000, but former President George W. Bush commuted his sentence.
Former U.S. Rep. William Jefferson, D-Louisiana, was sentenced to 13 years in prison in 2009 after being convicted of 11 counts of corruption related to using his office to solicit bribes. He was also ordered to forfeit $470,000.
Former U.S. Rep. Bob Ney, R-Ohio, was sentenced to 30 months in prison in 2007 after being convicted of conspiracy to commit fraud and making false statements to investigators.
U.S. Rep. James Traficant Jr., D-Ohio, spent seven years in prison after being convicted of bribery and corruption and tax evasion charges in 2002.
Former U.S. Rep. Randy "Duke" Cunningham, R-California, was sentenced in 2006 to eight years in prison after he was convicted of collecting $2.4 million in homes, yachts, antique furnishings and other bribes on a scale unparalleled in the history of Congress.
The late Rep. Dan Rostenkowski, D-Illinois, lost his seat in the Republican landslide of 1994 amid corruption charges. He served a year in prison after his 1996 conviction, then was pardoned by President Bill Clinton. He died in August 2010.
Photos: Politicians behaving badly
Photos: Politicians behaving badly
Politicians behaving badly
Politicians behaving badly
Politicians behaving badly
Politicians behaving badly
Politicians behaving badly
Politicians behaving badly
Politicians behaving badly
Politicians behaving badly
Politicians behaving badly