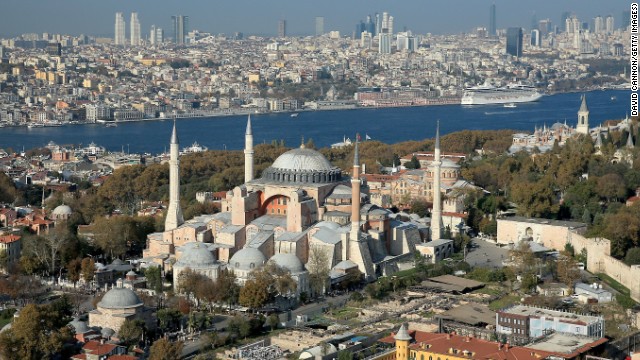 Istanbul jumped 11 spots from last year to take this year's No. 1 spot on TripAdvisor's Travelers' Choice list of global destinations.
Rome jumped two spots to No. 2.
London maintained its No. 3 ranking.
Beijing jumped 17 spots to the No. 4 ranking on the global list.
Prague climbed four rungs to secure the No. 5 ranking.
Marrakech is the sixth-ranked destination for 2014, jumping 13 spots from last year.
Paris took a tumble, falling six spots to No. 7.
A newcomer to the top 25, Hanoi is ranked at No. 8.
Siem Reap, Cambodia, jumped 14 spots to No. 9.
Gaining 12 spots, Shanghai comes in at No. 10.
Berlin maintained its 11th place ranking.
New York City fell 10 spots from last year, landing at No. 12.
Florence fell five spots to No. 13.
Buenos Aires climbed four rungs to No. 14.
Barcelona fell 10 spots to No. 15.
St. Petersburg jumped four spots to No. 16.
New to the top 25, Dubai sailed in at No. 17.
Chicago dropped four rungs to No. 18.
Cape Town dropped three spots to No. 19.
Bangkok dropped seven spots to No. 20. Click the double arrow to continue the gallery.
Budapest broke into the top 25 at No. 21 this year.
Sydney dropped 12 spots to No. 22.
At No. 23, Lisbon breaks into the top 25 global destinations this year.
Chiang Mai maintained its No. 24 ranking.
San Francisco tumbled 18 spots this year to round out the top 25.
TripAdvisor's top 2014 destinations
Rome
London
Beijing
Prague, Czech Republic
Marrakech, Morocco
Paris
Hanoi
Siem Reap
Shanghai
Berlin
New York
Florence, Italy
Buenos Aires
Barcelona, Spain
St. Petersburg, Russia
Dubai, United Arab Emirates
Chicago, Illinois
Cape Town, South Africa
Bangkok, Thailand
Budapest, Hungary
Sydney, Australia
Lisbon, Portugal
Chiang Mai, Thailand
San Francisco, California