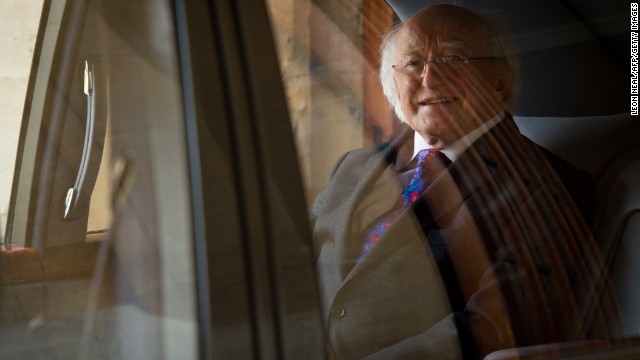 Irish President Michael D. Higgins leaves Windsor Castle in southern England on Friday, April 11, at the end of his official visit to the United Kingdom. Higgins is the first Irish head of state to make a state visit to the UK.
Queen Elizabeth II greets Northern Ireland Deputy First Minister Martin McGuinness, left, and First Minister Peter Robinson, second from left, and Theresa Villiers, Britain's secretary of state for Northern Ireland, during a reception at Windsor Castle on Thursday, April 10. Higgins is at the right at the Northern Ireland-themed event.
Higgins and his wife, Sabina, meet the Queen's race horses Micras and Enliven in Newbury, England, on April 10.
British Prime Minister David Cameron talks with Higgins outside 10 Downing St. in London on Wednesday, April 9.
Prince Andrew, Duke of York, shows Higgins and his wife, Sabina, the Colors of the Disbanded Irish Regiments at Windsor Castle on April 9.
A state banquet was held at Windsor Castle in honor of Higgins' visit on Tuesday, April 8. Queen Elizabeth II gave a speech.
Queen Elizabeth, center, stands with Higgins and his wife during an official welcoming ceremony April 8 in Windsor, England.
From left, Sabina Higgins, Queen Elizabeth, President Higgins and the queen's husband, Prince Philip, inspect the guard at Windsor Castle on April 8.
Higgins inspects a guard of honor at Windsor Castle on April 8.
Higgins and Queen Elizabeth travel by state carriage toward Windsor Castle on April 8.
At the start of his visit on April 8, Higgins shakes hands with Britain's Prince Charles at the Irish Embassy in London.
Irish President's historic UK visit
Irish President's historic UK visit
Irish President's historic UK visit
Irish President's historic UK visit
Irish President's historic UK visit
Irish President's historic UK visit
Irish President's historic UK visit
Irish President's historic UK visit
Irish President's historic UK visit
Irish President's historic UK visit
Irish President's historic UK visit