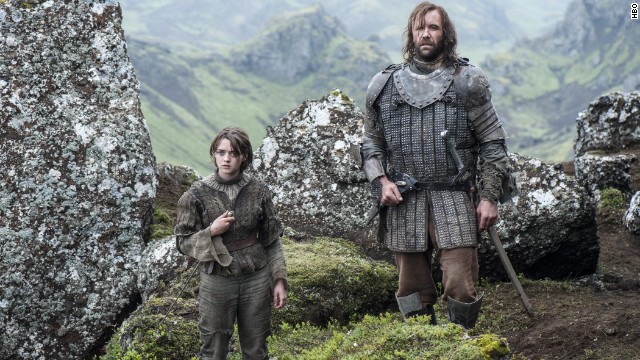 In HBO's "Game of Thrones," a robust cast of lords and ladies all plot to claim the Iron Throne and rule the Seven Kingdoms of Westeros. Between the beheadings and the house mottos, it can be easy to lose track of who does what. Here's a brief guide to who's who (while they're still here):
Jon Snow (Kit Harington): From bastard son to wildling lover, Jon Snow and his immaculate medieval tresses have had quite the journey. Jon vowed to be loyal to the Night's Watch -- the ragtag group who stand guard at the icy North wall on high alert for the fantastical (the zombie-like White Walkers) and the free (wildlings) -- and he's held true to that promise even after a detour in the arms of wildling Ygritte. Sadly, by the end of season four, that romance is dead.
Tyrion Lannister (Peter Dinklage): With his sharp wit and swift thinking, Peter Dinklage's Tyrion Lannister has managed to stay alive through all three seasons of "Game of Thrones," although the fourth season has been even dicier. A Lannister and therefore the son of the wealthiest guy around, Tyrion is nonetheless despised by his family because of his size and their belief that he "killed" their mother during childbirth.
Daenerys Targaryen (Emilia Clarke): As one of the few surviving descendants of the Targaryen family, Daenerys has a lot of expectations riding on her platinum-haired head. But, much to our enjoyment, she has risen to and surpassed all of them. Once nothing more than an offering for a king, Daenerys -- called Khaleesi, or queen, by the Dothraki people she once helped rule -- has morphed into a Mother of Dragons who insists on justice and is a formidable foe in the "Game of Thrones."
Joffrey Baratheon (Jack Gleeson): In the pantheon of most-hated TV characters, "Game of Thrones'" boy king Joffrey has to be one of the top choices. He's petulant, cruel and too immature to rule, but don't tell him that or he'll have your tongue. The most delicious part for the viewers at home is that he's not the rightful heir to the Iron Throne that he thinks he is, although that didn't stop his reign of terror. In our personal opinions, we'd say the Purple Wedding was one of Joff's best scenes.
Arya Stark (Maisie Williams): Much of Arya's family has been sent to their graves by one wicked person or another, but the young swordswoman is still kicking. With Sandor "The Hound" Clegane at her side imparting lessons in mercilessness and self-preservation, the orphaned Arya is surviving.
Cersei Lannister (Lena Headey): Cersei has become more or less your stereotypical evil queen, albeit one who has zero issues with incest. After helping her son Joffrey take the throne, Cersei tried to rule alongside her son only to have him overtake her will. During season four, when not being as cruel as ever, she's been a central character in a rich debate on the show's treatment of sexual violence.
Jaime Lannister (Nikolaj Coster-Waldau): Jaime Lannister began the "Game of Thrones" as a pretty despicable character, one who had no compunction about throwing a 10-year-old from a window. But over the course of season three this lovesick nobleman was put through his paces, losing the very limb that helped him become so powerful.
Theon Greyjoy (Alfie Allen): If you find yourself confused as to who exactly Theon Greyjoy is, don't feel bad: he is, too. Once the ward of the House of Stark, Theon betrayed those who were like family to him to claim a noble title that lasted for essentially a nanosecond. That led to Theon suffering as a prisoner and punching bag for Bastard of Bolton Ramsay Snow, who has the guy thinking his name is "Reek."
Sandor "The Hound" Clegane (Rory McCann): A killer to the bone but not without a heart, Sandor, or "The Hound" as he's known, was once a bodyguard for King Joffrey but deserted his post. He then tried to take Arya Stark hostage in hopes he could exchange her for ransom, but that plan -- much to Arya's amusement -- didn't work out so well.
Bran Stark (Isaac Hempstead Wright): Bran Stark, the middle son of the House of Stark, was left crippled from the very first episode of "Game of Thrones" but has gained a gift for visions. With his faithful Hodor (Kristian Nairn) by his side for mobility, the now orphaned Bran has gone beyond the Wall in search of the three-eyed Raven he frequently sees in visions.
Sansa Stark (Sophie Turner): Sansa Stark/Sansa Lannister is a character many love to hate, because she started out as pretty insufferable. But after being ridiculed and tortured by Joffrey Lannister, her former fiance, and held captive by him and his family, we've come around. Not unlike her younger sister Arya, Sansa has started to learn the rules of the "Game," and by the end of season four begins to deftly play by them.
Tywin Lannister (Charles Dance): No matter who's worn the crown on "Game of Thrones," Tywin Lannister was always somewhere scheming to keep the Lannister family's legacy rich in money and power. He's alsoe the evil mastermind behind the hideous Red Wedding in the third season.
Oberyn Martell (Pedro Pascal): Arriving at King's Landing for the first time in season four, Martell is from Dorne, in the southern reaches of the Seven Kingdoms, where passions run hot and slights are not forgotten. Weigh that against the fact that his sister was killed by Lannister soldiers and you have a recipe for trouble.
Ygritte (Rose Leslie): Ygritte, one of the Free Folk who live beyond the Wall and are known derogatorily as wildlings by those in the Seven Kingdoms, is proud of her people and deadly with a bow and arrow. Her skill couldn't protect her from an orphan's revenge, however.
Stannis Baratheon (Stephen Dillane): As a brother to the late King Robert Baratheon -- who held the throne before his son-in-name-only Joffrey took over -- Stannis Baratheon knows he has a rightful claim to the crown. He's gone into battle trying to seal his position, and regularly turns to the magic of creepy "Red Priestess" Melisandre (Carice van Houten) for help.
Melisandre (Carice van Houten): Known as the Red Priestess, Melisandre's magic is lethal, but Stannis Baratheon doesn't seem to mind when her power helps him move closer to the Iron Throne.
'Game of Thrones': Who's who in Westeros
Who's who in Westeros
Who's who in Westeros
Who's who in Westeros
Who's who in Westeros
Who's who in Westeros
Who's who in Westeros
Who's who in Westeros
Who's who in Westeros
Who's who in Westeros
Who's who in Westeros
Who's who in Westeros
Who's who in Westeros
Who's who in Westeros
Who's who in Westeros
Who's who in Westeros
Who's who in Westeros
STORY HIGHLIGHTS
"Game of Thrones" returns to HBO on April 6 for its fourth season
The fantasy epic promises more surprises, and blood, after the "Red Wedding"
Actor: "GoT" has set a new standard for television
Stories from the set include dead rabbits and pig manure
(CNN) -- If you thought the Red Wedding was rough, "Game of Thrones" promises more blood and brutality when it returns to HBO for its fourth season on Sunday night (April 6).
The season picks up in the aftermath of the devastating wedding reception from hell, which proved, in case it was still unclear to anyone, that in the world crafted by novelist George R.R. Martin in his "A Song of Ice and Fire" fantasy series, no one is ever safe.
Unlike some series, this season does not take long to heat up. In King's Landing, brutal King Joffrey (Jack Gleeson) is due to be married in an elaborate affair that will bring together a slew of characters, some old and some new, to -- er -- celebrate.
So, yes. A wedding in Westeros. What could possibly go wrong?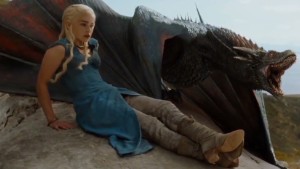 'Thrones' is back: 'All men must die'
For one, siblings-with-benefits Jaime (Nikolaj Coster-Waldau) and Cersei (Lena Headey) are back together for the first time since Jaime was captured, and partially butchered, in season three, with all the awkwardness that entails. We've already seen that Tyrion (Peter Dinklage) ends up in major trouble (what else is new?) and that new character Oberyn Martell (Pedro Pascal) -- will be attending the joyous occasion with less-than-love in his heart for the Lannisters.
As for our other main players:
Daenerys (Emilia Clarke), with an army of freed slaves at her back and a trio of increasingly formidable dragons to keep in line, confronts the promise, and pitfalls, of her ascent to true power.
After narrowly missing a longed-for reunion with her family, Arya (Maisie Williams) and The Hound (Rory McCann) face what comes next. As bits of her back story come together, Arya will become arguably season four's first true scene stealer.
At The Wall, the coming war between the wildlings and the Night's Watch simmers to a boil, with Jon Snow (Kit Harington) caught awkwardly in the middle. Look for this conflict to spur some of the epic battle scenes the series, and Martin's novels, are known for. And what of the White Walkers?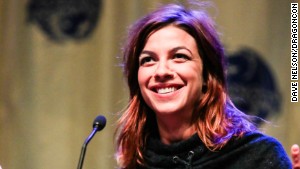 Natalia Tena, who plays Osha on "Game of Thrones," speaks at DragonCon 2013 in Atlanta.
Elsewhere, Stannis (Stephen Dillane) is down but not out after his defeat on the Blackwater and turns increasingly to the creepy "Red Priestess" Melisandre (Carice van Houten) for answers. Bran, with Hodor and friends, continues his mystical trip north to seek what his "green dreams" really mean. And, for those of us who can stand to look, we'll see the continuing travails of poor, tortured Theon Greyjoy.
In September, I hosted a pair of panels at DragonCon with cast members from the show. James Cosmo (Lord Commander Mormont), Burn Gorman (Karl, the Night's Watchman whose actions lead to chaos at Craster's Keep) and Natalia Tena (wildling Osha) talked about what it means to be a part of the massively popular series.
Below are some excerpts from those panels: (Editor's Note: Contains spoilers for season three of the show.)
On what has made the show beloved by so many fans:
Cosmo: If I knew that, I'd be a really rich man. I have worked on lots of historical stuff, but I think "Game of Thrones" ticks so many boxes for so many people. And its production values are so high, continuously. It's just set a new standard for that sort of television. As far as identifying what it is, I think these shows come along once in a lifetime that people just embrace and it becomes something really special. The books that George Martin had written were so well-loved by so many people, and (show runners) David Benioff and Dan Weiss brought that to the screen so beautifully.
Tena: I think it's because it's got that "Lord of the Rings" magic, with just a hunk of sex and death thrown at it. And I think that's something we all have a link to and it's also how I imagine the medieval world to be -- brutish and short and sexual.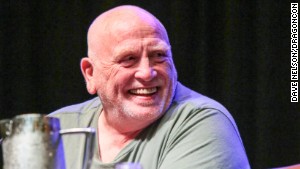 James Cosmo, at DragonCon 2013 in Atlanta, played Night's Watch Commander Jeor Mormont on "Game of Thrones."
Cosmo: When you said that it was "Lord of the Rings" with great sex and violence thrown at it -- well, the sex bit missed me. I am the only guy there who's got this crew of guys and we're all celibate.
On the intense fan reactions to the show:
Tena: When you're working you don't think about what something means. You're just thinking about playing a moment, and a truth. I can see now that it means a lot to so many people and that's humbling. But in the moment you're just trying to do the best job you can.
Cosmo: When we were doing it, I had no concept about how huge it was going to become. I don't know if anyone did. But from reading the part of Mormont, I just loved the character. He was the one who stood out to me as a man of such innate dignity. It was just a joy to play.
On memorable moments from the set:
Tena: We skinned a rabbit. ... (A forest ranger) just plunked a rabbit in front of me and Ellie (Kendrick, who plays Meera Reed) and he showed us how to do it. And, it was fine. But when we did it on the day, after skinning 40 rabbits and pulling their heads off ... all of it congealed. It was a hot day and by the end of the day, I had flies all over my hands. I did go a bit mad. I had, like, three showers. Everyone thinks fish smell and you don't really think about meat. Meat, by the end of the day, is horrible. I felt like Lady Macbeth. I was, like, "Out, damn spot!" Pulling their heads off as well -- that was pretty interesting. We ran out of rabbits, so sometimes we had to kind of plunk bits of the bodies back together. It was a special day.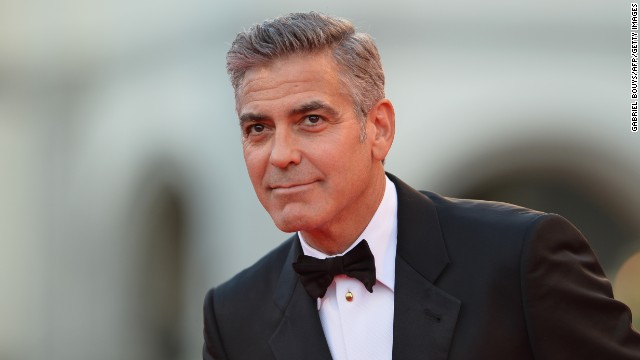 Is it possible George Clooney is just as obsessed with "Downton Abbey" as we are? The actor is going to appear in a special "Downton"-related charity film, although sadly he won't appear in any of the show's actual episodes. Too bad; "Downton" is one of our favorite TV period pieces. Click through the gallery to see more.
The rules were made to be broken in HBO's "Boardwalk Empire." Set in Atlantic City, New Jersey, during the 1920s, "Nucky" Thompson (Steve Buscemi) sees all from his throne built on political fixing and illegal dealing. The fun comes to an end with Season 5, which launched September 7.
Don't want to be confined by time -- or space, for that matter? Hop on board BBC mainstay "Doctor Who's" time-traveling police box, the TARDIS. The Doctor regularly visits different periods in history and meets historical figures along the way. Vincent van Gogh, anyone? Season 8 has returned to BBC America with a new Doctor, played by Peter Capaldi, and his companion Clara (Jenna Coleman).
The much-anticipated series "Outlander" is airing now on Starz. Based on Diana Gabaldon's best-selling books, the story follows WWII combat nurse Claire Randall (Caitriona Balfe), who travels back in time to 1743 and encounters Scottish warrior Jamie Fraser (Sam Heughan).
Science is sexy on "Masters of Sex," which is based on real events. Research by Dr. William Masters (Michael Sheen) and Virginia Johnson (Lizzy Caplan) sets off the sexual revolution of the 1960s as they delve into the science behind human sexuality. Season 2 is currently airing on Showtime. Also starring: Caitlin FitzGerald as Libby Masters, left.
It's the 1980s, and IBM is enjoying success a year after releasing its personal computer. In AMC's "Halt and Catch Fire," a former IBM executive, Joe MacMillan (Lee Pace), right, decides to create a new competitive product with a new company and help from Gordon Clark (Scoot McNairy) and Cameron Howe (Mackenzie Davis). The first season just wrapped on AMC.
If you need to get your swashbuckling fix, tune in to "The Musketeers," which just wrapped its first season on BBC America. From left, it's Aramis (Santiago Cabrera), Athos (Tom Burke), D'Artagnan (Luke Pasqualino) and Porthos (Howard Charles) in a new take on Alexandre Dumas' classic novel, "The Three Musketeers."
If you've missed watching pirates on TV, look no further than John Malkovich as Blackbeard in NBC's "Crossbones," which just wrapped up its first season.
Get ready to see a new side of Dorian Gray, Dr. Frankenstein and other dark literary figures prowling Victorian London in Showtime's "Penny Dreadful." The show just wrapped an intriguing first season.
Although the realms of Westeros are based only in the universe of author George R.R. Martin's "A Song of Ice and Fire" series, some aspects of the "Game of Thrones" storyline borrow from a range of historical inspiration found in medieval Europe. Season 4 aired on HBO this year.
"Turn" dramatizes the story of America's first spy ring during the Revolutionary War. Jamie Bell, right, stars as Abe Woodhull, a farmer who helps form a team of secret agents aiding George Washington. The show has been renewed for a second season on AMC.
"Reign" takes viewers inside the story of teenager Mary Stuart (played by Adelaide Kane), the woman who will become Mary, Queen of Scots. The seductive show enjoyed a successful first season on the CW.
Set in Reagan-era America, the FX drama "The Americans" follows KGB spies, played by Keri Russell and Matthew Rhys, posing as an American couple in suburban Washington. The show has been renewed for a third season.
Jeremy Piven brings the titular retail tycoon to life in ITV's "Mr. Selfridge" series, set in London in 1909. At the center of the show is the man and his department store, Selfridges. Overlapping ambition, flamboyance and affairs ensue. The second season has wrapped on PBS.
The BBC series "Call the Midwife" follows the emotional heights and depths of midwifery alongside families in London's East End in the 1950s. The legendary Vanessa Redgrave narrates the series, starring Jessica Raine, Miranda Hart, Helen George and Jenny Agutter. Season 3 just wrapped on PBS.
It's Leonardo da Vinci (Tom Riley) as you've never seen him. This fictional look at his early life is uniquely dark and fantastical. Season 2 just wrapped on Starz.
It's like "Pirates of the Caribbean" but darker. This new Starz drama takes place 20 years before "Treasure Island," following Captain Flint and his men as they come across thieves, prostitutes and other pirate gangs. It's been renewed for a second season.
Emile Zola's classic novel comes to life in this Victorian-era drama from BBC. "The Paradise" takes place in a dazzling department store that becomes the setting for romance and intrigue. Season 2 will air on PBS in the fall.
The corporate advertising world of 1960s New York has never looked so sleek, sexy or ruthless. Season 7 will be the last chapter for Don Draper (Jon Hamm), ending in 2015.
Just after the Jack the Ripper murders in London's East End circa 1889, chaos and crime were rampant partners. Inspector Edmund Reid (Matthew Macfadyen) works to control it, through the brothels and filth-ridden streets of Whitechapel. "Ripper Street" was canceled by the BBC after two seasons, but Amazon has rescued the show and commissioned a third.
Treachery and intrigue are rampant in the Five Points slums and Fifth Avenue brownstones of 1865 New York. Detective Kevin Corcoran (Tom Weston-Jones) traverses both worlds. Unfortunately, BBC America's first original scripted series was canceled after two seasons, but producers are considering a movie version.
Showtime series "The Borgias," led by Oscar winner Jeremy Irons, came to an end after three seasons. The most powerful and scheming family in Renaissance-era Italy quests for the papacy, wealth and power, using murder and deceit as stepping stones.
We barely knew them for two seasons, but canceled 1950s BBC newsroom drama "The Hour" had star power with (from left) Dominic West ("The Wire") Romola Garai ("Emma") and Ben Whishaw ("Skyfall"). If "Mad Men" isn't enough retro cool for you, catch this one on DVD.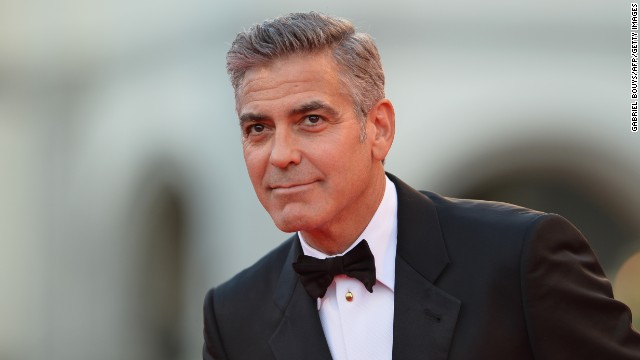 Photos: Historical TV dramas
Gorman: I wanted to talk about pig s***, if that's all right. That's what I noticed most in Ireland. It's like this really glamorous show and I turn up and it's like, literally, 3-feet depth of pig mess everywhere. I couldn't believe it. I only had a week there and I was like, "I'm done."
On how he learned his character would die
Cosmo: I'm a dedicated fly fisherman. I fish quite a lot up in Oregon for steelhead. And my fishing buddy who's a few years older than me, Bo -- he hasn't read many books in his life. But when I said I'm doing this thing, "Game of Thrones," he said, "Oh, man. I'm going to get these books." We'd be standing up to our waist, trying to catch steelhead in the river ... and he'd say, "Well, I got to Chapter 23 last night. You're still there, kid."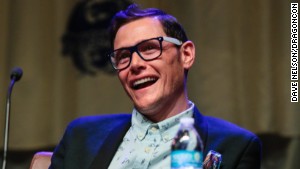 Actor Burn Gorman, speaking at DragonCon 2013 in Atlanta, plays Karl on "Game of Thrones."
And then it came to book three and he says, "I can't see you anywhere, man. He's not talking about you." So that was my conduit to learning where my career was going -- this old guy standing next to me while we were fishing.
On the show's Emmy Award-winning costumes
Cosmo: As you get helped into the leggings and the big leather chest piece and then the cloak, you can feel the sort of gravitas of the character coming. Even the way you walk is informed by these things that drag along behind you; you're almost pulling your cloak behind you. Costuming is a hugely important part of building the character and I wouldn't have it any other way. It does help, although at times it can be a bit annoying and cumbersome. It must have been about 50-60 pounds when it was on. As you see, I'm a lightweight kind of guy (his agency says he is 6-foot-1 and weighs about 240 pounds). But I know when I was wearing all the costume and I was about to get on my horse, he looked really, really unhappy.
Tena: With every single character you play, your costume is your outward appearance to the world. ... That immediately determines how the world, and you yourself, see you.