Goodyear took its new Zeppelin NT airship out for a spin in March at its facility near Akron, Ohio. Click through the gallery to see more of the first new model in 45 years.
Goodyear's two older GZ-20 blimps, like this one, are shorter and slower than the new NT. A third airship, Spirit of Goodyear, retired this year. The tire and rubber company estimates that about 60 million Americans get a first-hand look at its blimps every year.
Unlike its predecessor, the cockpit of the new Goodyear blimp offers an updated instrument panel and fly-by-wire steering system controlled by a joystick.
The new Zeppelin measures 54 feet longer and -- with three engines instead of two -- flies 19 mph faster than the older Goodyear blimps.
Keeping tabs on your blimp is easy if you have a mast to attach it to. This mast inside the Goodyear hangar has the Zeppelin's nose cone in its clutches.
The Zeppelin's helium-filled "envelope" consists mostly of polyester. The older models were made from Dacron and neoprene. The Zeppelin has a semirigid internal skeleton that technically disqualifies it from official designation as a blimp. But Goodyear says it will call the Zeppelin a "blimp" anyway.
Seating in the gondola increases from seven in the older blimps to 12 in the new one. Also, the new airship includes a restroom, unlike the previous model.
Goodyear plans to replace its remaining two blimps with Zeppelins. The Carson, California-based Spirit of America will be decommissioned in 2015 or 2016, and the Pompano Beach, Florida-based Spirit of Innovation is scheduled to retire in 2018.
Goodyear goes Zeppelin
Goodyear goes Zeppelin
Goodyear goes Zeppelin
Goodyear goes Zeppelin
Goodyear goes Zeppelin
Goodyear goes Zeppelin
Goodyear goes Zeppelin
Goodyear goes Zeppelin
STORY HIGHLIGHTS
For the first time in 45 years, Goodyear begins phasing in a new type of airship
Co-built by Germany's Zeppelin company, it's faster and bigger and has a restroom
Testing began in March, and the entire fleet will be Zeppelins by 2018
Although technically it's not a blimp, Goodyear says it will still call it a blimp
(CNN) -- It's a new era for Goodyear's iconic blimp. You could call it the Age of the Zeppelin. Cue the guitars!
The Ohio-based tire and rubber company started testing its next-generation airship last month at Goodyear's airfield near Akron. Yes, this is an actual Zeppelin airship, made in partnership with the German company that dates to before the infamous Hindenburg disaster.
But don't panic, this new lighter-than-air vehicle is just as safe as its blimp predecessor. It's filled with helium, not hydrogen like the humongous airship that burned in New Jersey in 1937.
Goodyear is finally closing the door on the GZ-20 models, which came off the drawing board 45 years ago.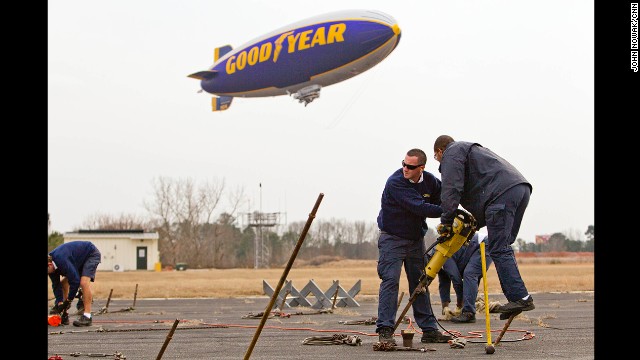 The Goodyear blimp Spirit of Innovation arrived in Atlanta on December 30 to prepare for its New Year's Eve flight above the Chick-fil-A Bowl. Aaron Hullander, left, and Olenskian Spoon carry a jackhammer to secure posts as the Goodyear Blimp comes in for a landing at DeKalb-Peachtree Airport.
Keeping a helium-filled blimp on the ground takes some doing.
Scott Suter, an airframe and power plant mechanic, uses a sledgehammer to secure support posts into the runway. Suter is one of the ground crew members for Spirit of Innovation, which is based in Pompano Beach, Florida.
Ground crew members enter and exit one of the trucks that accompanies the Goodyear blimp before it lands at DeKalb-Peachtree Airport.
Crew members assemble a mast to prepare for the blimp.
Securing the Spirit of Innovation is a team effort.
Bo Pilgrim, crew chief for Spirit of Innovation, checks the wind direction at DeKalb-Peachtree Airport.
The ground crew scrambles to secure the giant airship. The blimp is one of three Goodyear blimps that tour the country annually.
Aaron Hullander secures the Spirit of Innovation to the mast at DeKalb-Peachtree Airport.
Crew members brace themselves as they pull the Spirit of Innovation to a stop.
The blimp is piloted from inside a small gondola.
Camera operator Tom O'Keefe goes over the camera controls inside the blimp's gondola.
Spirit of Innovation awaits departure from DeKalb-Peachtree Airport. Its mission: to provide aerial video footage for ESPN's coverage of the Chick-fil-A Bowl.
At about 2,000 feet, the blimp offered a spectacular view of Atlanta's Georgia Dome on New Year's Eve.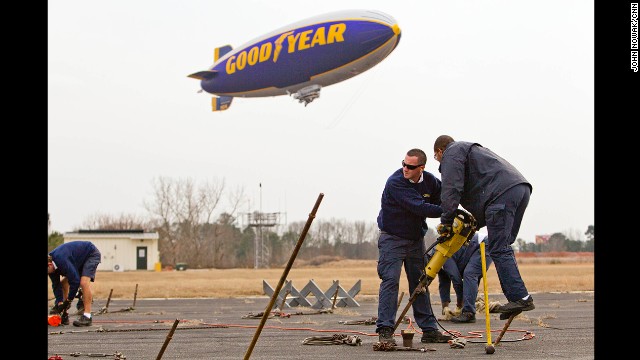 Photos: Wrangling the Goodyear blimp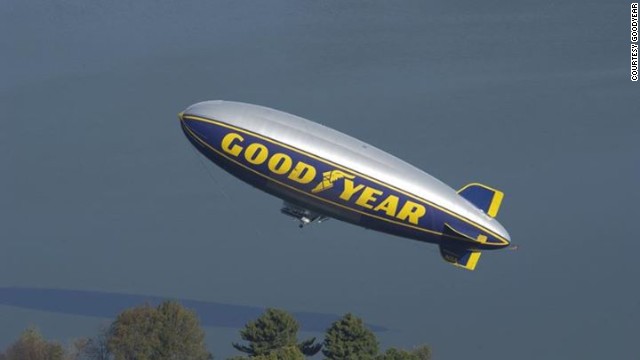 This football season, Goodyear's three blimps are set to hover over eight college football bowls, including Atlanta's Chick-fil-A Bowl, Florida's Orange Bowl, California's Rose Bowl, Arizona's Fiesta Bowl, Louisiana's Sugar Bowl and the National Championship on January 6 in Pasadena, California.
Goodyear began operating its own blimps in 1919. Now, an estimated 60 million Americans get a first-hand look at the company's airships every year.
Dazzling computer-controlled signage called Eaglevision is visible up to a mile away, according to Goodyear.
The blimps fly at a maximum of about 53 mph but typically cruise at around 35 mph. Spirit of Innovation Capt. Matt Lussier says he likes moving "slow and low" because it allows him to appreciate the view. "When I fly over the beach, I can see sea turtles and sting rays and manatees. It's cool. It really is."
When landing a blimp, Lussier says, "you point the nose of the aircraft down and use power to get to the airfield." Then ground crew members grab the blimp's rope lines and tether the airship to a mast.
In 2013, Budweiser used a 130-foot-long American Blimp model A -60 Plus to promote its designated driver campaign.
MetLife has been touring sporting events with its A-60 Plus model blimps since 1987. Its fleet includes "Snoopy One," Snoopy Two" and "Snoopy J."
DIRECTV began its airship promotion in 2007.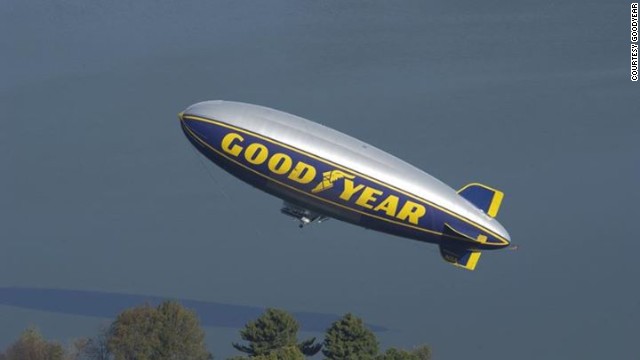 Photos: America's airships
In the coming months, Goodyear plans to train more than 10 pilots to fly the Zeppelin NT. (NT stands for new technology.)
If all goes as planned, we'll be watching this sleek new silver, yellow and blue airship hovering high above sporting events east of the Rockies this fall.
More amenities on the new Zeppelin
So what's different about this one? It's faster, because it has three engines instead of two. It's bigger. It's more maneuverable. It can carry more passengers. Oh, yeah, and unlike the old model, this one's got an onboard restroom. Believe me, I can tell you from experience that will be a relief (literally).
Oh, good. Seat belts. The new blimp's going to have seat belts. The older model didn't, which shook me up a little when we lifted off at a 25-degree angle with the engines screaming.
Behind the scenes as Goodyear preps the new blimp
When Goodyear Capt. Matt Lussier let me briefly fly one of the older blimps over Atlanta on New Year's Eve, its engines maxed out about 50 mph. Top speed of these Zeppelins: 73 mph, increasing their range and allowing them to take part in more events.
Lussier instructed me on how to turn the blimp left and right with pedals on the floor. The cockpit aboard the Zeppelin includes a joystick that will more easily allow the pilot to turn and to point up or down.
Read more about how I ended up piloting the blimp
One thing that surprised me about the older blimp was its tiny gondola, which seats from three to seven people, including the pilot -- depending on whether it's covering a sporting event. The new Goodyear Zeppelin accommodates 12. It's got bigger "wrap-around windows" that Goodyear says offer improved "sweeping panoramic views."
I have to tell you, the views on the older blimp were still pretty damn awesome. It felt like we were standing atop the world's tallest treehouse, looking out for a hundred miles in every direction.
Massive enough to blot out the sky
When you stand underneath a blimp on a landing field, the thing is so massive that it blots out the sky. It's nearly the length of an American football field. But this new airship is even longer, measuring 246 feet from tip to tail -- 54 feet more than the current blimp.
In the older blimps, the two engines are bolted to the gondola. But in the new ones, engines are attached to the "envelope," the blimp's helium-filled "bag," as the pilots sometimes call it. The bag on the new blimp is constructed with a semirigid skeleton to make it faster and more nimble.
Compare the old and new blimps
It's all part of a phase-out plan of all three Goodyear blimps; the Spirit of Goodyear retired this year in Florida after a record 14-year career. Eventually, it's expected to go on display at an undisclosed aviation museum.
The Carson, California-based Spirit of America will be decommissioned in 2015 or 2016, and finally, the Pompano Beach, Florida-based Spirit of Innovation is scheduled to retire in 2018.
A Goodyear pilot shows how he flies the older blimp
Goodyear has launched an online contest to allow the public to name the new blimp.
Tour offers Zeppelin-view of Paris
FYI, airship enthusiasts, Goodyear will continue to call these things "blimps," even though technically, they're not. As any "helium head" will tell you, a blimp is an airship without an internal skeleton. These new airships have internal skeletons.
But Goodyear loves the "B" word, so the company plans to keep calling them "blimps."