Stolen Gauguin and Bonnard art recovered after hanging on a kitchen wall
updated 12:52 PM EDT, Wed April 2, 2014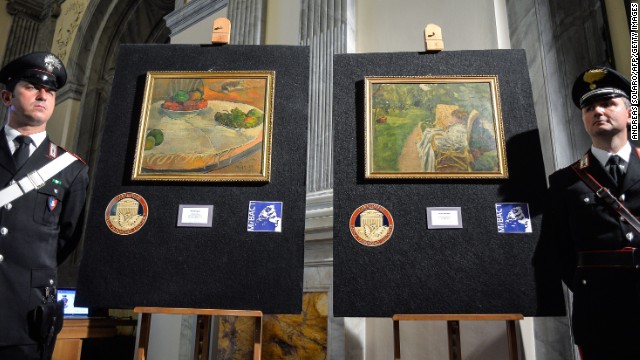 Italy's Culture Ministry unveils two paintings by the French artists Paul Gauguin and Pierre Bonnard on Tuesday, April 2. The paintings,
worth millions of euros
, were stolen from a family house in London in 1970, abandoned on a train and then later sold at a lost-property auction, where a factory worker paid 45,000 Italian lire for them -- roughly equivalent to 22 euros ($30).
A Renoir painting
finished in the 1800s, loaned to a museum, reported stolen in 1951 and then bought at a flea market in 2010 has to be returned to the museum, a judge ruled January 10. The 5½-by-9-inch painting, titled "Landscape on the Banks of the Seine," was bought for $7 at a flea market by a Virginia woman. The estimated value is between $75,000 and $100,000.
Seven famous paintings were stolen from the Kunsthal Museum in Rotterdam, Netherlands, in 2012, including Claude Monet's "Charing Cross Bridge, London." The paintings, in oil and watercolor, include Pablo Picasso's "Harlequin Head," Henri Matisse's "Reading Girl in White and Yellow," Lucian Freud's "Woman with Eyes Closed" and Claude Monet's "Waterloo Bridge," seen here. Works by Gauguin and Meyer de Haan were also taken.
a Greek national was indicted
on a grand larceny charge in 2013.
Eight months after Salvador Dali's "Cartel de Don Juan Tenorio" was stolen in a New York gallery,
In 1473, Hans Memling's "The Last Judgment" was stolen by pirates and became the first documented art theft.
Adam Worth, the inspiration for Sir Arthur Conan Doyle's diabolical character Moriarty, stole "Georgiana, Duchess of Devonshire," painted by Thomas Gainsborough in 1876.
In 1911, Leonardo Da Vinci's "Mona Lisa" was stolen from the Louvre by an Italian who had been a handyman for the museum.
Among their many crimes, the Nazis plundered precious artworks as they gained power during World War II. "Adele Bloch-Bauer I," by Austrian artist Gustav Klimt, was confiscated from the owner when he fled from Austria.
Many works of art that were taken by the Nazis were never recovered. Others were returned after years of legal battles. "Christ Carrying the Cross," by Italian artist Girolamo de' Romani, was returned to his family in 2012.
"The Scream" was one of two Edvard Munch paintings that were stolen from the Munch Museum in Oslo, Norway, in 2004.
In 2007, Pablo Picasso's oil painting ''Portrait of Suzanne Bloch" was taken from the Sao Paulo Museum of Art. It was recovered two years later.
Notorious art heists
Notorious art heists
Notorious art heists
Notorious art heists
Notorious art heists
Notorious art heists
Notorious art heists
Notorious art heists
Notorious art heists
Notorious art heists
Notorious art heists
STORY HIGHLIGHTS
Italian police recover two valuable paintings that were stolen more than 40 years ago
The art was stolen in London and later abandoned on a Paris-to-Turin train
A factory worker bought the paintings at a lost-property auction in 1975
He paid about 22 euros for both, and one may be worth at least 10 million euros now, police say
Rome (CNN) -- Two stolen paintings by the French artists Paul Gauguin and Pierre Bonnard hung in an Italian man's home for nearly 40 years -- without his knowing just how valuable they were.
Now worth millions of euros, the artworks were stolen from a family house in London in 1970 and then abandoned on a Paris-to-Turin train.
Italy's Culture Ministry unveiled the two paintings Wednesday after they were recovered by police specialized in finding stolen art, following an "incredible" series of events.
The paintings were put away in the Italian Railways lost and found storage facility. The man, a factory worker for the car company Fiat, paid 45,000 Italian lire (roughly 22 euros or U.S. $30) for the pieces at auction in 1975. The man was an art lover, but he had no idea of the real value of the paintings, police said.
The man, whom police did not name, hung the works in his Turin home before taking them to Sicily when he retired.
Italian heritage police were alerted last summer when a friend of the worker grew suspicious of their value.
"There are all the elements for a nice novel; it is very unique," Gen. Mariano Mossa, head of the Italian Heritage Police, said at a news conference.
Locked up in a safe
Police soon matched the works with those stolen in London. A notice of the theft had appeared in The New York Times on July 6, 1970.
The Gauguin painting -- "Fruits on a Table or Still Life with a Small Dog" -- is said to date to 1889 and is believed to be worth between $13.7 million and $41 million, police said.
The Bonnard painting is titled "La Femme aux Deux Fauteuils" ("Woman with Two Armchairs").
Gauguin was a post-impressionist artist, and Bonnard is regarded as one of the greatest colorists of modern art.
It was still unclear to whom the paintings would be returned, as the couple they were stolen from have died, apparently leaving no heirs. For now, they will remain in a police safe.
The theft that created a legend
Art looted by Nazis found in German apartment
Editors' Note: This article has been edited to remove plagiarized content after CNN discovered multiple instances of plagiarism by Marie-Louise Gumuchian, a former CNN news editor.