STORY HIGHLIGHTS
Questions have been raised about development, clear-cutting in area
Scientist had warned about potential for catastrophe
Governor promises thorough review of possible factors
Darrington, Washington (CNN) -- The signs touting logger pride are everywhere in this small town tucked away in Washington's rugged North Cascade Mountains.
It's at the high school, where the school mascot -- the Loggers -- recalls burly men with chainsaws.
It's in the community center's giant hand-painted wall mural that depicts the mountain peaks and thick swaths of Douglas fir that surround this town of roughly 1,300.
And it's in the handmade posters that have been taped to storefronts, offering thanks to the loggers who were among the first to respond after an avalanche of mud, rock and splintered trees wiped out homes in the nearby town of Oso, killing at least 29 people. About 20 people are still missing.
Here, loggers are heroes.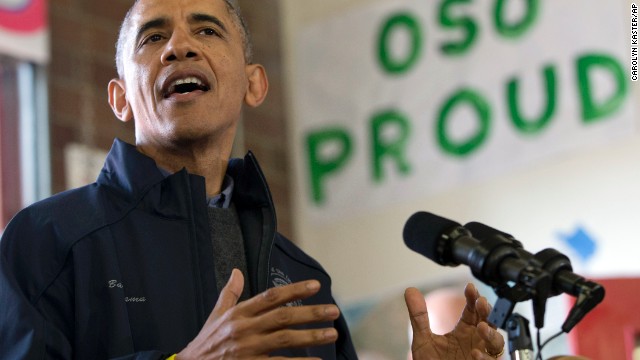 President Obama speaks to first responders, recovery workers and community members on Tuesday, April 22, at the scene of the deadly landslide that devastated Oso, Washington, one month before. The landslide crossed the North Fork of the Stillaguamish River and caused multiple deaths and massive damage.
An excavator clears a drainage channel on Wednesday, April 2.
This satellite image taken on Monday, March 31, shows the path of the landslide.
Workers cut a tree next to a possible victim on Sunday, March 30.
Search-and-rescue teams use a path of plywood to walk through a muddy field in Arlington, Washington, on March 30.
Tryon, a rescue dog muddied from the day's work, stands with his handler March 30 near the west side of the landslide.
Rescue workers dig through mud and debris near Darrington, Washington, on Saturday, March 29.
Mailboxes are seen in floodwater March 29 near Darrington.
Searchers in Oso pause for a moment of silence on Saturday, March 29. It was observed at 10:37 a.m., exactly one week after the landslide tore through the small community.
Search-and-rescue personnel attend a moment of silence at the fire house in Darrington.
Ralph Jones helps provide shelter for Brooke Odenius, right, Klarissa Calviste and their baby daughters during the moment of silence at the fire house in Darrington.
Staff Sgt. Jonathon Hernas of the Air National Guard carefully makes his way across debris and mud while searching for missing people March 29 in Oso.
Air National Guard members look out at the hill where the landslide originated while they search through debris March 29 in Oso.
Heavy machinery is used to move debris as members of the Air National Guard search for victims on March 29.
Search-and-rescue workers wade through water covering a highway near Darrington on Thursday, March 27. The landslide left buildings covered in up to 40 feet of mud.
A searcher walks near a massive pile of debris in Oso on March 27.
The muddied waters of the North Fork of the Stillaguamish River mix with the cleaner flow of the river's South Fork on March 27.
Emergency vehicles fill State Route 530 leading to the scene of the landslide in Oso on Wednesday, March 26.
Washington Gov. Jay Inslee speaks on the phone with a victim's family member as he flies to the Snohomish County Emergency Operations Center in Everett on March 26.
Search-and-rescue workers look through debris on March 26.
Teresa Welter cries during a candlelight vigil in Arlington on Tuesday, March 25.
The roof of a house sits among debris as emergency personnel continue to look for survivors on March 25.
Search-and-rescue workers use dogs to look for survivors on March 25.
A boot is found among the debris on March 25.
A search-and-rescue worker looks for survivors on March 25.
Chaplains watch as crews clear debris from State Route 530 in Oso on March 25.
The remains of the massive landslide are seen on Monday, March 24. The landslide blocked the highway and the Stillaguamish River.
A King County Sheriff's Office helicopter lowers a rescue worker on March 24.
A search-and-rescue team carries the body of a victim on March 24.
Volunteers help out with the search in Oso on March 24.
Snohomish County Executive John Lovick wipes a tear during a briefing in downtown Arlington on March 24.
Natalie Reed, right, and her 5-year-old daughter, Deja, attend a prayer service at Arlington United Church on March 24 for those affected by the landslide.
An intact house sits at the edge of the landslide on March 24.
The Langston family watches an online news clip about the landslide on Sunday, March 23, while they stay at a temporary Red Cross shelter in Darrington. The family's home was flooded after the landslide blocked the Stillaguamish River.
A destroyed home is stranded atop mud and debris on State Route 530 near Oso on March 23.
Downed power lines and parts of a destroyed house can be seen in the debris blocking the road near Oso on March 23.
Gov. Jay Inslee, right, comforts Barbara Welsh after a news conference March 23 outside the Arlington Police Department. Welsh's husband, Bill, was among the scores of people listed as missing immediately after the disaster.
Emergency workers arrive at the scene of the landslide on Saturday, March 22.
Groundwater saturation, tied to heavy rainfall in the area over the past month, was blamed for the landslide.
The landslide cut off the small town of Darrington and prompted an evacuation notice for fear of a potentially "catastrophic flood event," authorities said.
The first Washington State Patrol trooper arrives on the scene on March 22, according to the patrol's Twitter feed.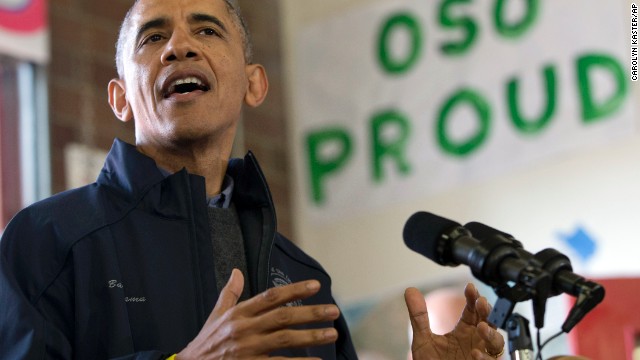 Photos: Washington state landslide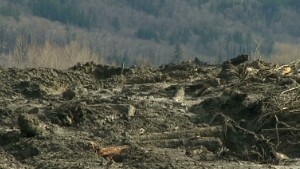 27 dead, 22 still missing in Washington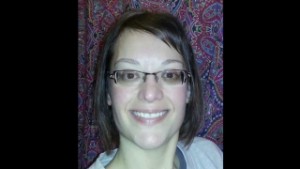 Landslide victim #15, more than a number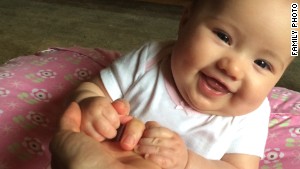 Woman loses mother, daughter in landslide
But in the aftermath of the March 22 landslide, there are uncomfortable questions being raised about whether the very lifeblood of these communities -- from development to logging -- and the people who live there, the homeowners, may have a role in it.
And the question about who, if anybody, is to blame has ignited passions.
"You hear these reports that logging is to blame?" says Kenny Friddle, whose family and friends are among the more than 100 volunteers, mostly loggers, trudging into the mounds of mud and debris to search for the missing.
The disgust is thick in his voice.
"Do you seriously think that we'd do something that would kill our own people?"
Questions of clear-cutting, outdated data
Scientists say development and the removal of whole stands of trees -- a controversial practice known as clear-cutting -- in the landslide-prone area likely played a role in the disaster.
An analysis of documents and geographical data by The Seattle Times found state regulators have been using outdated boundaries to restrict logging above the hill that collapsed, failing to incorporate newer research that would have prevented the area from being clear-cut.
Stands of trees anchor soil and divert water, so any mass removal of trees on slopes can contribute to the risk of a landslide.
The rain-soaked hillside that gave way on the north fork of the Stillaguamish River had a history of landslides, including ones in 1937, 1942, 1949, 1951, 1967 and 1988.
It's a peril that was highlighted as recently as the late 1990s in Seattle-based geomorphologist Daniel Miller's report to the US. Army Corps of Engineers that warned of the potential of a catastrophic landslide. A geomorphologist studies land formations and their interaction with storms, fire and landslides.
State conservation officials issued logging restrictions that used older boundaries, rather than a map drawn up by Miller, The Times reported.
In 2004, according to The Seattle Times, officials approved the clear-cutting of 7½ acres on the plateau atop the unstable hill outside Oso — about 5 acres of which would have been protected under Miller's boundaries. Harvesting was completed by the property owner by August 2005.
While landslide risk assessment wasn't the focal point of the late 1990s study, which was designed to look at restoring the ecosystem for the river's nearby fisheries, it certainly was one of the outcomes.
Geologists who have looked at the history of the landslides on that hill have pointed to a number of factors as possible contributors, including heavy rain, river erosion and logging, The Times reported. One of the newspaper's reports indicated the plateau has been logged for almost a century.
In an opinion piece for CNN, Miller wrote analyses indicated "potential instability of a huge mass of material above the zone of previous landslides. As a scientist, I knew that material would someday be on the valley floor." He also cited the continued construction of homes after his analysis.
No thorough mapping of potential hazards
Miller writes that landslide hazards "have not been systematically mapped across the state, much less the country. Where work has been done, maps are hard to find. If found, they are difficult to interpret."
In an interview, Miller said residents are poorly informed and do not understand consequences.
"People need to be aware of and understand the risks posed and the potential consequences of the decisions they make" to live in these areas, he said.
Among those people is 63-year-old Robin Youngblood, who was born and reared in the area. She moved away, but returned in 2012 and bought a house with an expansive view of the river and the hillside.
She was in her house when she heard the roar of the hillside giving way. Out of her window, she saw a wall of mud racing toward her.
"I said, 'Oh, my God,' and it hit us," Youngblood told CNN.
The mud and rock tore her house apart, pushing it a quarter of a mile from its foundation.
She survived by pulling mud out of her nose and mouth so she could breathe and climbing on to a washing machine perched atop the debris.
Now she's wondering why no one ever warned her that the home was in the path of a hillside that had been assessed as potentially unstable.
"Nobody told any of us," she said. "This is criminal, as far as I'm concerned."
More likely it is an example, Miller says, of how the science that cites the likelihood for landslide is not being properly relayed or interpreted by everyone, from state regulators to the timber industry and from the developers to the homeowners.
"The level of knowledge, the level of understanding is dismal," he said.
'We will get to the answer'
Gov. Jay Inslee has acknowledged the need for a broader review of the events that lead to the landslide and how to safeguard people against future ones. A spokeswoman for the state Department of Natural Resources told The Seattle Times it would complete an investigation on the late 1990s watershed analysis.
But for right now, the focus must be on finding those still missing in the mud.
"We will get to the answer," Inslee told CNN. "It's going to take some time."
What makes this remote area, with its trees, lush vegetation and jagged mountain peaks, attractive to so many is also what can make it dangerous. It can get up to 120 inches of rain a year, saturating hillside and causing landslides.
Already there is talk by some whose homes were damaged in the landslide's mud flow about rebuilding, a notion that sits uncomfortably with Miller.
"What people see is a beautiful spot. They don't see the risks that are out there," he says.
Just about everyone here realizes hard questions need to be asked about what happened and how it can be prevented.
And that will likely include a discussion about logging and the timber industry, something that is not likely to go over well in Darrington, where even the mayor owns a logging company.
Loggers crucial to community, economy
By any standard, Darrington is a struggling town. It hasn't recovered from the hit the logging and timber industries took in the 1970s, something the locals blame on government regulations that took hold and changed how logging was carried out.
So many people lost jobs, and it can be seen in the empty, boarded-up store fronts.
"Those people are just looking for a reason" to limit logging, Peter Brandt says, shaking his head at the news. Those people are the government regulators, the officials who will review what happened and make recommendations.
Brandt hasn't lived in Darrington long. But he's been around long enough to know how important loggers are to the community.
For days, loggers have been trudging out into the mud alongside firefighters and search and rescue crews.
They have been carrying their own chainsaws to cut through the mounds of debris that has allowed crews to locate the missing. In many cases, the loggers themselves have found bodies.
"They don't need to hear ... that," Brandt says of the debate about the role of logging in landslides. "They need to hear thank you and God bless you."
CNN's Tom Watkins, Ana Cabrera and Sara Weisfeldt contributed to this report.