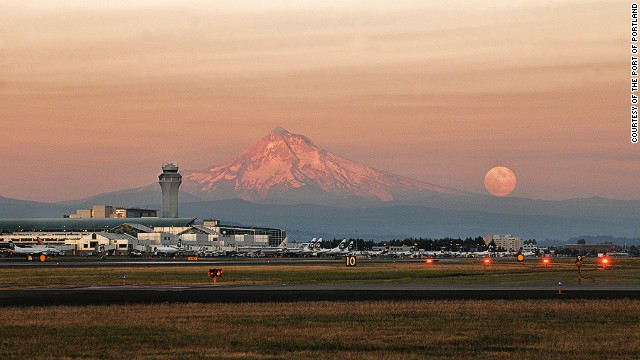 Travel+Leisure's 2013 list of
best
and
worst
airports in the United States rated Portland International Airport (pictured) in Oregon as the nation's best. Click through the gallery for a sampling of the beautiful and the damned.
Cincinnati's airport was the first U.S. airport to show up on a recent Skytrax list of world's top 100 airports -- at No. 27. It didn't crack the U.S. top 15 in Travel+Leisure's 2013 list.
No sad cough den here -- even the smoking area at the Tampa, Florida, airport has a certain panache. It placed second in the 2013 Travel+Leisure list of best U.S. airports.
Good barbecue and Tex-Mex food propelled the Austin, Texas, airport to number three on the Travel+Leisure list. "You're likely to be among the happy fliers here," the magazine reported.
"The hallmark of Nashville International is efficiency, with one of the lowest incidences of delays," wrote T+L, which ranked the airport eighth best in the U.S.
Ah, LaGuardia, whipping post of travelers to New York, including Vice President Joe Biden, who opined in February that the airport "feels like it's in some third world country." Travel+Leisure called it the second worst airport in the U.S., reserving the ignominy of being best at being worst for Bill and Hillary Clinton National Airport in Little Rock, Arkansas.
If you don't want to fly to New York via LaGuardia there's always Newark Liberty, which came in as fourth worst on the T+L poll. "Flight delays and lengthy lines at check-in are perennial gripes about Newark, as is the location," reported the magazine.
If you don't want to fly to New York via LaGuardia or Newark Liberty, there's always JFK. Hmm, we're sensing a trend here. Number six on the T+L ugly list.
LAX ranked seventh worst in the nation, though expansion and renovation of the Tom Bradley International Terminal in September 2013 should lessen the litany insults regularly hurled its way by defeated travelers.
Judged eighth worst in the U.S., Philly's airport got demerits for long lines and delays, but did get some love for the availability of decent cheesesteaks.
U.S. airports: Best and worst
Best: Cincinnati/No. Kentucky International
Best: Tampa International
Best: Austin-Bergstrom International
Best: Nashville International
Worst: LaGuardia Airport
Worst: Newark Liberty
Worst: John F. Kennedy International
Worst: Los Angeles International
Worst: Philadelphia International