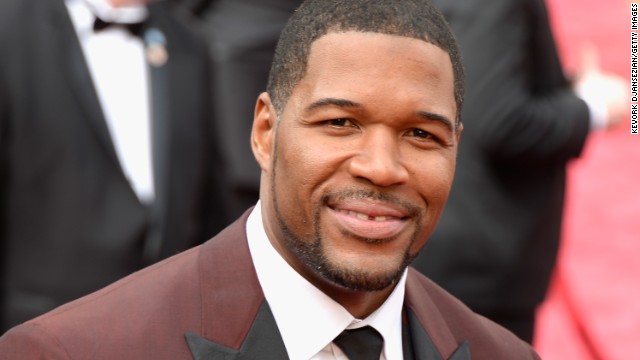 So, Michael Strahan is apparently expanding his range. The former NFL star became a popular morning personality on "Live! With Kelly and Michael" and is now
reportedly in talks to join "Good Morning America."
He is far from the first star athlete to join the entertainment community (or, depending how you see sports, a different branch of the entertainment community). In fact, it has been going on for decades.
Before he became one of the best-known actors to play Tarzan, Johnny Weissmuller (left, with Maureen O'Sullivan and Johnny Sheffield) was a champion swimmer. He won five Olympic gold medals for swimming and a bronze for water polo in the 1924 and 1928 Games.
Before he was a movie star -- and before he was a governor -- Arnold Schwarzenegger was a champion bodybuilder, seen here in 1966. His body helped him get films such as "Conan the Barbarian," but his head for clever roles (remember "Twins"?) helped him become a star.
Jason Lee was one of the first breakout stars of skateboarding. As an actor, he's probably best known for starring in the TV series "My Name is Earl."
Mark Harmon (right, with his father, Tom, in the 1970s) was a highly touted quarterback at UCLA in the early '70s. (Tom Harmon was no slouch; he won the Heisman Trophy in 1940.) But instead of pursuing an athletic career, he followed the path of his mother, actress Elyse Knox. Mark Harmon's resume includes stints on "St. Elsewhere," "Chicago Hope" and the top-rated "NCIS."
Jim Brown (third from left) remains one of the greatest players in NFL history. After his nine-year pro career he turned to acting, with roles in "The Dirty Dozen" (pictured), "The Running Man" and "Any Given Sunday."
Carl Weathers played a handful of games in the NFL and Canadian Football League before becoming an actor. The performer's roles include Apollo Creed in the "Rocky" films, a Detroit detective in "Action Jackson" and a version of himself in "Arrested Development."
As a football player with the Oakland Raiders, Howie Long was known as a ferocious defensive end, once racking up five sacks in a game. As a performer, he has been a spokesperson for Radio Shack and Hanes, among many companies, and has acted in a handful of movies. Oh, and he's also a football analyst for Fox.
In the early '90s, he was Dwayne Johnson, a star player with the University of Miami Hurricanes. In the late '90s and early '00s, he was the Rock, top-billed WWE wrestler. And now he goes by both, in movies such as "The Other Guys," "Pain & Gain" and the "Fast & Furious" series.
After his decathlon gold medal win at the 1976 Olympic Games, Bruce Jenner found his face on millions of Wheaties boxes. A few years later, he starred in the movie "Can't Stop the Music" and the TV series "CHiPs." Now he's the father figure on the reality show "Keeping Up with the Kardashians."
Chuck Connors is one of just a handful of people to play in both the NBA and in Major League Baseball. But the NBA wasn't a big-time attraction in the '40s, and Connors hit a mediocre .238 for two MLB teams in the '50s. So he turned to acting -- and became the star of "The Rifleman."
Ed Marinaro came close to winning a Heisman Trophy in 1971 when he led the nation in rushing while at Cornell, an Ivy League school. After college, he played six seasons in the NFL and then turned to acting. Audiences probably know him best as Officer Joe Coffey on "Hill Street Blues."
Merlin Olsen was part of the Los Angeles Rams' Fearsome Foursome defensive line in the '60s and '70s. After he retired from the NFL, he acted in "Little House on the Prairie" and "Father Murphy" and became a pitchman for FTD Florists.
In the NFL, Fred Williamson was known as "the Hammer." As an actor, his roles have sometimes been equally tough -- a lot of cops and gangsters -- but he's done a bit of comedy, including the 2004 version of "Starsky and Hutch."
Fred Dryer -- seen here, left, on "Cheers" with Ted Danson -- played Hunter on the NBC series of the same name. He was also a star NFL player, playing 13 seasons in the league. He's the only NFL player to score two safeties in one game.
Esther Williams was a renowned Los Angeles swimmer when she joined a theatrical swimming troupe, Billy Rose's Aquacade. She parlayed her abilities into a successful acting career -- though, in such films as "Dangerous When Wet" and "Million Dollar Mermaid," she wasn't far from the water.
Before he became an infamous murder suspect, O.J. Simpson was famous both for his football career -- 1968 Heisman winner, leading NFL rusher of the early '70s -- and his performances in such movies as "The Towering Inferno," "Capricorn One" and "The Naked Gun."
Alex Karras was a dominant player for the Detroit Lions in the 1960s before turning to acting. He played Mongo in "Blazing Saddles" and had a long run on the TV series "Webster" as Emmanuel Lewis' adoptive father.
Michael Warren, who played Officer Bobby Hill on "Hill Street Blues," was part of UCLA's championship basketball squads in 1967 and 1968. One of his teammates was occasional actor Kareem Abdul-Jabbar, who you may remember from "Airplane!" or his status as the leading scorer in NBA history.
Athletes turned performers
Athletes turned performers
Athletes turned performers
Athletes turned performers
Athletes turned performers
Athletes turned performers
Athletes turned performers
Athletes turned performers
Athletes turned performers
Athletes turned performers
Athletes turned performers
Athletes turned performers
Athletes turned performers
Athletes turned performers
Athletes turned performers
Athletes turned performers
Photos: Athletes turned performers
Athletes turned performers
Athletes turned performers