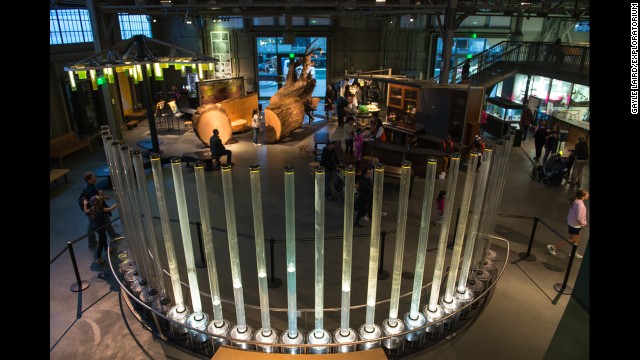 The
Exploratorium
in San Francisco is the United States' top attraction for kids, according to travel site Gogobot's users. In 2013, the hands-on science museum opened in a much larger space at Pier 15 on the waterfront.
Winter Park Resort
in Colorado a top kid-friendly spot. It's ranked No. 2 among Gogobot Travelers' Favorites award winners for best kids attractions in the U.S.
An alpine slide, a climbing wall and skiing and snow tubing help make
City Museum
includes the spectacular MonstroCity, a sculpture-playground hybrid that incorporates slides, wrought-iron Slinkies and more. The museum lands at No. 3 on the list.
St. Louis' imaginative
Dollywood Splash Country
in Pigeon Forge, Tennessee, ranks fourth on the list. The park features nearly two dozen water slides and rides.
largest urban bat colony
in North America. Nearly 1.5 million Mexican free-tailed bats take up residence underneath the bridge in the spring and summer. Kids love a good, somewhat creepy, air show.
The Ann Richards Congress Avenue Bridge in Austin, Texas, draws locals and tourists to see the
Sea Turtle Inc.
in South Padre Island, Texas. The rescue operation provides lessons in conservation to younger travelers and rates at No. 6 on Gogobot's list.
Allison, a rescued green sea turtle who has only one flipper, swims with the aid of a fin attached with neoprene at
In the American Museum of Natural History's Hall of Ocean Life, a 94-foot fiberglass replica of a blue whale hangs above the marine exhibits. The New York museum, ranked No. 7 among kids' attractions, was founded in 1869.
Legoland
in Carlsbad, California, ranks eighth on the list. More than 60 rides, attractions and shows keep kids entertained.
The Wizarding World of Harry Potter
at Universal Orlando Resort has been a crowd-pleaser since it opened in 2010. The Florida park is No. 9 on the list.
Museum of the Rockies
has a vast collection of dinosaur fossils, including Tyrannosaurus rex and Triceratops.
Bozeman, Montana's,
The boardwalk in Ocean City, Maryland, dates to 1902. Arcades, a roller coaster and a Ferris wheel are among its draws for kids.
Boston Children's Museum was founded in 1913 with exhibits that encourage hands-on learning. The museum is No. 12 of Gogobot's top attractions for kids.
A hungry hippo indeed. A hippopotamus roars for a treat in front of a boy at the San Antonio Zoo in Texas. The zoo is No. 13 on the list.
Twirl Toy Store and Playspace is located in an adobe building in historical Taos, New Mexico. There are two courtyards outside for energetic shoppers.
Dole Plantation
in Wahiawa, on Oahu.
Pineapple Express train rides are available at the
Exploratorium, San Francisco
Winter Park Resort, Colorado
City Museum, St. Louis
Dollywood Splash Country, Tennessee
Congress Avenue Bridge bats,Texas
Sea turtles, South Padre Island, Texas
American Museum of Natural History, New York
Legoland, California
Wizarding World of Harry Potter, Orlando
Museum of the Rockies, Montana
Ocean City Boardwalk, Maryland
Boston Children's Museum
San Antonio Zoo
Twirl Toy Store and Playspace, New Mexico
Dole Plantation, Hawaii