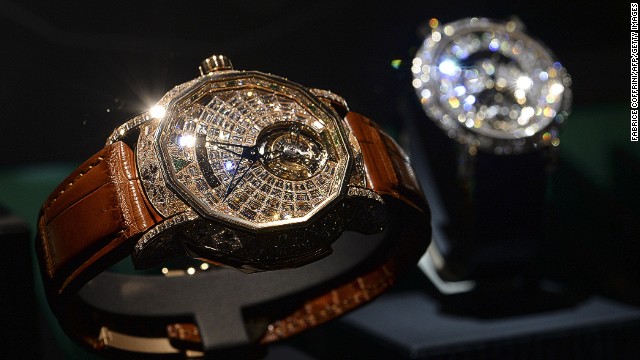 For those fascinated by the meticulous craft of watchmaking, there are few more important events than Baselworld -- the annual trade show for the international watch and jewelry industry in the Swiss border city of Basel. There, visitors have the chance to see the world's most extravagant, rare and complex timepieces, such as this MasterGraff Ultraslim Tourbillon by British jeweler Graff.
The event is the premier destination for anyone wanting to see the best in luxury watch design. It's where many watchmakers choose to unveil their latest timepieces, such as these Rolex watches above.
Baselworld is also a hothouse of high-level networking, with the great and the good of the luxury industry as well as a host of A-list celebrities all in attendance.
At the Dior booth haute couture meets horlogerie, with diamond bedazzled timepieces doubling up as envy-inducing jewelry.
It's not all about the famous names though, and the show is a good place to discover less known brands such as Glasheutte Original seen here.
But when it comes to bling, Baselword goes big. One of the highlights of this year's show back in April was the glistening "Cat's Eye" watch by Swiss watchmaker Girard-Perregaux, which is encrusted with 646 diamonds, and had a white gold dial, case and bracelet. In spite of its alluring sparkle, many industry experts emphasize that the most important element of the timepiece is its movement mechanism.
In contrast, this delicate wooden watch by self-taught watchmaker Valerii Danevych, named "Chillon Castle", features a marquetry-decorated dial which hides a Swiss-made movement.
It's not all about classic glamor and elegance though. Visitors had the chance to see the official watch of the FIFA World Cup at the booth of Swiss watchmaker Hublot.
Zenith, another Swiss house, displayed its Chronograph El Primero timepiece which takes an average of nine months to create. A series of 2,500 operations are performed by 300 experts which use 18 different types of metal.
For those intrigued by the inner working of their timepiece, this MasterGraff Skeleton Tourbillon transparent watch by British brand Graff reveals its intricate mechanism through openwork movement.
Ladylike luxury was on the agenda for this delicate Maurice Lacroix Masterpiece Square Wheel, which channels soft femininity with a shimmering pink mother of pearl dial, sparkling diamond case and crocodile leather strap.
According to watch connoisseurs, first time buyers should stick to well-known, established brands in order to ensure they are getting quality for their money. Breitling, whose Chronomat 44 Airborne is shown here, is famous for being the watch of choice for James Bond in the 1965 film "Thunderball".
However, there is no need to make a commitment to a single style. Andrew Block, the president and CEO of leading luxury watch consultancy Second Time Partners says that you can sport a different watch for each occasion, and gradually build a collection. This piece by British brand Bremont takes inspiration from the military.
Your luxury timepiece may have cost a fortune, but Block warns that it shouldn't be though of as a financial investment as its value depreciates the moment it lands on your wrist.
Powerhouse gathering
Trendsetting tendencies
Key players under one roof
Fashionably on time
Undetected luxuries
Unapologetic extravagance
Subtle refinement
Sporty inspiration
Painstaking craftsmanship
Mechanical wonder
Rose sophistication
Timeless elegance
Watch wardrobe
Art for art's sake
STORY HIGHLIGHTS
Last weekend, heavyweights of the luxury watch industry gathered for the annual trade show
CNN brings you the most extravagant and complex models unveiled
We also talked to experts about what to look out for when buying your first timepiece
(CNN) -- For the average consumer, investing in a quality watch can still be a daunting and surprisingly complicated business. There are a raft of considerations to balance before committing to a luxury timepiece, and so we spoke to three leading industry insiders on how to make an informed decision before blowing all your Christmas savings on that special someone.
Classic stays in style
Toby Bateman, the buying director at fashion retail site MRPORTER.COM, says first-time buyers should avoid anything too outré. "Keep it simple and timeless with classic design, something that would look good with a suit or your weekend clothes," he says. "If you follow this advice then you are unlikely to see your watch 'go out of fashion."
I believe in watch wardrobing. You can have a different watch for every occasion.
Andrew Block, CEO of watch consultancy Second Time Partners
Size matters
Ariel Adams, the founder and editor-in-chief of aBlogtoWatch.com, the world's most popular watch blog, follows two simple rules. Watches should not look petite on the wrist, and the lugs should not extend past the edge of the wrist. "Most people look best with a round case, and a watch sized between 40-44mm wide looks good on the wrists of 95% of men," he says.
There are few exceptions to this rule. As Batemen says: "Avoid going too oversized unless you happen to be 6 foot 5' and it's in proportion to your gigantic wrists."
Read more: Death before dishevelment: Enter into Congo's cult of elegance
Iconic brands make for a good first splurge
"It is often safe to go with a well-known brand with a lot of history," says Adams. "The longer a brand has been making watches the better the results in many instances." There are at least 20 very reliable brands with a proven track record for quality. Given their popularity, they often prove easier to repair and service as the years tick by.
Don't think of your watch as a financial investment
"You'll never get the money back that you spent on it," says Andrew Block, the president and CEO of leading luxury watch consultancy Second Time Partners. "It's like buying a car. The minute you put it on your wrist it's worth less than what you paid for it." If maintaining the value of a watch is still important to you, he says Patek Philippe and Rolex will fare the best. For women, he suggests Cartier.
Off-the-radar brands are worth a look
There are literally thousands of brands to choose from, so do your research. Bateman suggests those graduating to luxury consider Bremont, a British brand which takes inspiration from the military, and Nomos Glashutte, an established brand in Germany that is making a push internationally.
A fine watch can signify an achievement, like branching out on your own, graduating university, or getting your first job.
Andrew Block, CEO of watch consultancy Second Time Partners
Bling doesn't always justify price increases
The number one expense in watch-making is labor. It's not the materials, and it's not diamonds and gold. "Some watches are more branding than substance," says Adams. "Watch out for brands with bloated prices thanks to merely adding precious metals and jewels to base watches and movements that aren't worth very much."
Don't fear the funky or avant-garde
Over time, buyers should feel comfortable adding new designs to their collection. From fashion watches to sports watches, every timepiece can up your style quotient, says Block. "I believe in watch wardrobing," he says. "You wear one watch today and one watch tomorrow. You can have a different watch for every occasion. It's a concept women already understand, and which men should embrace."
Choose it yourself
A watch may not be a financial investment, but it is an emotional one. It reflects something about the person who chooses it. Because of that, it's unwise to let a relative or friend select the watch that you'll be wearing for the next five to ten years. This is an opportunity to express something about yourself.
Trust your instincts
"People tend to doubt their own taste and try to buy what they think people want them to wear," says Adams. "People should realize that their own taste is the most important and that legibility and wearing comfort are the two most important factors in allowing them to enjoy it the longest."
Read more: Beauty from the crypt: Mystery of Europe's jeweled skeletons
Technology can create problems
Added functions, such as a second time zone function, an annual calendar and a chronograph, can be useful. But if you don't know what these are, you should ask yourself if you really need them. "Highly complicated mechanical watches add value but also fragility and potential service problems," Adams says. "Those with very complicated timepieces are advised to have a few of them so that they have something else to wear if they need to be repaired."
Don't feel bad about rewarding yourself
Watches are practical purchases. Assuming you care for them, they can also last decades and become important markers of your personal history. "A fine watch can signify an achievement, like branching out on your own, graduating university, or getting your first job," says Block. "It can mark a new stage in your life."
Read more: Scrap metal find turns out to be $33 million Faberge golden egg
Read more: The dark drama of Venice Carnival
Read more: AK47s, ammo, and art: The unsettling allure of South Africa's beaded guns