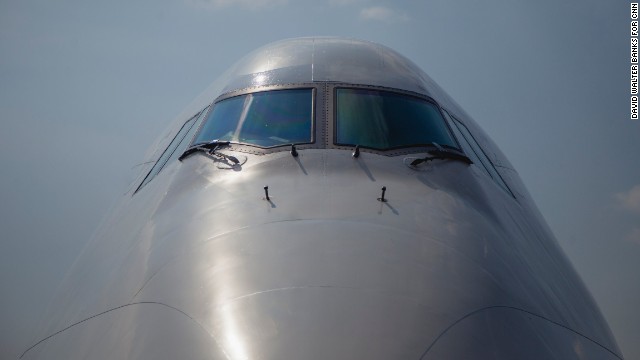 It was a regular day at the world's busiest airport, complete with the messes and victories of everyday life. On August 28, 2013, CNN spent 24 hours at Hartsfield-Jackson Atlanta International Airport. See everything we found at
CNN.com/ATL24
.
Passengers wait for flights in the International Terminal.
The interior of a cargo plane is barren as it awaits loading at the airport's UPS facility.
Friends and family wait for Holly Houston in the arrivals lobby of the Domestic Terminal.
People ride an escalator near Concourse E.
Shannon Nevin, 4, waits with her family at gate A21 for a flight to Savannah, Georgia.
A view out the window on the upper level of Concourse D.
A server at One Flew South heads to the kitchen.
Tiffanie Barriere serves a drink behind the bar at One Flew South on Concourse E.
People pass through the Domestic Terminal atrium.
Sgt. Vito Wallace exits the elevator and heads into the Domestic Terminal atrium.
Mi Ja Choi sits in the atrium of the Domestic Terminal. Police say they don't know how she was injured. Repeated attempts to follow up with her or her family have been unsuccessful.
Medic 3 -- a 10-year-old ambulance -- sits outside Fire Station 32, next to the tarmac near Concourse A.
Passengers are reflected in the ceiling of the Domestic Terminal atrium.
A MAC Cosmetics trainee applies makeup to employee Ashley White.
Jodi Ferrill and her five children wait for a connecting flight to Denver.
A corkboard full of military patches and souvenirs is mounted to the wall of a Starbucks near a security checkpoint. Employees say troops who come through the airport offer the patches as a way of saying thanks, since the coffee shop won't let them pay.
William Talton cleans the baggage carousels.
A floor cleaner's power cable crosses the carpet.
A beagle named Vince helps customs officers with inspections.
Customs officers check the serial numbers of weapons that arrived on a flight from Johannesburg. It's hunting season in South Africa.
Officer Michael Payne, known as Goob, is a member of the Atlanta Police Department's Bomb Tech Squad.
Pipes, cables and pumps line the interior of a wheel well on a Southwest Airlines plane.
Delta First Officer Michael Maier does an external inspection of a Delta 777 plane.
The air traffic control tower offers a 360-degree view of the runways.
Inside the Federal Aviation Administration's Terminal Radar Approach Control, or TRACON, Ken Hunihan monitors the systems that air traffic controllers use, including radar antennas and communication towers.
Packages are sorted at the FedEx cargo facility.
A FedEx worker moves containers full of packages at the cargo facility.
Airport employees take part in the annual Foreign Object Debris, or FOD, removal walk.
Passengers take the escalator to ground transportation and baggage claim.
ATL24: Inside the world's busiest airport
ATL24: Inside the world's busiest airport
ATL24: Inside the world's busiest airport
ATL24: Inside the world's busiest airport
ATL24: Inside the world's busiest airport
ATL24: Inside the world's busiest airport
ATL24: Inside the world's busiest airport
ATL24: Inside the world's busiest airport
ATL24: Inside the world's busiest airport
ATL24: Inside the world's busiest airport
ATL24: Inside the world's busiest airport
ATL24: Inside the world's busiest airport
ATL24: Inside the world's busiest airport
ATL24: Inside the world's busiest airport
ATL24: Inside the world's busiest airport
ATL24: Inside the world's busiest airport
ATL24: Inside the world's busiest airport
ATL24: Inside the world's busiest airport
ATL24: Inside the world's busiest airport
ATL24: Inside the world's busiest airport
ATL24: Inside the world's busiest airport
ATL24: Inside the world's busiest airport
ATL24: Inside the world's busiest airport
ATL24: Inside the world's busiest airport
ATL24: Inside the world's busiest airport
ATL24: Inside the world's busiest airport
ATL24: Inside the world's busiest airport
ATL24: Inside the world's busiest airport
ATL24: Inside the world's busiest airport
ATL24: Inside the world's busiest airport