Braver than bungee: Vanuatu's land-diving daredevils
updated 6:56 PM EDT, Sun March 30, 2014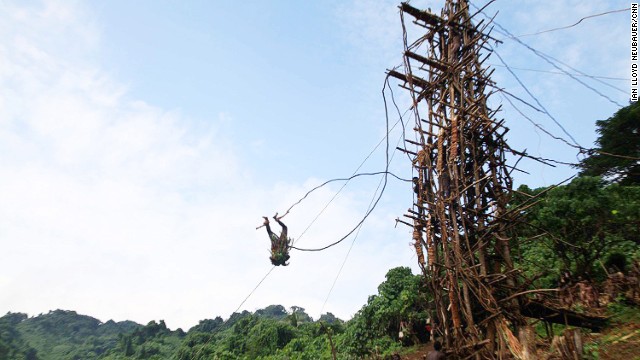 Diving boards are designed to snap and hinge downward to absorb much of the divers' G-force. The wood is freshly cut to ensure strength, while the vines are carefully measured and matched to the each diver's weight and height.
Before the land diver leaps, a troupe of around 100 men and boys wearing only penis sheaths begin chanting in Sa, the language of southern Pentecost.
When the crowd reaches fever pitch, the diver crosses his arms against his chest and makes an incredible leap outwards.
Held together by vines without a single nail or screw, each tower takes 30 men up to a month to build.
Land diving is only permitted in the months following the wet season to ensure the vines contain water, which lends them elasticity and strength.
The tower is built from timber and vines collected from the hills around the jump site.
Land divers start out as young as five, though they jump only from low planks on the tower. The highest planks are reserved for the most accomplished jumpers.
Instead of dangling in the air like a bungee jumper, divers actually skim their chests against the ground, which has been heavily tilled to absorb impact.
European missionaries banned land diving on Pentecost Island in the early 20th century. But the priests never reached this rugged southeast corner of the island.
The death-defying dives are performed each Saturday, from April to June. This picture by Tim Clayton from the Sydney Morning Herald of Vanuatu's land divers won the World Press 2007 award for best sports action shot.
Vanuatu's land divers take flight
Anticipation builds
Leap of faith
The Nagol Adi
Safety first ... sort of
Homegrown materials
Future land diver?
Softening the blow
Pentecost Island
Sports fans approve