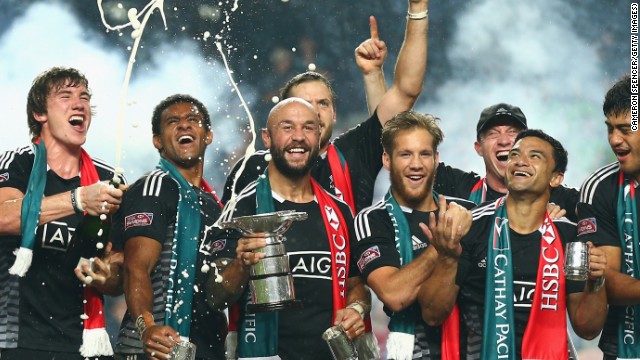 DJ Forbes and the New Zealand team celebrate lifting the HSBC Hong Kong Sevens trophy after beating England in the final. Their victory comes at the end of a three-day festival which is one of the highlights of the social scene in Hong Kong.
the battle to create the greatest costume
is almost as fierce as the action on the pitch in the HSBC Sevens World Series. The awesome, the awful, and the slightly disturbing: it's all here...
Welcome to Hong Kong, where
the fun and games in the stands
, where costume competition pushes fancy dress sales up by 40% in the run up to the event.
The annual three-day Hong Kong tournament is as famous for
The biggest party in world sevens got going on March 28, and already the costumes are out on show.
If this year is anything like what's come before, you can expect...
Ten twisting pharaohs...
Nine jumping judges...
Eight hulking hulks...
Seven dopey dwarfs...
Six saintly nuns...
Five bad-tempered beers...
Four Where's Waldos (found)...
Three saluting soldiers...
Two gorgeous girls...
one James Bond.
...but only
And one former Scottish rugby international -- Chris Paterson -- getting in on the act, too.
And look out for the series' blockbuster conclusion in London in May.
New Zealand triumph in Hong Kong
Hong Kong's craziest costumes
Hong Kong's craziest costumes
Hong Kong's craziest costumes
Hong Kong's craziest costumes
Hong Kong's craziest costumes
Hong Kong's craziest costumes
Hong Kong's craziest costumes
Hong Kong's craziest costumes
Hong Kong's craziest costumes
Hong Kong's craziest costumes
Hong Kong's craziest costumes
Hong Kong's craziest costumes
Hong Kong's craziest costumes
Hong Kong's craziest costumes
Hong Kong's craziest costumes
Hong Kong's craziest costumes
Hong Kong's craziest costumes
Hong Kong's craziest costumes