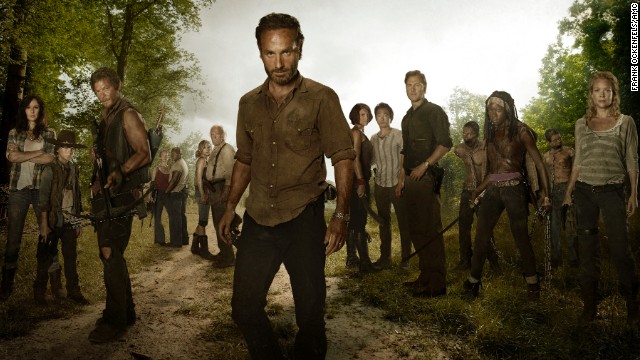 Rick Grimes, played by Andrew Lincoln, center, tries to keep some sense of normalcy in a post-apocalyptic world overrun with walkers on AMC's "The Walking Dead," but characters come and go quickly on the gruesome show. Here's a look at some of the key characters we've lost:
Among the most shocking deaths this season was that of young Lizzie (Brighton Sharbino, left), who died at the hands of Carol (Melissa Suzanne McBride, right) after killing her younger sister Mika. Lizzie's sense of right and wrong and life and death had been warped by the zombie apocalypse. Just as she did earlier in the season, Carol had to make the decision that someone was too dangerous to live. Carol urged Lizzie to follow her therapy of "look at the flowers" before she shot her in the back of the head.
Shane Walsh (Jon Bernthal) turned on his best friend, Rick Grimes, and lured him into the woods, apparently with plans to kill him and steal Rick's wife, Lori. Rick stabbed Shane, but he came back as a zombie, and Rick's son Carl had to shoot Shane to put him down.
T-Dog (IronE Singleton) was bitten helping Carol escape zombies at the prison.
Dale Horvath (Jeffrey DeMunn) was killed by a zombie.
Lori Grimes (Sarah Wayne Callies) died during childbirth. Her son, Carl, apparently shot her (heard, but not seen on camera) to prevent her from becoming a zombie.
Sophia Peletier (Madison Lintz) got lost in the woods. She later turned up as a zombie locked in the barn on Hershel Greene's farm. Sheriff Rick Grimes shot her in the head to finish her off.
Amy (Emma Bell) was bitten by a zombie. Her sister, Andrea, had to put her down after she revived as a zombie.
Merle Dixon (Michael Rooker) was killed by the Governor, reanimated as a zombie and put down by his brother, Daryl, who stabbed him multiple times.
Andrea (Laurie Holden) was bitten by Milton, who became a zombie after being stabbed by the Governor. She shot herself so she wouldn't become a zombie. This was heard off camera but not seen.
In one of the show's most heartbreaking losses, Hershel Greene (Scott Wilson) was decapitated and killed by the Governor.
After being stabbed by Michonne, the Governor (David Morrissey) was shot to death by Lilly.
Key characters killed on 'Walking Dead'
Key characters killed on 'Walking Dead'
Key characters killed on 'Walking Dead'
Key characters killed on 'Walking Dead'
Key characters killed on 'Walking Dead'
Key characters killed on 'Walking Dead'
Key characters killed on 'Walking Dead'
Key characters killed on 'Walking Dead'
Key characters killed on 'Walking Dead'
Key characters killed on 'Walking Dead'
Key characters killed on 'Walking Dead'
Key characters killed on 'Walking Dead'
STORY HIGHLIGHTS
"The Walking Dead's" fourth-season finale airs Sunday night
As Carol, Melissa McBride has been at the center of some brutal scenes this season
The actress promises a "crazy" finale
(CNN) -- Season four of "The Walking Dead" has featured some of the most brutal scenes in the popular series' history. (Yes, that's a warning for those behind on the show. Spoilers ahead!)
There was the gut-wrenching death of Hershel in the midseason finale, but there was also the burning death of David and Karen early on. It was a mystery who killed them, but it soon came out that Carol (Melissa McBride) did it to stop them from spreading a deadly disease through the prison.
When Rick learned what happened, he banished Carol from the prison, but she reappeared in the second half of the season.
Young sisters Lizzie and Mika were left under Carol's care after their father died, but it became clear that Lizzie had a skewed sense of right and wrong, and she killed her younger sister to bring her back as a walker.
Then Carol decided yet again that another survivor was too dangerous to live and shot Lizzie in the back of the head.
The reaction to this episode was huge. With McBride at the center of some of this season's more memorable scenes, CNN spoke to her about Carol's evolution and the finale Sunday night.
CNN: What was your initial reaction when you learned what Carol was going to have to do this season?
McBride: It was surprising to me that Carol was going in this direction, absolutely. But it also made a great deal of sense to me that they would take her in this direction. First of all it's a very interesting arc for this character, considering that she's lost her daughter; she carries so much responsibility for that, and also (she's) trying to navigate this world.
CNN: Is this the most challenging acting role you've ever had?
McBride: By far. This has been by far the most difficult, and certainly the longest-running. The most challenging and rewarding, for all the same reasons.
CNN: There was a powerful response online to the deaths of Lizzie and Mika; did you follow that reaction at all?
McBride: Yeah, I was really happy about the responses that came from that episode. Shooting that episode was remarkable and such a great experience. It all just came together in such a wonderful way. People talk about how "it needs to be earned." I felt what was necessary in this episode was absolutely earned. The emotional and critical response has been wonderful. The fans have just been phenomenal in their appreciation for that episode. What ultimately happened in that episode was controversial, but I feel like it was handled with such a sensitive approach. The build-up to it was just handled so well.
CNN: Have you seen the memes that have cropped up about the scene? The line "Look at the flowers" has taken on a life of its own.
McBride: People are pasting people's faces over Lizzie's in the flower bed! (Laughs)
That's another thing I love about the fanbase: They have a great sense of humor. ... I'm a spoofy kind of person. I appreciate the humor, and it's a great way to offset the devastation that people on the show (are) going through -- it's sometimes very refreshing to see that stuff.
CNN: There's a segment of fans who like the idea of Daryl and Carol together. They haven't had too many scenes together this season, but is that something you might be pulling for?
McBride: I know that Carol and Daryl have a tremendous bond. Personally, I am living vicariously through the fans, I guess. I enjoy their passion. For some people, watching the show, it's a fun element for them. They're very passionate about their 'ships!
CNN: How do you react to the show's massive popularity?
McBride: I'm constantly amazed by the amount of different types of people that are aware of the show. After the episode with the girls, a gentleman who is 73 years old -- he said, "I've never written a piece of fan mail ever, but I had to write how much I enjoyed that episode." It touched me so much.
When I think of how far-reaching this show is, and how big it is, it's like trying to fathom the beginning of time, and I have to stop.
CNN: What's your favorite thing coming out of the show?
McBride: It certainly has to be the relationships within the cast and crew, and getting to work with the people I do. It's so tremendously fulfilling, and personally getting to play this character has been a dream.
CNN: What can fans expect from the season finale?
McBride: There's nothing I can say that hasn't already been said! Like every finale, (whispers) it's gonna be crazy!