STORY HIGHLIGHTS
NEW: An official calls the process "very, very slow;" no timetables are given
NEW: "We have to, at some point, expect the worst," a county official says
Officials: The death toll remains at 17; the number of unaccounted for is still 90
Fire official: Rain "makes things slower and more complicated"
(CNN) -- The dreary slog to comb through the surreal aftermath of the landslide that devastated part of Washington state became even drearier and messier on Friday, with persistent rain and strong winds adding to searchers' already daunting challenges.
"The weather is basically working against us," Fire District Chief Travis Hots said.
Heavy rain fell again Friday on the hundreds of rescue personnel and volunteers fanned out across the rugged terrain in Snohomish County looking for signs of life or, at least, lives that once were.
Those downpours added to rain that's fallen the last two days, with more such precipitation likely through the weekend and beyond, according to the National Weather Service's forecast.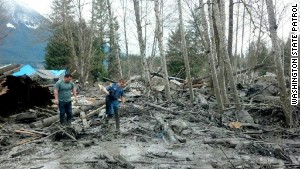 Chief: Devastation must be seen in person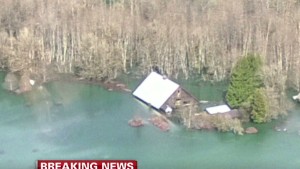 Race to save lives in Washington landslide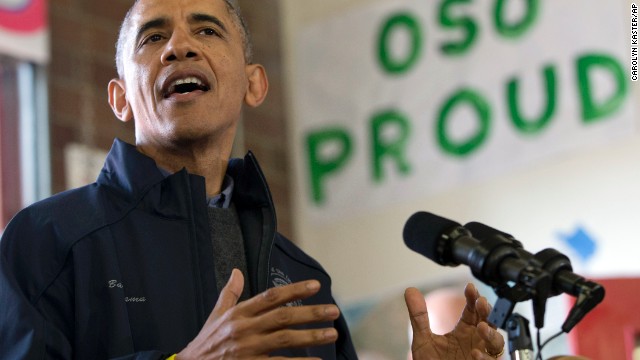 President Obama speaks to first responders, recovery workers and community members on Tuesday, April 22, at the scene of the deadly landslide that devastated Oso, Washington, one month before. The landslide crossed the North Fork of the Stillaguamish River and caused multiple deaths and massive damage.
An excavator clears a drainage channel on Wednesday, April 2.
This satellite image taken on Monday, March 31, shows the path of the landslide.
Workers cut a tree next to a possible victim on Sunday, March 30.
Search-and-rescue teams use a path of plywood to walk through a muddy field in Arlington, Washington, on March 30.
Tryon, a rescue dog muddied from the day's work, stands with his handler March 30 near the west side of the landslide.
Rescue workers dig through mud and debris near Darrington, Washington, on Saturday, March 29.
Mailboxes are seen in floodwater March 29 near Darrington.
Searchers in Oso pause for a moment of silence on Saturday, March 29. It was observed at 10:37 a.m., exactly one week after the landslide tore through the small community.
Search-and-rescue personnel attend a moment of silence at the fire house in Darrington.
Ralph Jones helps provide shelter for Brooke Odenius, right, Klarissa Calviste and their baby daughters during the moment of silence at the fire house in Darrington.
Staff Sgt. Jonathon Hernas of the Air National Guard carefully makes his way across debris and mud while searching for missing people March 29 in Oso.
Air National Guard members look out at the hill where the landslide originated while they search through debris March 29 in Oso.
Heavy machinery is used to move debris as members of the Air National Guard search for victims on March 29.
Search-and-rescue workers wade through water covering a highway near Darrington on Thursday, March 27. The landslide left buildings covered in up to 40 feet of mud.
A searcher walks near a massive pile of debris in Oso on March 27.
The muddied waters of the North Fork of the Stillaguamish River mix with the cleaner flow of the river's South Fork on March 27.
Emergency vehicles fill State Route 530 leading to the scene of the landslide in Oso on Wednesday, March 26.
Washington Gov. Jay Inslee speaks on the phone with a victim's family member as he flies to the Snohomish County Emergency Operations Center in Everett on March 26.
Search-and-rescue workers look through debris on March 26.
Teresa Welter cries during a candlelight vigil in Arlington on Tuesday, March 25.
The roof of a house sits among debris as emergency personnel continue to look for survivors on March 25.
Search-and-rescue workers use dogs to look for survivors on March 25.
A boot is found among the debris on March 25.
A search-and-rescue worker looks for survivors on March 25.
Chaplains watch as crews clear debris from State Route 530 in Oso on March 25.
The remains of the massive landslide are seen on Monday, March 24. The landslide blocked the highway and the Stillaguamish River.
A King County Sheriff's Office helicopter lowers a rescue worker on March 24.
A search-and-rescue team carries the body of a victim on March 24.
Volunteers help out with the search in Oso on March 24.
Snohomish County Executive John Lovick wipes a tear during a briefing in downtown Arlington on March 24.
Natalie Reed, right, and her 5-year-old daughter, Deja, attend a prayer service at Arlington United Church on March 24 for those affected by the landslide.
An intact house sits at the edge of the landslide on March 24.
The Langston family watches an online news clip about the landslide on Sunday, March 23, while they stay at a temporary Red Cross shelter in Darrington. The family's home was flooded after the landslide blocked the Stillaguamish River.
A destroyed home is stranded atop mud and debris on State Route 530 near Oso on March 23.
Downed power lines and parts of a destroyed house can be seen in the debris blocking the road near Oso on March 23.
Gov. Jay Inslee, right, comforts Barbara Welsh after a news conference March 23 outside the Arlington Police Department. Welsh's husband, Bill, was among the scores of people listed as missing immediately after the disaster.
Emergency workers arrive at the scene of the landslide on Saturday, March 22.
Groundwater saturation, tied to heavy rainfall in the area over the past month, was blamed for the landslide.
The landslide cut off the small town of Darrington and prompted an evacuation notice for fear of a potentially "catastrophic flood event," authorities said.
The first Washington State Patrol trooper arrives on the scene on March 22, according to the patrol's Twitter feed.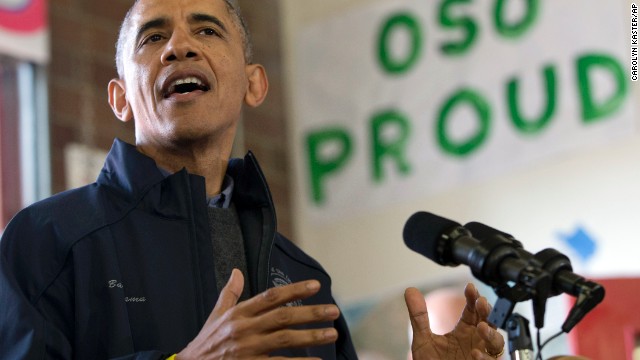 Photos: Washington state landslide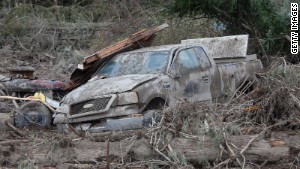 Response to landslide is 'very humbling'
Ironically, this comes as waters were starting to recede in the area following Saturday's horrific landslide near Oso, about 60 miles northeast of Seattle, and flooding from the Stillaguamish River. Areas had dried up are now saturated again while puddles and pools are filling up even more.
There are also worries the weather will create hazards, which is why more geologists have been brought in to make sure that there's not another landslide that suddenly puts rescuers in harm's way.
As Hots said Friday of the conditions, "It just makes things slower and more complicated."
Things are already moving at an arduous, if understandably slow, pace for those awaiting word on people who may or may not be buried in the rubble.
Snohomish County executive director Gary Haakenson said Friday evening that the official death toll is 17, which is the same number as had been given earlier in the day.
This figure includes only victims whose bodies have been received by the local medical examiner's office; for instance, one body located Friday "in the debris field" is not part of the count "until they actually reach the medical examiner's office," Haakenson explained.
Officials also said late Friday the number of missing and unaccounted for is 90, just as it has been for several days.
Even as he stressed the official tally would only come via the medical examiner, Haakenson acknowledged he believes "crews are finding bodies in the field" -- even if all those victims aren't reflected in the official count.
But Mother Nature isn't helping.
"It's a very, very slow process," Haakenson said. "It was miserable to begin with, and ... it's rained heavily in the past few days. It's made the quicksand even worse."
'Everything is gray'
Rare pops of color from first responders jacket or items that had once been in people's living rooms stood out in stark contrast to the overwhelmingly stark, somber, still surreal scene on Friday.
While dump trucks and large excavators worked to clear existing roads and create new ones, the efforts -- in terms of machinery -- were much more small-scale in areas where human remains or, at least, the remains of houses might stand.
The scene was busy, purposeful, if difficult.
Steve Mason, a Snohomish County fire battalion chief, explained "everything is gray, so anybody you're going to find in there, anything of any importance that you're going to find in there looks gray. So you have to really focus."
Given the potential that a person -- dead or alive -- might be hidden in the morass, crews tried to be meticulous in their work.
"Most of it is just digging in the mud and trying to find closure for people," volunteer searcher Gordon Storoe said. "Literally, a handful of dirt at a time."
The more rain, the harder it is to sift through that dirt, not to mention move through it.
Snohomish County Executive John Lovick noted that some workers were taken out of one area due "some sloughing," before geologists surveyed the situation and determined it was safe to go back.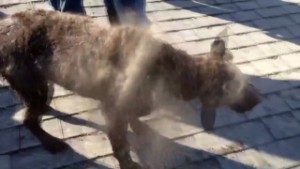 Family finds dog amid landslide rubble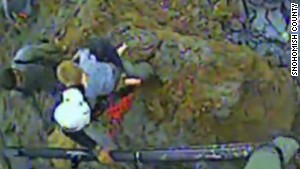 See 4-year-old pulled from landslide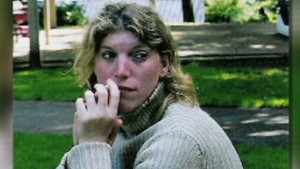 Searcher: 'It's no fun finding bodies'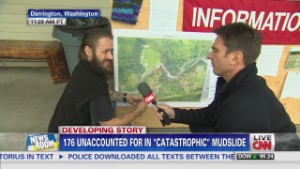 Mudslide: Search for the missing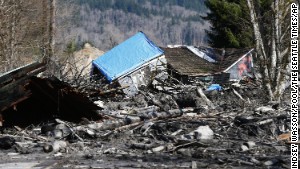 Desperate search for landslide survivors
Workers have made big progress in creating an east-west roadway to connect searchers on both sides of the landslide.
Still, in between, "the digging is very tough," Mason noted.
"... There's a lot more mud, and the mud is a lot more fluid."
Volunteers join in the search
Some of those scouring through the mud and rubble are firefighters or other emergency personnel. Others are civilians eager to help, in some cases to look for neighbors or loved ones who might be in the muck. Most all of those in both groups are volunteers.
There are concerns about more landslides or being stuck or sucked into the mud themselves. There are the raw emotions of literally sifting through what's left of some people's lives. And there's the fact sewage is mixed in with the mess, which is why everyone must be hosed off extensively.
As John Hadaway -- who sustained a concussion earlier while trying to find his missing brother -- told CNN affiliate KIRO, "It's not a safe job. There's nothing safe about it."
And yet every day, people line up nearby firehouses eager to slog through waist-deep mud and, as Mason said, "see things that people shouldn't have to see."
"I can't even express how difficult it is," said Arlington Mayor Barbara Tolbert, who made a point to call the spouses of responders. "They are searching for friends, and they are searching for families ... And it's very tragic."
These crews are still hoping for a miracle, that they'll find a survivor somehow trapped in an air pocket.
Still, it's now been a full week -- without food or water, in very cold and damp conditions, and in the aftermath of a violent natural disaster.
Haakenson said, "We always want to hold out hope. But I think that we have to, at some point, expect the worst."
Authorities haven't given any timetables, be it when the rescue transitions to a recovery operation or when the community can fully get back on its feet.
All they'll say is that it won't happen any time soon.
Even after the search teams leave, the tight-knit towns of Oso, Darrington and Arlington will still be suffering. Some residents will have lost most all their possessions; others will have lost their family members and neighbors; and for still others, the losses will be both ways.
"This is ... going to take a lot of work to get through, and a lot of people working for a very long time," Sen. Patty Murray said Friday. "... We're going to be there for the long haul."
CNN's Michael Martinez, Matt Smith, Mariano Castillo, Gabe Ramirez, Ana Cabrera and Jason Hanna contributed to this report.