STORY HIGHLIGHTS
Jersey Vargas, 10, travels to the Vatican with family and church members
She gets lucky and actually meets Pope Francis
She urges immigration reform and seeks help for her father facing deportation
Pope meets with President Obama the next day, when they talk about such reforms
(CNN) -- The 10-year-old American girl went to the Vatican on a prayer of maybe, just maybe, meeting the Pope this week to deliver an important message.
Her prayer was answered, against all odds.
But for a while, Jersey Vargas' pilgrimage seemed doomed when a bystander pushed the little girl in a pink hat out of the way as the Pope approached a Vatican grandstand filled with supplicants and the faithful.
Jersey wept.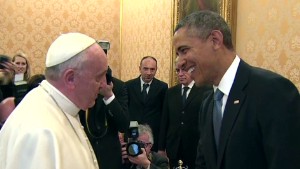 President Obama meets the Pope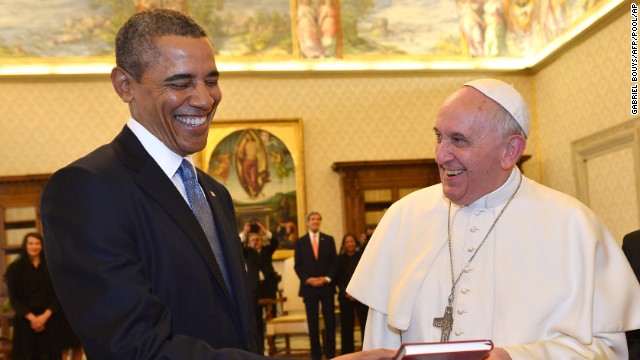 U.S. President Barack Obama and Pope Francis exchange gifts in the Pope's private library at the Vatican on Thursday, March 27. It was their first-ever meeting.
The two world leaders greeted each other with a smile and a handshake, and they posed for pictures before sitting down across a table from each other.
During their meeting, nearly an hour long, Obama invited the Pope to the White House.
The President has said he admires the Pope's courage to speak out on economic and social issues. "It doesn't mean we agree on every issue, but his voice is one that I think the world needs to hear. He challenges us," Obama told the Italian newspaper Corriere della Sera.
The meeting had its share of light moments. The President at one point quipped, "His Holiness is probably the only person in the world who has to put up with more protocol."
Obama and Secretary of State John Kerry pose with the Pope at his private library in the Apostolic Palace.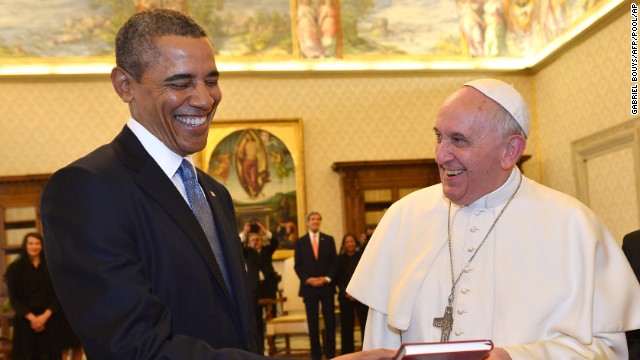 President Obama meets Pope Francis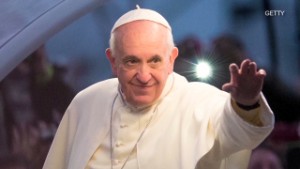 'Rock star' pope shakes up Vatican
"I had to get through a fence, and I was waiting for a long time," said the 10-year-old girl from Panorama City, California, near Los Angeles. "But when Pope Francis was getting near me, there was a woman who pushed me because she didn't want me there because Pope Francis was coming near. So I started to cry because when she pushed me, it did hurt."
A Good Samaritan saw the weeping child and gave her a front-row position to see Pope Francis.
It worked.
Pope Francis barely saw Jersey standing eye-high at a white-draped railing. He approached her. He touched her head. He blessed her.
The family now has photographs of the extraordinary encounter between their small daughter and the people's Pope, who's increasingly shown a penchant to enter a crowd and mingle.
It was then that Jersey delivered a message that she had carried for more than 6,300 miles.
"I told him, 'Please help my family because we are suffering and my dad is suffering deportation and it's not fair. Other children are suffering because their parents are getting separated,'" Jersey recounted.
She was referring to how U.S. immigration policy -- a vexing issue that has left Congress polarized and gridlocked about how to reform it -- breaks apart families by deporting parents who are undocumented immigrants while allowing their U.S.-born children to remain in the country, left in the care of relatives or on their own.
Her message on Wednesday just happened to be delivered as President Barack Obama was about to visit Pope Francis at the Vatican. In fact, the two leaders discussed immigration reform on Thursday, though no formal agreements were made, the Vatican said.
Jersey even gave the Pope a simple gift during their chance meeting.
The offering was a cloth napkin, embroidered with an image of two birds, made by Jersey's mother.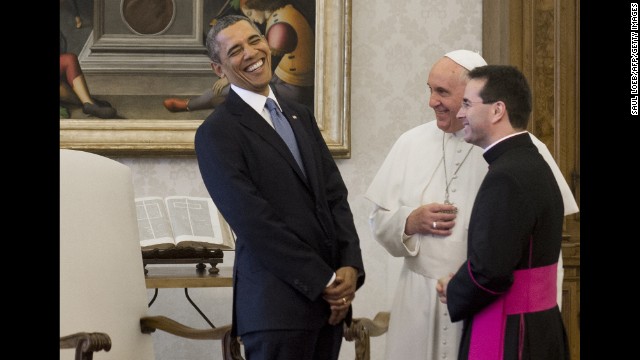 President Barack Obama laughs as he speaks with Pope Francis at the Vatican on Thursday, March 27. Every U.S. president since Dwight D. Eisenhower has had a formal audience with the pope.
President Dwight D. Eisenhower, third from left, meets with Pope John XXIII at the Vatican in 1959.
President John F. Kennedy talks with Pope Paul VI at the Vatican in 1963. Kennedy, who was the first and only Catholic president, met with the Pontiff shortly after his coronation.
In 1965, Pope Paul VI became the first to visit the United States. He met with President Lyndon B. Johnson and addressed the United Nations in a plea for world peace.
President Richard Nixon meets with Pope Paul VI at the Vatican in 1970.
President Gerald Ford and first lady Betty Ford visit Pope Paul VI at the Vatican in 1975.
President Jimmy Carter watches Pope John Paul II sign the White House guest book in 1979. He was the first Pope to visit the White House.
In 1984, President Ronald Reagan meets with Pope John Paul II at the airport in Fairbanks, Alaska. The Pope was making a layover on his way to South Korea, Papua New Guinea, the Solomon Islands and Thailand. Reagan was on his way home from China.
Pope John Paul II presents first lady Barbara Bush with a Vatican Medal as President George H.W. Bush looks at his medal during a ceremony at the Vatican in 1989.
President Bill Clinton stands by as Pope John Paul II speaks at a news conference in Denver in 1993. Before attending the Catholic World Youth Day, the outspoken Pope surprised the pro-choice President during their first public meeting with stern anti-abortion remarks.
President George W. Bush presents Pope John Paul II with the Presidential Medal of Freedom at the Vatican in 2004. During their meeting, the Pope reminded Bush of the Vatican's strong opposition to the U.S.-led invasion of Iraq.
During a trip to the Vatican in 2007, President George W. Bush gives Pope Benedict XVI a walking stick inscribed with the Ten Commandments that was made by a formerly homeless man in Texas. Bush met with popes a record six times while he was in office.
President Barack Obama and first lady Michelle Obama meet with Pope Benedict XVI at the Vatican in 2009.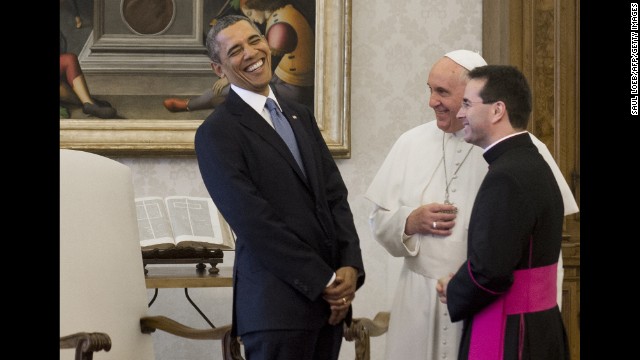 Photos: Popes and U.S. presidents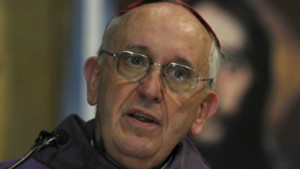 2013: Who is Pope Francis?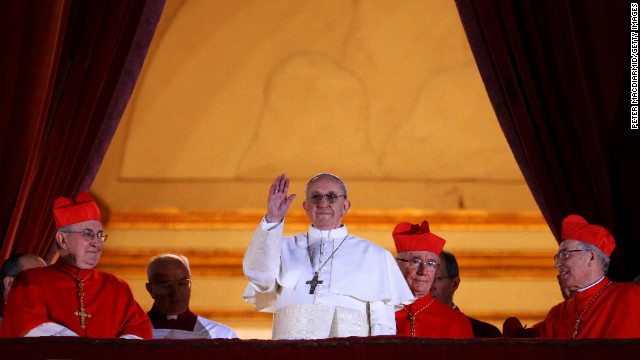 Argentine Cardinal Jorge Mario Bergoglio was elected the Roman Catholic Church's 266th Pope on March 13, 2013. The first pontiff from Latin America was also the first to take the name Francis. It was a sign of maverick moves to come.
Pope Francis at the reception desk of the Domus Internationalis Paulus VI residence, where he paid the bill for his stay during the conclave that would elect him leader of the world's 1.2 billion Catholics.
Pope Francis embraced a young boy with cerebral palsy in March 2013, a gesture that many took as a heartwarming token of his self-stated desire to "be close to the people."
Pope Francis washes the feet of juvenile offenders, including Muslim women, as part of Holy Thursday rituals in March 2013. The act commemorates Jesus' washing of the Apostles' feet during the Last Supper.
Crowds swarmed Pope Francis last July as he made his way through World Youth Day in Rio de Janeiro, Brazil. According to the Vatican, 1 million people turned out to see the Pope.
During an impromptu press conference on the plane from Brazil to Rome, the Pope uttered five now-famous words about gay priests: "Who am I to judge?" Many saw the move as the opening of a more tolerant era in the church.
In August, Pope Francis and Italian teens took what is likely the first papal selfie, another indication of the Pope's down-to-earth charm.
Pope Francis has eschewed fancy cars, instead choosing to drive a white Renault 4L. And he told priests and bishops to do the same.
Pope Francis embraced Vinicio Riva, a man with a rare skin disease, in November. The images went viral, with even atheists expressing admiration for the gesture.
Pope Francis marked his 77th birthday on December 17 by hosting homeless men to a Mass and a meal at the Vatican. One of the men brought his dog.
Pope Francis jokes with members of the Rainbow Association, which uses clown therapy in hospitals, nursing homes and orphanages. Many Catholics saw this image as the joyful flip side of Francis' embrace of the disfigured man.
In December, Time magazine named Pope Francis its Person of the Year, lauding him as "the people's Pope."
In another papal first, Pope Francis made the cover of Rolling Stone in January. The magazine praised his "obvious humility" and "empathy."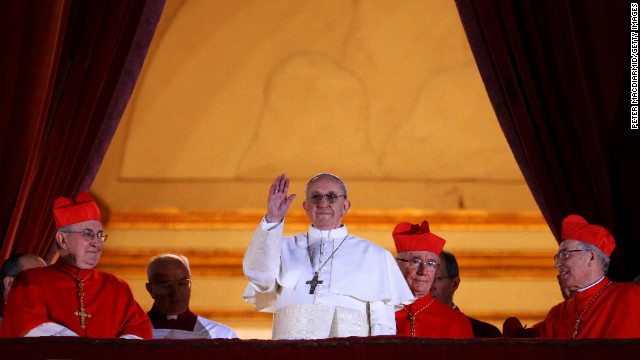 Pope Francis' first year
The birds represented her mother and father. Also embroidered on it was a legend: "Nest of Love," it said.
But that nest isn't complete because her father faces deportation.
"Pope Francis had it in his hand," she said of the napkin. "I told him about my family, and that's when he blessed me and touched my head."
The girl was flanked by chaperones and fellow members of a group called Hermandad Mexicana (Mexican Brotherhood), which trekked to the Vatican to bring attention to U.S. immigration reform efforts. To get the Argentina-born Pope's attention, they carried a banner that stated in Spanish: "Dear Pope Francis, Help us legalize our parents."
Lola Vargas, Jersey's mother, said she's so happy that her daughter was able to talk to the Pope.
"She told me what happened and what she told the Pope. I am so proud of her and she represents other kids who are in the same situation," the mother said.
Jersey's father, Mario Vargas, 43, was arrested in Blount County, Tennessee, for driving under the influence last September, said U.S. Immigration and Customs Enforcement officials. He was later convicted of the charge, officials said.
At the time, Mario Vargas was working a construction job, said family attorney Alex Galvez.
The father was then transferred to Louisiana because there was no ICE detention center in Tennessee.
"The police took him into custody and forgot about him for two months," Galvez said, "He was recently turned into ICE when the police filed the deportation proceedings two weeks ago."
Galvez said he spoke to the judge a week ago and presented the family's situation. The judged asked for the family to post bail of $15,000 but the family's attorney was able to reduce the bond to $5,000.
Galvez said Jersey's father was released on bail Friday, but the family still faces a legal battle in his ongoing deportation proceedings. Galvez hopes to transfer his case to Los Angeles and said Mr. Vargas will be returning home with his family this weekend.
Jersey's visit was part of a campaign where 11 immigration activists, plus some relatives, traveled to Rome hoping to talk to Pope Francis and ask him to speak to Obama about immigration reform.
Doris Benavides of the Los Angeles Archdiocese said Archbishop Jose H. Gomez has been a big supporter of children like Jersey and their crusade for reform.
Earlier this year Gomez relayed more than 1,000 letters to Pope Francis from children whose families members were facing deportation or were deported.
"Archbishop Gomez met Jersey at the Cathedral of Our Lady of Angels and thinks she is poised and articulate and has never met anyone like her," said Benavides.
Gomez helped the group by sending a letter to the Vatican requesting 17 tickets for the group, so they could have a viewing space Wednesday outside the Vatican, Benavides said. The 17 tickets were granted. But Jersey was lucky enough that she was able to get very close and deliver her message.
The Los Angeles Archdiocese believes that this visit to Rome will open a dialogue on how important immigration reform is.
"Jersey's story will help see the suffering caused in families by a broken immigration system," said Benavides.
The archbishop also posted a comment on his Facebook page. "Please keep praying for Jersey and for all the families who are suffering because of our broken immigration system," he said.
Jersey hopes that her messages will be heard.
"I am very proud of myself because I already accomplished my mission, that was to talk to him and to please stop deportations because the kids are suffering," she said.