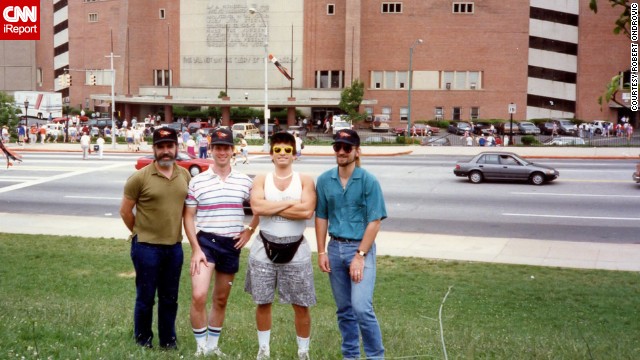 Baltimore Memorial Stadium (1990):
Robert Ondrovic, far right, poses with friends on an early leg of their decades-long "Dead Stadium Tour." The Baltimore Orioles played here from the time they were in the Minor League in 1950 until 1991. The Orioles then moved to Camden Yards.
Tiger Stadium (1992): Home to the Detroit Tigers from 1912 to 1999, the stadium was a great venue to watch baseball, but the surrounding neighborhood of Corktown was deserted, Ondrovic said. Much of the stadium was torn down in 2008, but the field remains.
Cleveland Municipal Stadium (1993): The Indians played here beginning in 1932. It was one of the earliest multipurpose stadiums and with nearly 80,000 seats at one point, "it was a huge, huge stadium," Ondrovic said. "Even this photograph can't really describe how far the game looked. ... You might as well sit at home." It was demolished in 1996.
Milwaukee County Stadium (1998): Opened in 1953, this was home to several teams over the years: The Milwaukee Braves, which later moved to Atlanta; the Chicago White Sox briefly; and the National League's Milwaukee Brewers from 1970 to 2000. It had the best stadium food on the friends' Dead Stadium Tour, Ondrovic said. It was demolished in 2001.
Kingdome (1997): One of several domed stadiums built in the '60s and '70s, the Seattle Kingdome was home to the American League's Seattle Mariners. It was demolished in 2000, which Ondrovic says "was a welcome relief. They could not blow that up fast enough."
Houston Astrodome (1999): The Astrodome was the first indoor stadium and its name became synonymous with artificial turf. The Houston Astros played there from 1965 to 1999. The National Trust for Historic Preservation included the stadium on its 2013 list of "most endangered" places.
Three Rivers Stadium (2000): This multipurpose stadium lasted from 1970 to 2000 and was home to the Pittsburgh Pirates. The group visited when there were just 22 games left. The stadium was imploded in 2001. The Pirates' new home, PNC park, is one of the more intimate in baseball with fewer than 40,000 seats.
Three Rivers Stadium: Ticket-holders were allowed to go on the field before the game. Ondrovic and his pals played catch on the major league field, a highlight of their 25-year tour.
Olympic Stadium (2001): The spaceship-looking building in Montreal was often mocked, and not just for its retractable roof that had all kinds of problems. Built for the 1976 Summer Olympics, the stadium served as the home of the Montreal Expos until 2004, when the team moved to Washington and became the Nationals. "We even experienced a blackout and it was no big deal because there was no one at the game," said Rich Hauptschein, far left, another member of the tour.
Cinergy Field (2002): Ondrovic poses for a photo in the stands at the home of baseball's first professional franchise, the Cincinnati Reds. The team played there from 1970 to 2002, when it was demolished. The team now plays at Great American Ballpark.
Hubert H. Humphrey Metrodome (2005): Ondrovic says indoor ballparks go against what baseball is all about. "If I wanted to watch baseball indoors, I would turn on my TV." The Metrodome in Minneapolis opened in 1982 and was home to the American League's Minnesota Twins until 2009. The Minnesota Vikings football team played there through 2013, after which preparation began for demolition.
Robert F. Kennedy Memorial Stadium (2007): Over the years, the group's tradition has grown to include the founders' children. RFK Stadium in Washington, D.C., which opened in 1961, was the first of the cookie-cutter "super stadiums" designed primarily for football. It was home to the Washington Senators from 1962 to 1971; more than 30 years later, the Nationals played there from 2005 to 2007. It's now home to the D.C. United soccer team.
Shea Stadium (2008): Ondrovic and his pals rank the Mets' former home among the worst ballparks, but it will always remain his favorite for the memories. The Mets played there from 1964 to 2008 and moved to Citi Field in 2009. Shea was demolished the same year.
Dolphin Stadium (2009): "The sight lines were horrible for baseball and you had to sit sideways in your seat to watch the action," Ondrovic said. The Miami-area venue, which went by several different names -- now Sun Life Stadium -- was home to the National League's Florida Marlins from 1993 to 2011. The Miami Dolphins football team still plays there.
Baltimore Memorial Stadium (1990)
Tiger Stadium (1992)
Cleveland Municipal Stadium (1993)
Milwaukee County Stadium (1998)
Kingdome (1997)
Houston Astrodome (1999)
Three Rivers Stadium (2000)
Three Rivers Stadium
Olympic Stadium (2001)
Cinergy Field (2002)
Hubert H. Humphrey Metrodome (2005)
Robert F. Kennedy Memorial Stadium (2007)
Shea Stadium (2008)
Dolphin Stadium (2009)
STORY HIGHLIGHTS
Four buddies have been touring "dead stadiums" for 25 years
The baseball fans say they're documenting the history of the game
The venues weren't all great for baseball, though
What's your favorite ballpark? Send an iReport.
Where was your best ballpark experience? Send your photos to CNN iReport.
(CNN) -- Robert Ondrovic was at Shea Stadium for the Mets' first season there in 1964, and he was there for its last in 2008.
He's first to tell you it was one of the worst ballparks in America.
"Shea was outdated within four to five years. Everyone got tired of sitting in a concrete doughnut," said Ondrovic, 53, a New York lawyer and die-hard Mets fan, having grown up in Queens. "The pitch of the upper deck seating was too steep, and the concession areas and ramps beneath the stands were dank."
To a true fan, even the poorly designed venue offers an adventure when there's a chance to be part of baseball history.
Ondrovic has become something of an expert on past-their-prime parks. Nearly every baseball season for the past 25 years, he and three buddies from law school and college have taken in a major-league series at an "endangered" ballpark. They call it the Dead Stadium Tour.
The four baseball junkies, of whom Ondrovic is the official archivist and photographer, have visited 18 now-defunct Major League parks. They've seen Olympic Stadium in Montreal, Tiger Stadium in Detroit, the Seattle Kingdome and many spots in between.
"We felt it was important to the history of the game to see these ballparks before they were torn down" or abandoned by Major League teams, said Rich Hauptschein, 54, an information systems consultant in Kennett Square, Pennsylvania, and one of the group's founding members. "We always knew we could visit the new ones."
The group's tradition started in 1989 with a visit to Chicago's Comiskey Park, where the White Sox played from 1910 to 1990. One guy dropped out, and Ondrovic joined the tour the following year for their trip to Baltimore Memorial Stadium to see the Orioles play in their final season there. The foursome has been traveling together ever since.
During each trip, the guys take in a weekend series, schedule a few side trips and take lots of pictures. Ondrovic takes hundreds of photos before the game starts from high in the bleachers, far away from the action, but his favorite part of each trip is the group photo the quartet takes at each stadium.
A video montage of the photos in his archive show the men gradually aging and their children slowly joining in as the next generation. If there's a year when a team isn't planning to move, they try to predict which ballpark might be next to go, or else pick another ballpark out of a hat. After they've seen every existing major league team once, the guys will visit the teams in their new homes.
They're committed to continue the tradition for life, Hauptschein said.
"Others have visited all the stadiums, but they have done it during one summer," Hauptschein said. "We are able to bring our kids with us now and have them experience what it means to be committed to a cause and to share our love of baseball. I truly expect them to do this for their entire lives and pass it down to their kids."
Of the 18 retired ballparks, several dated to the 1960s and '70s, during the baseball building boom when practically every team moved to a generic "super stadium" that was designed first for football. Those decades saw the opening of the Houston Astrodome, Veterans Stadium in Philadelphia and the Seattle Kingdome among others.
Baseball teams began to leave those multipurpose facilities in the 1990s, after Baltimore's Camden Yards introduced an era of intimate "retro ballparks" built just for baseball. After that, practically every team wanted a new park, said Gary Gillette, co-chair of the Society for American Baseball Research's ballparks committee and the lead author of "Big League Ballparks: The Complete Illustrated History."
"Super stadiums with artificial turf was the defining way baseball was played from the mid-'60s to the mid-'80s. A big chunk of baseball history is tied up in those parks," said Gillette. He was impressed with the dead stadium tour, saying most people seem to want to see games in places that are "big, new, shiny and comfortable."
Many of the parks on the tour have been far from ideal baseball venues.
The Municipal Stadium in Cleveland, one of the country's earliest multipurpose stadiums, was so giant that if you sat in parts of the upper deck, "you felt like you weren't even in the park," Ondrovic said. "You might as well sit at home." The Cleveland Indians played at the lakefront stadium beginning in 1932. It was also known for its biting winds.
Then there was their 2009 trip to see the Florida Marlins at what was then called Dolphin Stadium, where "if you sat in your seat and looked straight ahead, you couldn't watch the game." The stadium, later renamed Sun Life, was home to the Florida Marlins from 1993 to 2011. The Miami Dolphins and the University of Miami Hurricanes football teams still play there.
The award for "world's ugliest stadium" and "the worst place to see any sporting event on the planet"?
That would be the Seattle Kingdome, Ondrovic said. "The lighting was horrible .... It's one thing if you're not going to play on grass, but at least pretend that you're going to play on something that resembles grass. It was so fake, it was just ugly. They could not blow that up fast enough." It was demolished in 2000.
There have been lots of other memorable moments. The bratwursts at the Milwaukee County Stadium were so good that the group went to the factory that made them and placed an order to ship back to New York, Ondrovic said.
At the Three Rivers Stadium in Pittsburgh, where the Pittsburgh Pirates played from 1970 to 2000, anybody with a ticket to the game could go on the field and meet the players beforehand.
"We had gloves and balls with us, and we played catch in the outfield," Ondrovic said. "It left a great memory -- you're out there having catch with your buddies, but you're out there on a major league field. It's wild."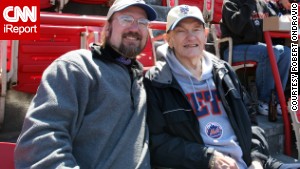 Robert Ondrovic and his dad in 2005 at Mets opening day in Shea Stadium. They saw 28 consecutive opening games there. His father died later that year.
Of all the parks and stadiums, Shea Stadium will remain Ondrovic's favorite for the memories it holds. It's where his dad took him to see his first baseball game, on his 4th birthday. He and his father attended 28 consecutive opening day games at Shea, until 2005, when Ondrovic's dad could no longer walk on his own and he carried his father to their seats for their final game together.
"No fan really thought of it as a 'good stadium,' and it had seen better times long before we finally got Citi Field built," he said. "But it was home away from home for me for over four decades, and I cherish every memory."
Talia Day, special to CNN, contributed to this story.