Suspect in mom-son slayings surrenders after 1 day on FBI's Top 10 list
updated 4:40 PM EDT, Fri March 28, 2014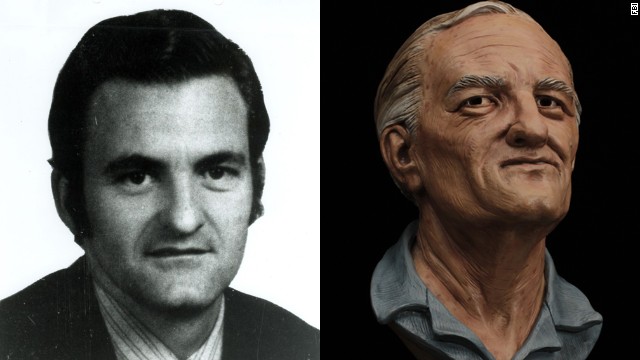 From
the FBI's website
: "William Bradford Bishop Jr. is wanted for allegedly bludgeoning to death his wife (age 37), mother (age 68), and three sons (ages 5, 10 and 14) in Bethesda, Maryland, on March 1, 1976. He then allegedly transported their bodies to Columbia, North Carolina, where he buried the bodies in a shallow grave and lit them on fire." The image on the right is an age progessed bust created to show how Bishop would appear at age 77.
the FBI's website
: "Robert William Fisher is wanted for allegedly killing his wife and two young children and then blowing up the house in which they all lived in Scottsdale, Arizona in April of 2001."
From
the FBI's website
: "Alexis Flores is wanted for his alleged involvement in the kidnapping and murder of a five-year-old girl in Philadelphia, Pennsylvania. The girl was reported missing in late July of 2000, and later found strangled to death in a nearby apartment in early August of 2000."
From
the FBI's website
: "Glen Stewart Godwin is being sought for his 1987 escape from Folsom State Prison in California, where he was serving a lengthy sentence for murder. Later in 1987, Godwin was arrested for drug trafficking in Puerto Vallarta, Mexico. After being convicted, he was sent to a prison in Guadalajara. In April of 1991, Godwin allegedly murdered a fellow inmate and then escaped five months later."
From
the FBI's website
: "Jason Derek Brown is wanted for murder and armed robbery in Phoenix, Arizona. During November of 2004, Brown allegedly shot and killed an armored car guard outside a movie theater and then fled with the money."
From
the FBI's website
: "Fidel Urbina is wanted for allegedly beating and raping a woman in March of 1998. While out on bond, he also allegedly beat, raped and strangled a second woman to death in October of 1998. Her body was later found in the trunk of a vehicle that had been burned. Both crimes occurred in Chicago, Illinois."
From
the FBI's website
: "Eduardo Ravelo was indicted in Texas in 2008 for his involvement in racketeering activities, conspiracy to launder monetary instruments, and conspiracy to possess heroin, cocaine and marijuana with the intent to distribute. His alleged criminal activities began in 2003."
From
the FBI's website
: "Victor Manuel Gerena is being sought in connection with the armed robbery of approximately $7 million from a security company in Connecticut in 1983. He allegedly took two security employees hostage at gunpoint and then handcuffed, bound and injected them with an unknown substance in order to further disable them."
From
the FBI's website
: "Jose Manuel Garcia Guevara allegedly murdered a 26-year-old woman in the presence of her four-year-old stepson in Lake Charles, Louisiana, in 2008. Guevara and the victim lived in the same mobile home park. Guevara allegedly broke into the victim's home, raped her, and brutally stabbed her to death."
From
the FBI's website
: "Semion Mogilevich is wanted for his alleged participation in a multi-million dollar scheme to defraud thousands of investors in the stock of a public company incorporated in Canada, but headquartered in Newtown, Bucks County, Pennsylvania, between 1993 and 1998. The scheme to defraud collapsed in 1998, after thousands of investors lost in excess of 150 million U.S. dollars, and Mogilevich, thought to have allegedly funded and authorized the scheme, was indicted in April of 2003."
From
The FBI's 10 most wanted
Robert William Fisher
Alexis Flores
Glen Stewart Godwin
Jason Derek Brown
Fidel Urbina
Eduardo Ravelo
Victor Manuel Gerena
Jose Manuel Garcia Guevara
Semion Mogilevich
STORY HIGHLIGHTS
Juan Elias Garcia, who had a $100,000 reward on his head, surrendered in Nicaragua
He's accused of killing a 19-year-old woman and her 2-year-old son
A soured romance and gang rivalries are involved, the FBI says
(CNN) -- A man suspected of killing a young New York mother and her toddler in 2010 was arrested in Nicaragua one day after making the FBI's Ten Most Wanted list. On Friday, authorities said, he was returned to the United States.
Juan Elias Garcia, whom the FBI calls an "enthusiastic murderer," had a $100,000 reward on his head.
"The pressure generated by this publicity was too much for Garcia to bear, resulting in his surrender and return to the United States," George Venizelos, FBI assistant director in charge of the New York field office, said in a statement.
Garcia surrendered Thursday to authorities at the U.S. Embassy in Managua, Nicaragua, authorities said.
Garcia voluntarily agreed to return to the United States and was arrested in New York Friday after the FBI sent a plane to transport him, the statement said. He is to appear in federal court on March 31.
"Garcia's callous disregard for human life resulted in the senseless murder of a young mother and her helpless 2-year-old son," Venizelos said on the agency's website on Wednesday.
Garcia is alleged to be a member of the violent MS-13, or Mara Salvatrucha, gang. He was thought to be hiding in El Salvador.
The FBI said a romantic entanglement and gang rivalries lay at the heart of slayings.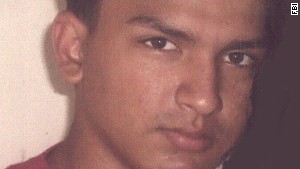 Juan Elias Garcia is accused of murder, racketeering and other crimes.
Alleged victim Vanessa Argueta, 19, is said to have had a romantic relationship with Garcia, and she's also believed to have had ties to two rival gangs: the 18th Street gang and the Latin Kings.
"They were going to kill her for disrespecting the gang," Special Agent James Lopez said in the FBI release. "It is unacceptable for MS-13 members to have girls they associate with be involved with rival gang members."
The FBI said that under the guise of an invitation to dinner in Central Islip, New York, Garcia coerced Argueta and her 2-year-old son into the woods. There, they were met by two co-conspirators -- members of Mara Salvatrucha -- and Argueta was murdered execution-style in front of her son. The FBI said the same gun was then used to kill the toddler