STORY HIGHLIGHTS
A new report shows women account for a fifth of FTSE 100 board members
Lord Davies: "Culture change taking place at the heart of British business"
Critics say the figures mask reality as many of the roles are non-executive positions
From MBAs to wider issues on professional development, Route to the Top brings the latest news to give you an edge in the job market. We'll speak to industry and management experts and business school academics, providing the latest advice on how to advance your career.
(CNN) -- Is the glass ceiling in Britain finally beginning to crack?
A new report on the gender makeup of FTSE 100 (the top 100 firms listed on the London Stock Exchange) company boardrooms suggests that just might be the case -- but not all the experts are convinced.
Women now account for 20.7% of FTSE 100 executive board members, an increase of 12.5% since 2011, according to The Cranfield School of Management's Female FTSE Board report released Wednesday.
Lord Davies, a former UK trade minister who has been tasked with improving gender equality in Britain's boardrooms, described the findings as "impressive" but only part of the journey toward gender fairness at the top of the country's leading firms.
"We are finally seeing a culture change taking place at the heart of British business," Davies said.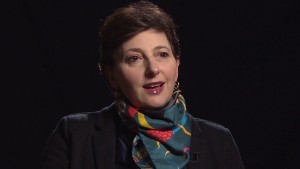 Can slowing down help generate better ideas?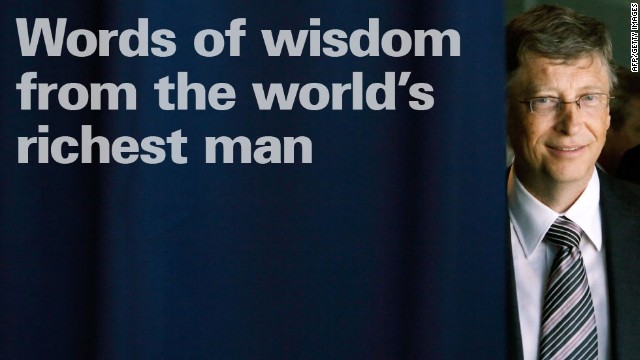 Earlier this week, Forbes magazine revealed the world's richest people in their annual billionaires list. Top of the pile was Bill Gates, reclaiming the money crown he last held in 2010. The Microsoft founder has an estimated personal wealth of $76 billion and has headed the Forbes list in 15 out of the last 20 years. But how did he reach the top? We trawled through archives of interviews and speeches to find the Gates recipe for success in his own words, revealing his wisdom, wit and an ability to think big. Click through the gallery to read some of Gates' most notable quotes.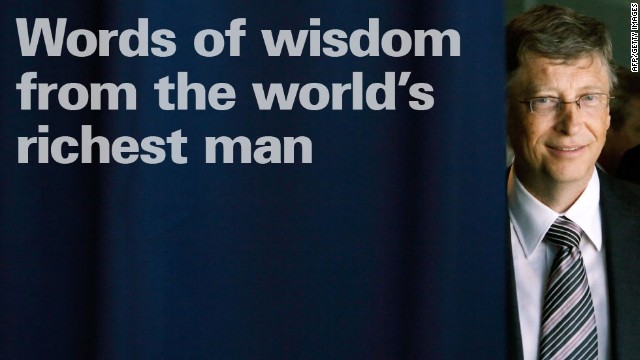 Bill Gates in his own words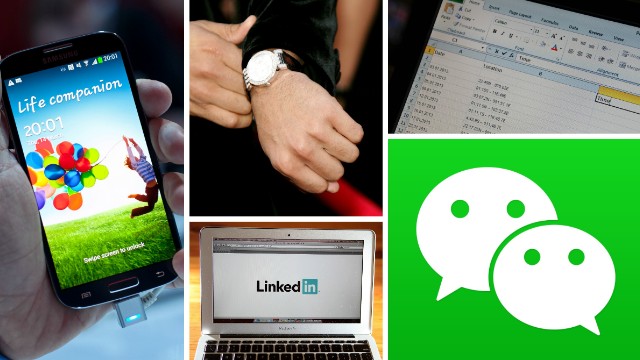 We asked some of the world's leading executives what item of tech has most helped improve their productivity at work. The answers we received were by turns intriguing, witty and surprising ...
"I'm lucky enough to be a Google Glass Explorer. I've had my Glass for several months now, and really enjoy using it. I've become a hit at dinner parties, where everyone wants to try it out. However, the one piece of technology that's most important to all aspects of my life is my phone. It's never outside my reach. I use it all day and sometimes all night. I was an iPhone user for a long time. I loved being able to FaceTime with my kids, and the design is brilliant. But recently, I switched to the Samsung Galaxy S4 and love it. "The powerful dual-core processor means it's fast, really fast. The camera has a ton of different modes, so I always get the right shot. And, the ability to share all my photos and videos to my smart TV makes my kids feel like stars. Bonus feature is that I can also use the phone as a TV remote and since most of my web services are with Google, the integration with my email, calendar and photos are made simple. "I love my Google Glass, and my iPad mini connects me to my family, but I couldn't work without my Samsung Galaxy S4."
"It's hard for a product geek to say you love a spreadsheet but I do. I'd go as far as saying it's my favorite piece of software. How can a row of cells on a grid be so elegantly simple that they've remained nearly identical to their modern day birth in VisiCalc - 1979. "For me, spreadsheets and the database-like logic behind them are sufficiently magic that I can harness the superpowers of my computer to enhance my abilities. Add pivot tables and I'm in data heaven."
"LinkedIn drives massive value for Morgan Stanley in numerous ways. We use LinkedIn's Talent Solutions to find A+ people around the world more quickly and cost effectively than traditional recruiting methods. Our Company Page helps us showcase our employment brand and highlight why Morgan Stanley is an employer of choice. The combination of Recruitment Media and Job Postings has helped us put our open jobs in front of the right prospects. And Recruiter has helped our recruiting team identify and contact prospects who aren't actively searching for a job, but are open to relevant job opportunities. "In addition, our 56,000 global employees use LinkedIn as a resource to get smart on market trends, collaborate with each other and engage with prospective and active clients. We are especially excited about LinkedIn's recently announced mobile solutions as they will further help our employees and recruiters be even more productive when they are on the go."
"At Huawei, we are encouraged to use as many Huawei and non-Huawei branded products as possible to ensure we remain up-to-date on the latest technologies. Here are my key picks: My Huawei Ascend Mate smartphone for staying in touch, Microsoft OneNote for general organization, and the business productivity and networking app Wechat by Tencent. Wechat keeps me and my team up-to-date with the latest news and information, we share ideas and form virtual teams for instant sharing of documents, images and group chats, all on the go. All of these and more are linked to my personal favorite, the mobile Wi-Fi device. It is the world's smallest and most compact LTE Cat4 device, providing me with download speeds of up to 150Mbps, 6 hours of battery life, and allowing me to connect up to 11 colleagues simultaneously. "In general, mobile Wi-Fi has completely transformed my work habits. I can now use multiple devices to search, browse, and email anywhere -- in taxis, airport lounges, etc. I even used it on the subway the other day! I call this collection of devices my personal 'portable smart connectivity ecosystem.' "The future will be a world of connectivity and convenience - in the home, office, car, or anywhere in between. Household products, cars, watches, and many other devices will be connected to sensors and the internet through smartphones and mobile Wi-Fi, enabling all kinds of new services and applications. Of course, consumers will have the final word but I have no doubt the world will be full of richer experiences with our smartphones at the center."
"In a rather amusing turn for a computer geek from Alabama, Maurice LaCroix, a Swiss watch company, asked me to be their "brand ambassador". Me, a watch model, just like George Clooney! Ha. Anyway, as part of the deal, they gave me a few rather lovely watches. Analog. Old school. Gears and whatnot. "Here's the thing, though. I see people all the time digging in their pockets to find their mobile phones to find out what time it is. I just look on my wrist. Lookie there - the time! A clock... ON MY WRIST! It's epic and awesome. As it turns out, it is often important to know what time it is. Maybe you've got a meeting. Maybe you are trying to catch a plane. Or maybe you're just curious. The time, right there on your wrist, amazing. If only our grandparents had known about this. (Ha.) "So basically what you do is, and I know this is going to sound really foreign to most people today, you get up in the morning and when you put your phone in your pocket (where you can't see what time it is), you put this device on your wrist. Then, throughout the day, if you have a need - or perhaps simply a desire - to know what time it is, ka-POW, you just flip your wrist up, take a look at that bad boy, and there you go. Chronography for the win!"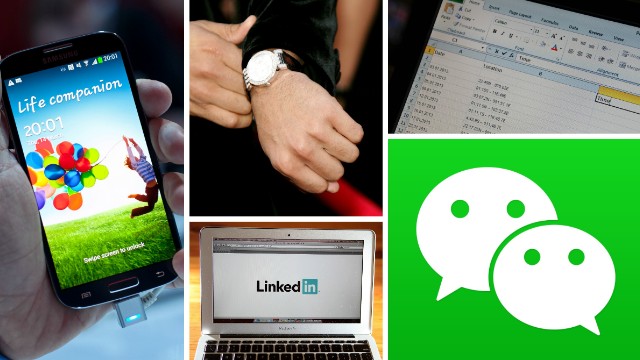 Tech at the top: How 5 of world's leading executives streamline their productivity
Real progress?
There are now only two members of the FTSE 100 -- copper mining company Antofagasta and natural resources group Glencore Xstrata -- with no female board representation, compared to one company in five in 2011.
At the other end of the spectrum, drinks firm Diageo and business process outsourcing company Capita, are setting the pace with 44.4% female representation on their boards.
Britain has set itself a target of having women make up 25% of FTSE 100 board members by 2015. This objective will be met with a further 48 appointments of women to boardroom positions within FTSE 100 companies in the next year.
But while these headline figures may cast Britain's progress on this issue in an impressive light, a closer inspection reveals a far more complex picture.
According to the Cranfield study, there are 48 companies in the FTSE 250 (which lists the 101st to 350th largest firms on the London Stock Exchange) with no female board representation.
Many of the new boardroom positions taken up by female FTSE 100 directors in recent years, meanwhile, are non-executive positions which do not form part of the executive management team and where power and influence is limited.
"Over the past year there were 52 new female appointments to FTSE 100 boards -- representing 27% of all appointments," said professor Susan Vinnicombe, one of the report's authors. "Of these, only five were executive director positions and the remaining 47 were non-executive Directorships."
Europe's leaders
The British government has looked to pressure publicly limited companies into addressing the issue of female board representation in recent years without legislating on the matter.
Other European nations, however, have introduced legally binding quota systems to help ensure female representation is guaranteed on the boards of leading publicly listed companies.
The likes of the Netherlands, France and Spain have all regulated to varying extents in recent years, witnessing an improvement in female representation at non-executive boardroom level as a result.
Overall there are eight nations within the EU -- including France (26.8%) and the Netherlands (23.6%) -- that have a greater number of women at boardroom level than the UK, according to figures on board representation gathered by the European Commission last year.
In order to close this gap and generate a sustainable talent pool, companies must invest
Elena Doldor, Cranfield University
Outside the EU, Norway was the first country to introduce boardroom gender quotas in 2006 and can now count as many as 40.5% of executives in public limited companies as female, according to Statistics Norway.
But in all of these countries, as in Britain, women are still more likely to occupy non-executive roles as opposed to executive director roles.
'It takes time'
Elena Doldor, co-author of the Cranfield study, says pressure must be brought to bear on firms to encourage them to genuinely foster female talent rather than just perform a gender box ticking exercise.
"In order to close this gap and generate a sustainable talent pool, companies must invest more effort in developing the pipeline of female talent," Doldor said.
Others, such as Sibylle Rupprecht, executive director for Catalyst Europe, an organization that promotes women in business, suggest that all change is good change even if it doesn't have the desired impact straight away.
"Our research has actually shown that if you have three women on the board (in non-executive positions) this translates over a period of four to five years into 21% more women in executive positions.
"The executive positions are appointed by the board or at least approved by the board. If you have more women on the board then you will have a more diverse executive thought," she added. "There is a correlation but it takes a bit of time."
See also: What can the Romans teach business leaders
See also: Bill Gates in his own words
Interactive: Top tips from the world's leading bosses