STORY HIGHLIGHTS
NEW: Four people were at one house -- the new home owner and three contractors. Three are dead, the other missing
Navy Cmdr. John Regelbrugge III and his wife were found by family members
Summer Raffo, 36, was driving to work when the landslide struck
4-month-old is one of the latest victims to be identified
Editor's note: The following was compiled from CNN interviews and reports published by The Daily Herald of Everett, Washington, KIRO-TV, KOM0-TV and KING-TV, and The Seattle Times.
Darrington, Washington (CNN) -- With each passing day, the toll grows from a mountain that moved, a massive landslide that swallowed houses and trailers in Washington's Cascade Mountains.
More than two dozen bodies have been recovered. That toll is only expected to grow as searchers dig through a mountain of mud and debris to try to find the people who called the towns of Oso and Darrington home.
Some were from the area, and others were drawn by the remote beauty of the rugged mountains.
They were neighbors and, in some cases, friends.
Among them was a Navy commander with a love of the mountains and a retired couple living out their twilight years by spending time with their children and grandchildren. Then there was a 20-something and the man she loved, who were planning a wedding at the woman's family home.
Here are a few of their stories:
The new home needed work
Amanda Lennick, a 31-year-old nurse at a hospital in Everett, was excited about her new home -- except it had neither hot water nor TV reception. So she called an electrician, a plumber and a satellite company and arranged for them to come to the residence on Steelhead Drive on the morning of March 22.
According to the Seattle Times, she texted a friend at 9:30 to say the workers had begun to arrive. An hour later, she was gone.
Two of the men were also killed -- Bill Welsh, a 66-year-old electrician, and Stephen Neal, a 55-year-old plumber -- while the third, Steve Hadaway, is listed as missing.
Lennick had moved to the home from an apartment, said her boss.
"The location being out in the woods, she wanted a quieter place," said Norm McFarland, director of care management at Providence Regional Medical Center. "She liked it."
McFarland told CNN affiliate KOMO that Lennick was a vibrant person. She was a quick learner and a perfectionist, he said. She always made sure doctors filled out patients charts to the letter.
Her real estate agent told the Times that she loved the home's view of the tree-lined water and the mountains.
Welsh and Neal were hooking up a new water heater and removing a broken one.
Barbara Welsh said her husband of 43 years was a veteran who made it out of Vietnam alive, and at first, she she believed he would make it through this tragedy.
His death was announced Thursday.
Neal's family also thought he might survive the slide.
His wife, Brenda, camped out at a firehouse in Darrington late into the night the day after the landslide. She hoped and prayed that a firefighter would say her husband was alive and well. She couldn't really imagine life without him.
"None of us feel like he's gone," Brenda Neal said.
Her daughter Sara agreed: "I think if anyone had a chance of getting through, it would be him."
Another of his daughters, Caroline, told CNN affiliate KING that "my dad is a quick thinker, and he is someone who takes action in an emergency."
"If he had any warning at all, we just have to think he is somewhere, and he is safe, and they just can't reach him right now."
Rescuers did end up reaching him -- just not soon enough. As with many others, the mudslide proved too fast, too powerful, too much even for Stephen Neal.
He was found the same day as Welsh.
But Hadaway is still missing. He had worked for Dish Network for only one year.
"Whatever he did, he was dedicated to it," his brother, John, said.
The youngest to die
The landslide lasted three seconds. In that time, Natasha Huestis lost her daughter, 4-month-old Sanoah, and her mother, Christina Jefferds, 45, who was babysitting. Her stepfather, Oso firefighter Seth Jefferds, lost his wife and granddaughter.
"Sanoah's name is Hawaiian. My mom, she came up with Sanoah's middle name, Violet," Natasha told CNN affiliate KING. "Sanoah Violet. Her name means mist in the mountains. And you know, she's in the mountains right now."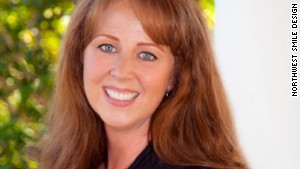 Christina Jefferds has been identified as a fatality in the landslide, according to a blog on her employer's website.
Christina Jefferds' body was found the next day. Sanoah, the youngest of the victims, was one of the most recent victims to be identified.
The family had spent the entire day together the day before the landslide. It's a memory Seth and Natasha now cherish. Natasha says she thanked her mother that Friday evening -- hours before the landslide the next morning -- for all of the support she provided in helping Natasha raise Sanoah.
"I told her, I go, 'I couldn't do this without you,'" she said. "I told her, you mean the world and I couldn't do this without you. And I'm so glad I had that chance to tell her I love her and that she meant so much, because a lot of people didn't get that."
Her employer mourned Jefferds on a company blog.
"Chris was a beautiful person inside and out," wrote Kelly Peterson at Northwest Smile Design, where Jefferds was an office manager.
"She was so humble, yet so generous in volunteering the time, talents, and resources with which she had been blessed while never drawing attention to herself. For me personally, she was a counselor and a confidante, a steadying and calming force in times of stress, a source of inspiration and beauty, a true friend. With steadfast faith I eagerly look forward to a joyful reunion with my dear friend."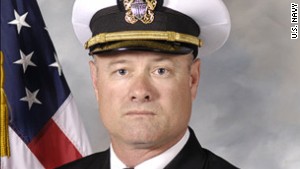 Navy Cmdr. John Regelbrugge III's brothers and his two sons found his body.
A family's tragic find
Navy Cmdr. John Regelbrugge III, 49, and his wife, Kris, had slept in on the morning of the slide, a rarity for a couple who by all accounts had a passion for the outdoors and motorcycles.
It was that passion that drew the couple to Darrington, where he commuted to his job at an area naval base.
The family wonders whether the couple ever knew what hit them.
The message from one of John's brothers to his father: "There's a mudslide. Their house is gone."
Regelbrugge's two brothers and two of his sons scoured the debris field looking for a sign of the 32-year Navy veteran.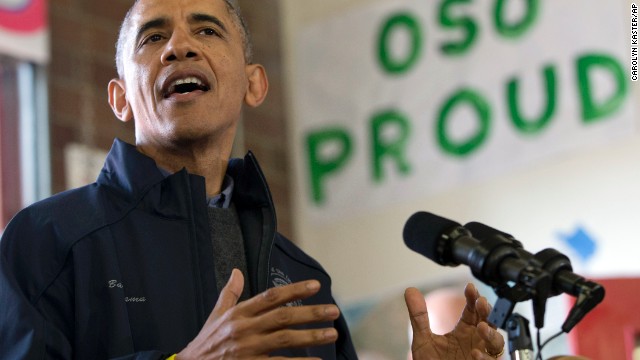 President Obama speaks to first responders, recovery workers and community members on Tuesday, April 22, at the scene of the deadly landslide that devastated Oso, Washington, one month before. The landslide crossed the North Fork of the Stillaguamish River and caused multiple deaths and massive damage.
An excavator clears a drainage channel on Wednesday, April 2.
This satellite image taken on Monday, March 31, shows the path of the landslide.
Workers cut a tree next to a possible victim on Sunday, March 30.
Search-and-rescue teams use a path of plywood to walk through a muddy field in Arlington, Washington, on March 30.
Tryon, a rescue dog muddied from the day's work, stands with his handler March 30 near the west side of the landslide.
Rescue workers dig through mud and debris near Darrington, Washington, on Saturday, March 29.
Mailboxes are seen in floodwater March 29 near Darrington.
Searchers in Oso pause for a moment of silence on Saturday, March 29. It was observed at 10:37 a.m., exactly one week after the landslide tore through the small community.
Search-and-rescue personnel attend a moment of silence at the fire house in Darrington.
Ralph Jones helps provide shelter for Brooke Odenius, right, Klarissa Calviste and their baby daughters during the moment of silence at the fire house in Darrington.
Staff Sgt. Jonathon Hernas of the Air National Guard carefully makes his way across debris and mud while searching for missing people March 29 in Oso.
Air National Guard members look out at the hill where the landslide originated while they search through debris March 29 in Oso.
Heavy machinery is used to move debris as members of the Air National Guard search for victims on March 29.
Search-and-rescue workers wade through water covering a highway near Darrington on Thursday, March 27. The landslide left buildings covered in up to 40 feet of mud.
A searcher walks near a massive pile of debris in Oso on March 27.
The muddied waters of the North Fork of the Stillaguamish River mix with the cleaner flow of the river's South Fork on March 27.
Emergency vehicles fill State Route 530 leading to the scene of the landslide in Oso on Wednesday, March 26.
Washington Gov. Jay Inslee speaks on the phone with a victim's family member as he flies to the Snohomish County Emergency Operations Center in Everett on March 26.
Search-and-rescue workers look through debris on March 26.
Teresa Welter cries during a candlelight vigil in Arlington on Tuesday, March 25.
The roof of a house sits among debris as emergency personnel continue to look for survivors on March 25.
Search-and-rescue workers use dogs to look for survivors on March 25.
A boot is found among the debris on March 25.
A search-and-rescue worker looks for survivors on March 25.
Chaplains watch as crews clear debris from State Route 530 in Oso on March 25.
The remains of the massive landslide are seen on Monday, March 24. The landslide blocked the highway and the Stillaguamish River.
A King County Sheriff's Office helicopter lowers a rescue worker on March 24.
A search-and-rescue team carries the body of a victim on March 24.
Volunteers help out with the search in Oso on March 24.
Snohomish County Executive John Lovick wipes a tear during a briefing in downtown Arlington on March 24.
Natalie Reed, right, and her 5-year-old daughter, Deja, attend a prayer service at Arlington United Church on March 24 for those affected by the landslide.
An intact house sits at the edge of the landslide on March 24.
The Langston family watches an online news clip about the landslide on Sunday, March 23, while they stay at a temporary Red Cross shelter in Darrington. The family's home was flooded after the landslide blocked the Stillaguamish River.
A destroyed home is stranded atop mud and debris on State Route 530 near Oso on March 23.
Downed power lines and parts of a destroyed house can be seen in the debris blocking the road near Oso on March 23.
Gov. Jay Inslee, right, comforts Barbara Welsh after a news conference March 23 outside the Arlington Police Department. Welsh's husband, Bill, was among the scores of people listed as missing immediately after the disaster.
Emergency workers arrive at the scene of the landslide on Saturday, March 22.
Groundwater saturation, tied to heavy rainfall in the area over the past month, was blamed for the landslide.
The landslide cut off the small town of Darrington and prompted an evacuation notice for fear of a potentially "catastrophic flood event," authorities said.
The first Washington State Patrol trooper arrives on the scene on March 22, according to the patrol's Twitter feed.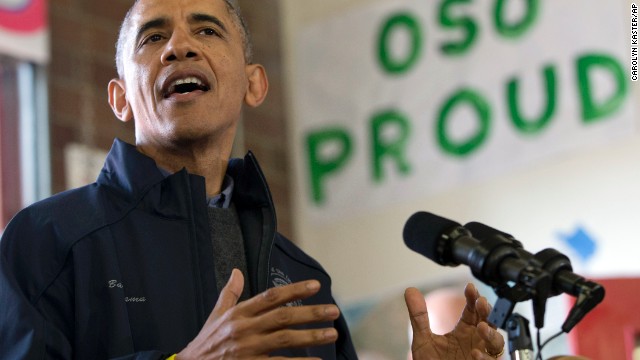 Photos: Washington state landslide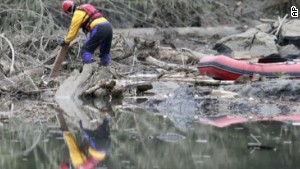 Landslide survivor: 'It hit so fast'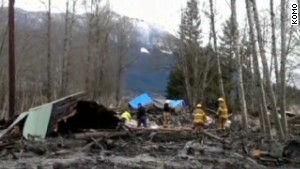 911 caller: I can hear family tapping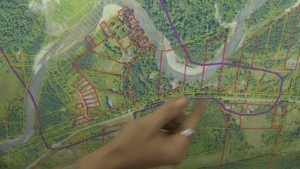 Witness: We dug for families ourselves
They found his Navy uniforms and his officer's sword across the river from where the two-story house once stood, said his father, John Regelbrugge II.
Later, he got the word. His son was dead.
Regelbrugge's brothers and his two sons had found his body, the family said. Next to Regelbrugge was the body of his dog, his sister-in-law Jackie Leighton said.
He appeared to have his arms up, perhaps trying to protect himself, his father said.
They were sitting right next to each other
Mac McPherson and his wife of 45 years, Linda, were sitting beside each other in the living room reading the paper when the house was hit and moved more than 100 yards.
He lived; she did not.
Their Darrington farm was torn apart, CNN affiliate KOM0-TV reported, and the McPhersons were trapped among beams and trees and pipes and mud.
He told KOMO he used a military technique to escape the mud, first taking six deep breaths to relax. He used broken wood from his mission-style chair to dig until he saw a little bit of light that he thrust the stick through to signal rescuers.
"I kept yelling at Linda to dig," he told KOMO. She never answered.
He also lost one of his two dogs.
Rescuers dug out the 78-year-old man, who had nasty cuts all over his face and some compression injuries.
He said he'll never again live at the base of a mountain.
"Especially not that mountain," he said.
His late wife's older sister, Irene Kuntz, fought back tears as she recalled "playing with her when she was a baby, like a doll," up through Linda McPherson's horrific final moments.
"Oh my gosh, she was such a great sister," Kuntz said. "She was always there if you needed anything. She was so non-judgmental."
If there's a silver lining, it's that Kuntz's niece and nephew, who lived next door to the McPhersons, weren't home when the mudslide ripped through.
But their dog, a chocolate Labrador named Buddy, was.
Somehow, though, he was rescued amid the rubble a day and a half later.
"He was saved because he's going to help us get through this," Kuntz said of Buddy. "Seeing that dog, it's like life still is good."
'Hold her one last time'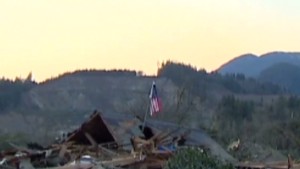 Governor: Landslide 'defies imagination'
The last time anyone heard from 36-year-old Summer Raffo was as she left her home for work east of Arlington.
She was driving on Washington State Highway 530, somewhere between Oso and Darrington, when the landslide struck.
Her brother, Dayn Brunner, and a cousin had been searching for her ever since. At one point, authorities threatened to arrest Brunner and others who ignored warnings against wading into the mud and debris to search for her.
Brunner was nearby when search and rescue workers found his sister's car and then her body, said her mother, Rae Smith.
Raffo's brother identified her body, she said.
Smith traveled to Arlington, a short distance from Darrington, to see her daughter's body. "So I can hold her one last time," she said.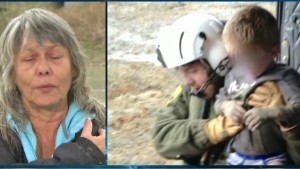 Mudslide survivor Robin Youngblood says she helped keep a 4-year-old boy calm.
'My house is matchsticks'
Robin Youngblood was sitting with a friend in her living room when she heard a huge roar. Out the window, she saw a wall of mud racing toward her.
"I said, 'Oh, my God,' and then it hit us,'" Youngblood told CNN's "AC360."
The mud rushed in so fast that it ripped the roof off and pushed the house a quarter of a mile.
"My house is matchsticks," she said. "There's nothing left."
Youngblood says she and her friend survived by pulling mud out of their noses and mouths so they could breathe.
Now she's left wondering why no one ever warned her that the home she bought years ago was in a geologically unstable area.
"Nobody told any of us," she said. "This is criminal, as far as I'm concerned."
After a rescuer pulled her to safety, Youngblood came across a 4-year-old boy named Jacob. She wrapped him in a blanket, sang him songs and tried to help him stay calm.
"Honey, I'm a grandma," she told him. "I'll take care of you until we figure this out."
'Nobody else was able to get out'
Four-year-old Jacob Spillers was in an upstairs room in his Oso house when the mudslide turned it into wreckage. He got out.
His mother was at work when the wall of earth shifted. The mountain of debris it left behind blocked her from reaching her family.
Jacob's father and three half-siblings apparently had not made it out of the house.
"Jacob told me he got out when nobody else was able to get out," said Jose Mangual, father of one of the children who hadn't escaped.
On Thursday, searchers identified the body of family member Kaylee B. Spillers, just 5 years old.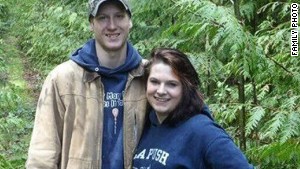 Delaney Webb and Alan Bejvl were staying at the home where they planned to get married in August.
'I really feel that they're gone'
Nichole Rivera last heard from her daughter, Delaney Webb, on the fateful morning through a Facebook posting.
Her daughter and her daughter's fiance were staying at the home of Rivera's parents. The couple had planned to wed there in August.
When she couldn't reach them by telephone, Rivera flew from her home in suburban Houston to Washington state to find answers.
But proximity didn't help.
As the hours ticked by, Rivera said, she had little reason to believe they were still alive. "If you've seen the maps, and you've seen the extent of the devastation, and the consistency of the mud, I can tell you with great soundness they're not going to find my parents, or daughter, or her fiance," she said. "I really feel that they're gone."
Rivera's aunt, Debbie Satterlee, was still coming to terms with the possibility that her brother, sister-in-law and niece might never be found amid the mud and wreckage -- all that was left of the property where Rivera's parents had once planned to put a family cemetery plot.
"It would be great to have a body," Rivera said "But if we can't we can't, they're in the right spot."
Mother of four praying husband found air pocket
At first, La Rae deQuilettes didn't worry when her husband, an electrician, didn't return home.
Ron was just working late, she told herself.
He had sent his wife of 31 years a text message that Saturday morning, saying he had arrived at the job.
But the next day, when he still hadn't returned to their home in suburban Seattle, she realized her husband had been working where the landslide had struck.
"It's a living nightmare," she said.
She was trying to keep it together for their four children, praying that her husband had found an air pocket or was somewhere waiting for rescuers.
"He's a fighter," she said. "He's tall and strong. He has a heart in him like there's no tomorrow."
Police, she said, had told her that the couple who hired her husband were also among the missing.
CNN's Ana Cabrera reported from Darrington. Chelsea J. Carter and Ben Brumfield reported and wrote from Atlanta. CNN's Greg Botelho, Gary Tuchman, George Howell, Bill Weir, Tom Watkins, Janet DiGiacomo and Catherine E. Shoichet contributed to this report.