Obama continues chiding Russia on gay rights
updated 5:49 PM EDT, Wed March 26, 2014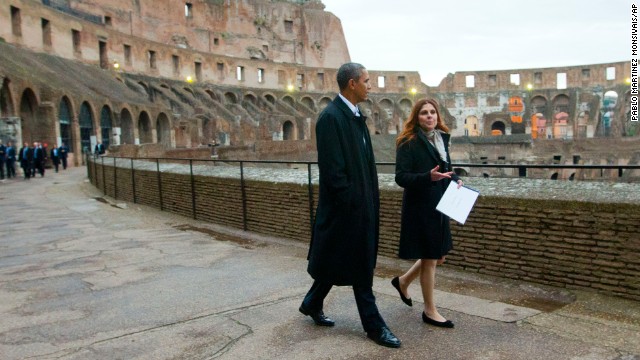 U.S. President Barack Obama tours the Colosseum in Rome on Thursday, March 27. Click through to see other photos from Obama's trip to Europe this week.
President Obama meets Pope Francis at the Vatican on March 27.
Obama is flanked by Belgium's King Philippe, right, and Belgian Prime Minister Elio Di Rupo as he delivers an address in Waregem, Belgium, on Wednesday, March 26.
Obama, gesturing in the bottom left, joins other world leaders for a group photo on the last day of the Nuclear Security Summit in The Hague, Netherlands, on Tuesday, March 25. The summit was the primary reason for Obama's trip.
Obama disembarks from Air Force One after arriving in Amsterdam, Netherlands, on Monday, March 24.
A U.S. helicopter squadron transports Obama to the Rijksmuseum in Amsterdam on March 24.
Obama and Dutch Prime Minister Mark Rutte hold a news conference in front of Rembrandt's "The Night Watch" following meetings at the Rijksmuseum on March 24.
Obama and Chinese President Xi Jinping meet in The Hague, Netherlands, on March 24 ahead of the Nuclear Security Summit.
Obama attends the opening session of the Nuclear Security Summit on March 24.
Obama gathers with G7 world leaders in The Hague on March 24.
Obama's European tour
Obama's European tour
Obama's European tour
Obama's European tour
Obama's European tour
Obama's European tour
Obama's European tour
Obama's European tour
Obama's European tour
Obama's European tour
STORY HIGHLIGHTS
President Obama promotes Western values against Russian intolerance
Instead of targeting gays and lesbians, use laws to protect their rights, Obama says
His comments come a day before Obama meets with Pope Francis
The Pope rejects gay marriage, but has talked about the rationale for civil unions
(CNN) -- A speech to Europe aimed at Russia sounded a lot like President Barack Obama's successful campaign message from 2012, especially when it came to gay rights.
The address on Wednesday at the Palais Des Beaux-Arts in Brussels followed talks with European Union and NATO leaders on Russia's military backed annexation of the Crimean Peninsula from Ukraine.
In making the case for a united stand against what he characterized as Russian aggression, Obama borrowed from the language that helped win him the White House for a second term.
"We believe in human dignity - that every person is created equal, no matter who you are, or what you look like, or who you love, or where you come from," he said.
Later, Obama reiterated criticism of Russian intolerance spawned by a law passed before the Sochi Olympics that outlawed promoting gay rights to children.
Western ideals and values of openness and tolerance would endure long past repression, he argued.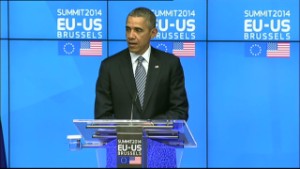 Obama: Russia stands alone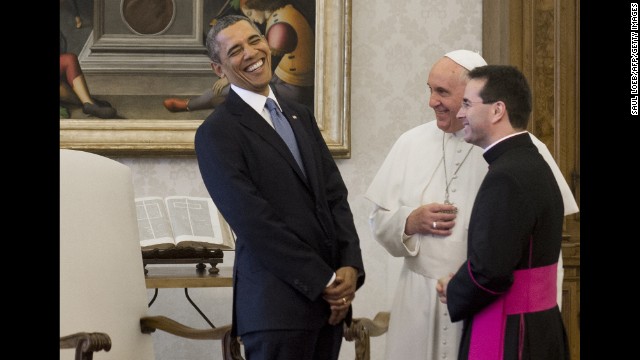 President Barack Obama laughs as he speaks with Pope Francis at the Vatican on Thursday, March 27. Every U.S. president since Dwight D. Eisenhower has had a formal audience with the pope.
President Dwight D. Eisenhower, third from left, meets with Pope John XXIII at the Vatican in 1959.
President John F. Kennedy talks with Pope Paul VI at the Vatican in 1963. Kennedy, who was the first and only Catholic president, met with the Pontiff shortly after his coronation.
In 1965, Pope Paul VI became the first to visit the United States. He met with President Lyndon B. Johnson and addressed the United Nations in a plea for world peace.
President Richard Nixon meets with Pope Paul VI at the Vatican in 1970.
President Gerald Ford and first lady Betty Ford visit Pope Paul VI at the Vatican in 1975.
President Jimmy Carter watches Pope John Paul II sign the White House guest book in 1979. He was the first Pope to visit the White House.
In 1984, President Ronald Reagan meets with Pope John Paul II at the airport in Fairbanks, Alaska. The Pope was making a layover on his way to South Korea, Papua New Guinea, the Solomon Islands and Thailand. Reagan was on his way home from China.
Pope John Paul II presents first lady Barbara Bush with a Vatican Medal as President George H.W. Bush looks at his medal during a ceremony at the Vatican in 1989.
President Bill Clinton stands by as Pope John Paul II speaks at a news conference in Denver in 1993. Before attending the Catholic World Youth Day, the outspoken Pope surprised the pro-choice President during their first public meeting with stern anti-abortion remarks.
President George W. Bush presents Pope John Paul II with the Presidential Medal of Freedom at the Vatican in 2004. During their meeting, the Pope reminded Bush of the Vatican's strong opposition to the U.S.-led invasion of Iraq.
During a trip to the Vatican in 2007, President George W. Bush gives Pope Benedict XVI a walking stick inscribed with the Ten Commandments that was made by a formerly homeless man in Texas. Bush met with popes a record six times while he was in office.
President Barack Obama and first lady Michelle Obama meet with Pope Benedict XVI at the Vatican in 2009.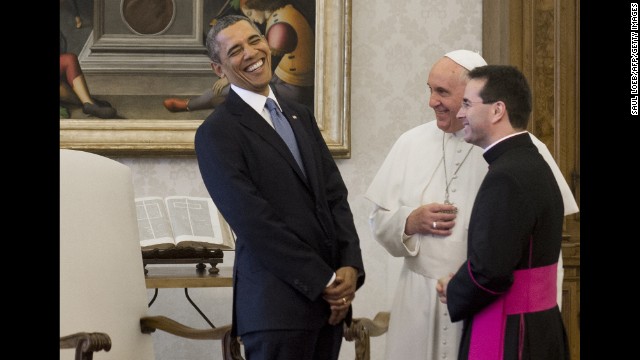 Photos: Popes and U.S. presidents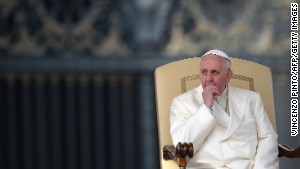 Obama and Francis to meet at the Vatican
"Instead of targeting our gay and lesbian brothers and sisters, we can use our laws to protect their rights," he said. "Instead of defining ourselves in opposition to others, we can affirm the aspirations that we hold in common. That's what will make America strong. That's what will make Europe strong. That's what makes us who we are."
His comments came a day before Obama meets with Pope Francis in Vatican City in a visit that the White House says will focus on their shared commitment to helping the disadvantaged.
Earlier this month, the Pope reaffirmed the Catholic Church's opposition to gay marriage but suggested in a newspaper interview that it could support some types of civil unions.
While reiterating the church's longstanding teaching that "marriage is between a man and a woman," Francis said that "we have to look at different cases and evaluate them in their variety."
In the wide-ranging interview published March 5 in Corriere della Sera, an Italian daily, the Pope noted that state-sanctioned unions can result from the need to ensure rights such as access to health care.
The Catholic News Service called the comments "the first time a Pope has indicated even tentative acceptance of civil unions."
Francis, who marked his papacy's first anniversary on March 13, has sought to set a more tolerant tone for his 1-billion-member church.
Last June, the Pope refused to judge gay priests in comments that ricocheted around the world. He has also said that the church should not "interfere" in the spiritual lives of gays and lesbians.
CNN's Tom Cohen and Daniel Burke contributed to this report.