STORY HIGHLIGHTS
Ashley McGuire argues that Obama's meeting with the Pope ignores his troubled policies
With lawsuits and a flawed abortion policy, Obama disrespects Catholics, she says
President Obama, she says, must show sobriety and honesty in dealing with the church
Editor's note: Ashley McGuire is senior fellow with The Catholic Association and is the founder and editor-in-chief of AltCatholicah, a Web magazine devoted to the exploration of faith and gender.
(CNN) -- President Barack Obama will no doubt attempt to use Thursday's meeting with Pope Francis as a platform to promote his political agenda at home, especially as it relates to poverty and income inequality.
It's no secret that Pope Francis has made these issues central components of the first year of his papacy -- nor that the president has already tried to exploit this. Not long after the pontiff released his 47,000-word apostolic exhortation, Evangelii Gaudium, Obama lifted language directly from the document in a partisan speech of his own.
But the attempt to tether himself to Pope Francis is an awkward and ultimately doomed one.
5 things you didn't know about Popes and Presidents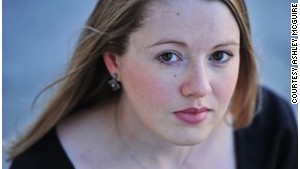 Ashley McGuire
For one, the president is currently facing the largest religious liberty class action lawsuit in American history. Of the 300 and counting plaintiffs suing the Obama administration on religious freedom grounds, perhaps most famous are the Little Sisters of the Poor, an order of nuns founded to care for the impoverished and dying elderly.
Another well-known plaintiff is Notre Dame, the university where the president loudly promised to keep conscience rights intact with the health care overhaul. It was the religious liberty version of the "if you like your plan, you can keep it" speech.
In 2011, the president stripped the U.S. Conference of Catholics Bishops of its longstanding funding for human-trafficking work because of the Bishops' conscientious objections to referring victims to abortions.
In 2012, he had his lawyers work to strike down the ministerial exception in federal workplace discrimination law, which assures houses of worship the right to employ religious leaders according to doctrine.
Throughout his presidency, he has come under repeated criticism for his numerous aggressions on people of faith, be they rhetorical or legal.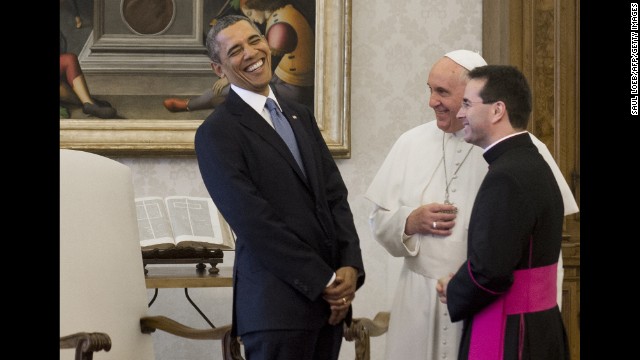 President Barack Obama laughs as he speaks with Pope Francis at the Vatican on Thursday, March 27. Every U.S. president since Dwight D. Eisenhower has had a formal audience with the pope.
President Dwight D. Eisenhower, third from left, meets with Pope John XXIII at the Vatican in 1959.
President John F. Kennedy talks with Pope Paul VI at the Vatican in 1963. Kennedy, who was the first and only Catholic president, met with the Pontiff shortly after his coronation.
In 1965, Pope Paul VI became the first to visit the United States. He met with President Lyndon B. Johnson and addressed the United Nations in a plea for world peace.
President Richard Nixon meets with Pope Paul VI at the Vatican in 1970.
President Gerald Ford and first lady Betty Ford visit Pope Paul VI at the Vatican in 1975.
President Jimmy Carter watches Pope John Paul II sign the White House guest book in 1979. He was the first Pope to visit the White House.
In 1984, President Ronald Reagan meets with Pope John Paul II at the airport in Fairbanks, Alaska. The Pope was making a layover on his way to South Korea, Papua New Guinea, the Solomon Islands and Thailand. Reagan was on his way home from China.
Pope John Paul II presents first lady Barbara Bush with a Vatican Medal as President George H.W. Bush looks at his medal during a ceremony at the Vatican in 1989.
President Bill Clinton stands by as Pope John Paul II speaks at a news conference in Denver in 1993. Before attending the Catholic World Youth Day, the outspoken Pope surprised the pro-choice President during their first public meeting with stern anti-abortion remarks.
President George W. Bush presents Pope John Paul II with the Presidential Medal of Freedom at the Vatican in 2004. During their meeting, the Pope reminded Bush of the Vatican's strong opposition to the U.S.-led invasion of Iraq.
During a trip to the Vatican in 2007, President George W. Bush gives Pope Benedict XVI a walking stick inscribed with the Ten Commandments that was made by a formerly homeless man in Texas. Bush met with popes a record six times while he was in office.
President Barack Obama and first lady Michelle Obama meet with Pope Benedict XVI at the Vatican in 2009.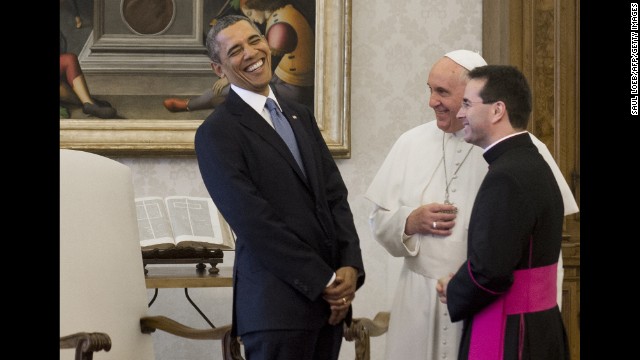 Photos: Popes and U.S. presidents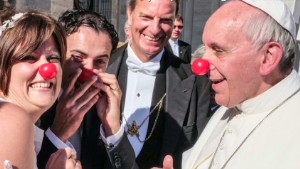 Pope Francis' most irresistible moments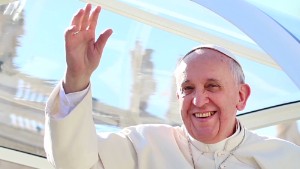 Rock star Pope shakes up the Vatican
Not only is the president under fire for religious freedom violations on his own soil, he has held power during a period of significant unraveling of religious freedom internationally.
Egypt is in a state of crisis, with Coptic Christians experiencing the worst persecution they have known in centuries. Countless other religious minorities have fallen into peril: Catholics in Vietnam and Nigeria, vangelical Christians in Indonesia, Buddhists and Muslims in China, and Baha'is in a number of Middle East nations, to name just a few.
Anti-Semitism is on the rise globally, most especially in parts of Europe and certain Latin American nations like Venezuela.
He left vacant, for years, the position of U.S. Ambassador-at-Large for International Religious Liberty.
He stood by silently as the United States Commission on International Religious Freedom (USCIRF) was nearly defunded. He then appointed Sen. John Kerry -- who nearly let it perish in the Senate Foreign Relations Committee, even after 19 of his colleagues sent him a letter pleading with him to give the bill "prompt consideration" and to reauthorize USCIRF "without further delay" -- as his secretary of state.
Under Obama's watch, the State Department has stepped in to defend believers on death row for their faith -- heroes like Pastor Saeed Abedini in Iran -- only when the noise from nongovernmental organizations grew deafening.
With regards to diplomacy with the Vatican, the president has already shown his goodwill by relocating the Vatican Embassy, to the outrage of some American Catholic groups, who considered it a major downgrade.
And then there is his position on abortion. While Pope Francis has called on Catholics to approach the church's unchanging teachings on issues like abortion with greater mercy and sensitivity towards pregnant women in crisis, he has strongly affirmed the position that every human life is worthy of legal protection, from conception until natural death.
The president has the most extreme views on abortion of any American president, even opposing life-saving support for babies born of botched abortions when he was a state senator in Illinois.
The most recent keynote speaker of Planned Parenthood's annual gala can't have much common ground with the head of the world's largest institution that opposes abortion.
Pope Francis is not just the head of the largest religious institution in the world; he is also the head of a sovereign nation-state. It is fitting and appropriate that he would sit down with the leader of the free world.
It's equally fitting and appropriate, however, that President Obama show a little sobriety and public honesty about his relationship with a church that is collectively suing him at home. Whether we can expect this from the recipient of the 2013 Politifact "Lie of the Year" award, however, is a different story.
Follow us on Twitter @CNNOpinion.
Join us on Facebook.com/CNNOpinion.
The opinions expressed in this commentary are solely those of Ashley E. McGuire.