STORY HIGHLIGHTS
NEW: Two more bodies have been recovered and up to eight more have been located
NEW: Lists of missing and unaccounted for are being revised, an official says
The body of a Navy commander and his dog have been recovered, the family says
Landslide has affected or destroyed nearly 50 structures, officials say
Darrington, Washington (CNN) -- Brenda Neal was still at the firehouse at midnight, watching as rescuers caked with mud returned from the search for survivors of a massive landslide in rural Washington state.
But they had no answers for her about her missing husband, Steven.
There was despair on their faces, she said.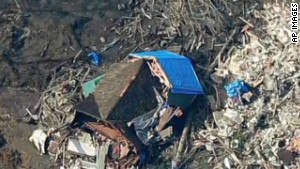 Rescuer: Houses exploded from the mud
Rescuers on Tuesday continued to battle debris and mud -- with the consistency of quicksand in some places -- in the search for survivors, but hopes dimmed as news broke that more bodies were found.
"Unfortunately, we didn't find any signs of life," Snohomish County Fire District 21 Chief Travis Hots told reporters during a briefing.
The number of dead climbed to as high as 24 with the recovery Tuesday of two more bodies and another eight believed to have been located in the debris.
Authorities did not immediately release the identities of the dead nor did they provide details about where the bodies were found.
At least 176 people are unaccounted for. Officials have stressed those unaccounted for are not necessarily all victims of the disaster. They say they believe many names have been duplicated.
Three sheriff's deputies who specialize in missing persons cases have begun reviewing the lists to get a more accurate count, Snohomish County Emergency Management Director John Pennington said.
Steven Neal's family holds out hope, despite discouraging signs.
Neal is a plumber who was on a service call in the area where the landslide hit.
"None of us feel like he's gone," Brenda Neal said.
Her daughter, Sara, agreed: "I think if anyone had a chance to getting through, it would be him."
The waiting came to end Tuesday for the family of U.S. Navy Cmdr. John Regelbrugge, 49, whose body and that of his dog were found by his brothers, his sister-in-law, Jackie Leighton, told CNN. Still missing is Regelbrugge's wife, she said.
On Monday, search efforts yielded a grim result -- six bodies.
But searchers still are going through the area with the hopes of making rescues, Pennington said earlier Tuesday morning.
"I believe in miracles, and I believe people can survive these events. They've done it before," and they can do it again, he told reporters.
The landslide covered about a square mile and was caused by groundwater saturation tied to heavy rain in the area over the past month. It affected Oso, with a population of about 180, and Darrington, a town of about 1,350.
Authorities have been warning the search area remains unstable
A volunteer rescue worker was injured Tuesday while working in an area where the landslide struck, according to a statement released by the Snohomish County Sheriff's Office. The rescue worker was hit in the head by debris kicked up "in helicopter wash," it said.
President Barack Obama, in the Netherlands on Tuesday, asked that "all Americans to send their thoughts and prayers to Washington state and the community of Oso."
Obama said he had spoken with Gov. Jay Inslee and signed an emergency declaration.
Early hopeful signs, such as the rescue of a 4-year-old boy on the day of the landslide, have faded for some.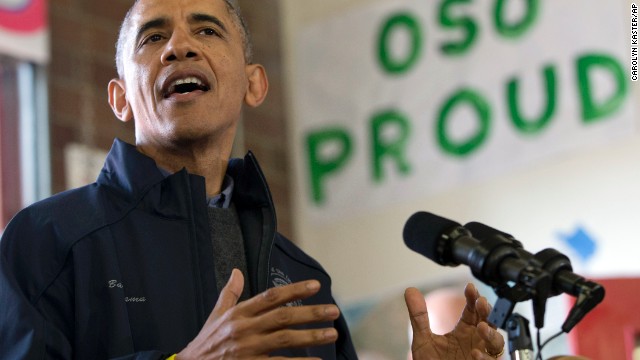 President Obama speaks to first responders, recovery workers and community members on Tuesday, April 22, at the scene of the deadly landslide that devastated Oso, Washington, one month before. The landslide crossed the North Fork of the Stillaguamish River and caused multiple deaths and massive damage.
An excavator clears a drainage channel on Wednesday, April 2.
This satellite image taken on Monday, March 31, shows the path of the landslide.
Workers cut a tree next to a possible victim on Sunday, March 30.
Search-and-rescue teams use a path of plywood to walk through a muddy field in Arlington, Washington, on March 30.
Tryon, a rescue dog muddied from the day's work, stands with his handler March 30 near the west side of the landslide.
Rescue workers dig through mud and debris near Darrington, Washington, on Saturday, March 29.
Mailboxes are seen in floodwater March 29 near Darrington.
Searchers in Oso pause for a moment of silence on Saturday, March 29. It was observed at 10:37 a.m., exactly one week after the landslide tore through the small community.
Search-and-rescue personnel attend a moment of silence at the fire house in Darrington.
Ralph Jones helps provide shelter for Brooke Odenius, right, Klarissa Calviste and their baby daughters during the moment of silence at the fire house in Darrington.
Staff Sgt. Jonathon Hernas of the Air National Guard carefully makes his way across debris and mud while searching for missing people March 29 in Oso.
Air National Guard members look out at the hill where the landslide originated while they search through debris March 29 in Oso.
Heavy machinery is used to move debris as members of the Air National Guard search for victims on March 29.
Search-and-rescue workers wade through water covering a highway near Darrington on Thursday, March 27. The landslide left buildings covered in up to 40 feet of mud.
A searcher walks near a massive pile of debris in Oso on March 27.
The muddied waters of the North Fork of the Stillaguamish River mix with the cleaner flow of the river's South Fork on March 27.
Emergency vehicles fill State Route 530 leading to the scene of the landslide in Oso on Wednesday, March 26.
Washington Gov. Jay Inslee speaks on the phone with a victim's family member as he flies to the Snohomish County Emergency Operations Center in Everett on March 26.
Search-and-rescue workers look through debris on March 26.
Teresa Welter cries during a candlelight vigil in Arlington on Tuesday, March 25.
The roof of a house sits among debris as emergency personnel continue to look for survivors on March 25.
Search-and-rescue workers use dogs to look for survivors on March 25.
A boot is found among the debris on March 25.
A search-and-rescue worker looks for survivors on March 25.
Chaplains watch as crews clear debris from State Route 530 in Oso on March 25.
The remains of the massive landslide are seen on Monday, March 24. The landslide blocked the highway and the Stillaguamish River.
A King County Sheriff's Office helicopter lowers a rescue worker on March 24.
A search-and-rescue team carries the body of a victim on March 24.
Volunteers help out with the search in Oso on March 24.
Snohomish County Executive John Lovick wipes a tear during a briefing in downtown Arlington on March 24.
Natalie Reed, right, and her 5-year-old daughter, Deja, attend a prayer service at Arlington United Church on March 24 for those affected by the landslide.
An intact house sits at the edge of the landslide on March 24.
The Langston family watches an online news clip about the landslide on Sunday, March 23, while they stay at a temporary Red Cross shelter in Darrington. The family's home was flooded after the landslide blocked the Stillaguamish River.
A destroyed home is stranded atop mud and debris on State Route 530 near Oso on March 23.
Downed power lines and parts of a destroyed house can be seen in the debris blocking the road near Oso on March 23.
Gov. Jay Inslee, right, comforts Barbara Welsh after a news conference March 23 outside the Arlington Police Department. Welsh's husband, Bill, was among the scores of people listed as missing immediately after the disaster.
Emergency workers arrive at the scene of the landslide on Saturday, March 22.
Groundwater saturation, tied to heavy rainfall in the area over the past month, was blamed for the landslide.
The landslide cut off the small town of Darrington and prompted an evacuation notice for fear of a potentially "catastrophic flood event," authorities said.
The first Washington State Patrol trooper arrives on the scene on March 22, according to the patrol's Twitter feed.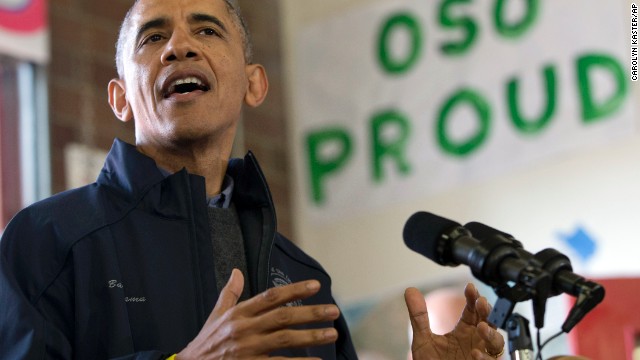 Photos: Washington state landslide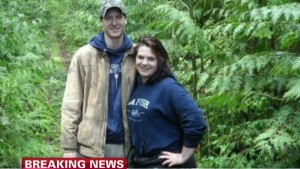 Family missing in Washington landslide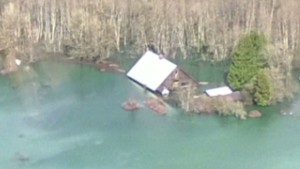 Death toll continues rising in landslide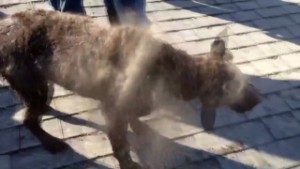 Family finds dog amid landslide rubble
A survivor, Robin Youngblood, cared for the rescued boy immediately after he was pulled out.
"They brought him to us in the ambulance. I took all his clothes off because he was freezing," she told CNN affiliate KCPQ-TV.
She comforted him but suggested he may be facing a life-altering event.
"I wrapped him up and held him and told him I was a grandma and couldn't find the rest of his family," she said.
More and more stories of those unaccounted for continue to emerge.
Nicole Webb Rivera is missing her parents, her daughter and her daughter's fiance.
The last communication Rivera had with them was a Facebook comment that her daughter posted Saturday morning.
When she was unable to reach them, she knew her worst fear was realized. She says she believes her daughter and her fiance were at the home of Rivera's parents in Darrington.
"This is catastrophic for our community and all of us who are waiting for word on our family members," Rivera told CNN's Anderson Cooper. "It's such beyond the scope of my four missing family members. It's grief for our whole town."
Some 49 structures were affected or destroyed by the landslide, Pennington told CNN.
Geologists said the area affected by the slide is not unstable, but rescuers face great challenges.
"The best analogy, I think, is a microcosm of Mount St. Helens," Pennington said. "This went down, it went hard, it went fast, and the debris is deep."
Peering across the devastated landscape, Cory Kuntz just shook his head.
"When you look at it, you just get in shock," he told CNN affiliate KING-TV. "You kind of go numb."
Kuntz lost his aunt and his home in Oso.
Thanks to the efforts of friends and neighbors, his uncle was rescued, though he was nearly buried alive.
"They heard him pounding on that roof. He had a little air pocket and a stick. He said he was poking up on it, banging on it," Kuntz said. "My neighbors and my friends came and started digging him out and just couldn't get to my aunt in time."
The first reports of the landslide came in about 10:45 a.m. Saturday (1:45 p.m. ET), the sheriff's office said.
Geologist Dave Norman said the landslide was about 4,400 feet wide with a wide debris field. In some places, the debris is 30 to 40 feet thick.
"This is one of the biggest landslides I have ever seen," Norman said.
CNN's Ana Cabrera reported from Darrington, Washington, and Ed Payne and Mariano Castillo reported and wrote from Atlanta. George Howell, Chelsea J. Carter, Matt Smith, Ralph Ellis and Janet DiGiacomo contributed to this report.