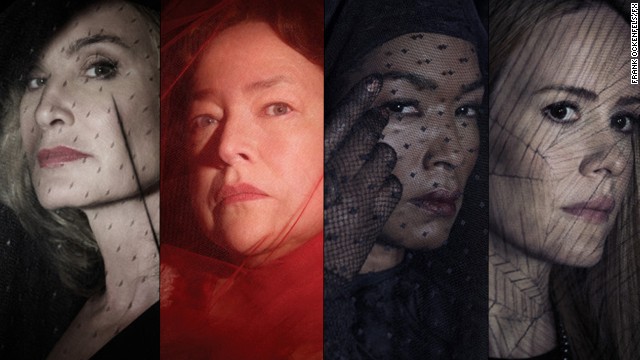 According to reports, Jessica Lange, Kathy Bates, Angela Bassett and Sarah Paulson are set to return for the new season of "American Horror Story," which creator
Ryan Murphy tweeted
will be titled "American Horror Story: Freak Show." The four are fresh off the most recent season of "American Horror Story," in which they played powerful witches. Their performances put them on our list of celebrated witches in pop culture.
Veronica Lake didn't need any magic to cast a spell on the audience; she did that naturally. But in 1942's "I Married A Witch," the iconic screen siren plays a 17th-century witch who, after being burned at the stake, is brought back to life in the 20th century and falls for the politically inclined descendant (Fredric March) of her puritanical Salem prosecutor. Who better than Lake to show how fun being bad can be?
When it comes to witches, our prototype is the Wicked Witch of the West -- wonderfully redeemed in "Wicked" -- but one's claim to evil can't be properly held without a goodie-two-shoes like Glinda the Good Witch around. Besides, Glinda showed in 1939's "The Wizard of Oz" that magic can have a sweet, courageous side, too.
The Evil Queen in "Snow White
" is the original animated Disney villain, appearing in Walt Disney's first animated film, 1937's "Snow White and the Seven Dwarfs." Trying to claim the title of "fairest of them all," the queen had to use dark magic to turn herself into a witch so she could trick the (let's face it, pretty gullible) princess.
For their second film together, "Vertigo" stars Kim Novak and Jimmy Stewart went supernatural with 1958's "Bell, Book and Candle." Novak was the one with tricks up her sleeve in this romantic comedy, as her character, Gillian, casts a spell on Stewart's Shep Henderson, causing him to leave his fiancee and fall for her. Jack Lemmon and Ernie Kovacs also star.
In a cackling contest, Witch Hazel would have everyone beat
. The animated witch was often Bugs Bunny's foe, but given her jovial attitude and infectious giggle, you can't help but love her.
Sixties sitcom "Bewitched" lasted long enough to introduce us to three generations of fabulous witches: supernatural housewife Samantha (Elizabeth Montgomery, left), her sly mother, Endora (Agnes Moorehead), and the littlest witch in the Stephens family, Tabitha (Erin Murphy). The hijinks on "Bewitched" are classic, and we still actively wish we could pull off tricks with just a wiggle of the nose.
We didn't dig Wilhelmina Witchiepoo's incessant attempts to steal away Jimmy's talking flute, Freddy, but we did think the "H.R. Pufnstuf" (1969-70) character had a wicked ride with the Vroom Broom. Witchiepoo is shown with NFL great Joe Namath.
In 1987, Cher, left, Susan Sarandon and Michelle Pfeiffer gifted us with a darkly comic adaptation of John Updike's "The Witches of Eastwick." As three single women unaware of their own power, they accidentally lure the devil right into their idyllic town.
We have to agree with Angelina Jolie that it's about time Maleficent, the "mistress of all evil" in "Sleeping Beauty," tells her side of the story. In the 2014 film, Jolie will portray the evil sorceress and reveal why she was so hellbent on cursing Princess Aurora.
rapping "Top That" scene
, followed by
the final dance
, and the fact that she used her powers in pretty much the exact same ways we would have at 16. Better still:
Robyn Lively re-created her "Teen Witch" dance
moves for her younger sister Blake when the "Gossip Girl" actress married Ryan Reynolds.
Let's count the ways 1989's "Teen Witch" won us over: First, there's the
There's a reason Anjelica Huston's fearsome character was known as the "Grand High Witch" in the 1990 adaptation of Roald Dahl's "The Witches." Not only was she powerful and
Disney's 1993 tale of the Sanderson sisters in "Hocus Pocus" has become a Halloween staple in the 20 years since its release. Kathy Najimy, left, Bette Midler and Sarah Jessica Parker are likely somewhere running amok and hunting down virgins on your cable TV right about now.
After "explaining it all" on Nickelodeon as Clarissa, Melissa Joan Hart moved on to another starring TV role that's just as memorable. As the teenage witch Sabrina in the ABC show of the same name, Hart supplied witchy comedy -- along with her snarky black cat, Salem -- to the young adult set from 1996 to 2003.
No disrespect to stars Robin Tunney, back right, Rachel True, front right, or Neve Campbell, back left, but Fairuza Balk's Nancy was the baddest witch in "The Craft's" coven. When not being mined for style inspiration, this 1996 horror flick can still give nightmares.
In 1998, Shannen Doherty's bad girl ways were back on TV with a magical twist. The former "Beverly Hills, 90210" star was cast as the oldest Halliwell sister on "Charmed," which also starred Holly Marie Combs, left, Alyssa Milano and, later on, Rose McGowan. Although initially unaware of their magical roots, this trio of sisters was soon saving the world from (sometimes sexy) demons on a weekly basis.
Even with her tendencies to stray to the dark side, the resident witch on "Buffy the Vampire Slayer," Willow Rosenberg, right, played by Alyson Hannigan, was one of the craftiest (and smartest) on TV. Her teaming up with the magically gifted Tara (Amber Benson) was a natural upgrade.
Sandra Bullock, left, and Nicole Kidman as a pair of sister witches in 1998's "Practical Magic" is more endearing than scary. Part comedy, part romance and part thriller, the duo's portrayal of a pair of humorous witches is a guilty pleasure.
J.K. Rowling's books were centered on the "boy who lived," but he wouldn't have gotten very far without Hermione Granger, played by Emma Watson. As the smartypants of their wizarding trio, Hermione always knew exactly the right spell to get them out of a pinch.
We didn't fall for Jadis, the evil White Witch in "The Chronicles of Narnia," until Tilda Swinton portrayed the character in 2005's "From the Chronicles of Narnia: The Lion, the Witch and the Wardrobe." Swinton's clear glee in playing the cold-blooded sorceress was a revelation to watch.
Our favorite pop culture witches
Our favorite pop culture witches
Our favorite pop culture witches
Our favorite pop culture witches
Our favorite pop culture witches
Our favorite pop culture witches
Our favorite pop culture witches
Our favorite pop culture witches
Our favorite pop culture witches
Our favorite pop culture witches
Our favorite pop culture witches
Our favorite pop culture witches
Our favorite pop culture witches
Our favorite pop culture witches
Our favorite pop culture witches
Our favorite pop culture witches
Our favorite pop culture witches
Our favorite pop culture witches
Our favorite pop culture witches
Our favorite pop culture witches