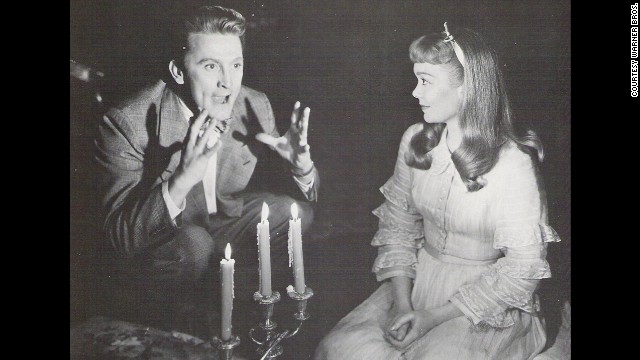 Many of Tennessee Williams' works appeared on stage, in books and on the big screen. A 1950 version of "The Glass Menagerie" starred Kirk Douglas and Jane Wyman.
A 1951 version of "A Streetcar Named Desire" starred Kim Hunter, Vivien Leigh and Marlon Brando.
A 1955 version of "The Rose Tattoo" starred Anna Magnani and Burt Lancaster.
Carroll Baker starred in "Baby Doll" in 1956.
Paul Newman and Elizabeth Taylor starred in "Cat on a Hot Tin Roof" in 1958.
Elizabeth Taylor, front, and Montgomery Clift and Katharine Hepburn starred in "Suddenly, Last Summer," in 1959.
Marlon Brando and Anna Magnani starred in "The Fugitive Kind" in 1959.
Vivien Leigh and Warren Beatty starred in "The Roman Spring of Mrs. Stone" in 1961. The film was based on Williams' novel.
Laurence Harvey and Geraldine Page appeared in "Summer and Smoke" in 1961.
Anthony Franciosa, Jim Hutton and Jane Fonda starred in "Period of Adjustment" in 1962.
Geraldine Page and Paul Newman appeared in "Sweet Bird of Youth" in 1962.
Ava Gardner and Richard Burton starred in "The Night of the Iguana" in 1964.
Natalie Wood and Robert Redford starred in "This Property Is Condemned" in 1966.
Elizabeth Taylor and Richard Burton starred in "Boom!" in 1968. It was based on Tennessee Williams' play, "The Milk Train Doesn't Stop Here Anymore."
Bryce Dallas Howard starred in "The Loss of a Teardrop Diamond" in 2008. The screenplay was written by Williams five decades earlier.
Saber Abar and Fatemeh Motamed-Arya starred in "Here Without Me" in 2011. It was based on Williams' play "The Glass Menagerie."
Tennessee Williams on the big screen
Tennessee Williams on the big screen
Tennessee Williams on the big screen
Tennessee Williams on the big screen
Tennessee Williams on the big screen
Tennessee Williams on the big screen
Tennessee Williams on the big screen
Tennessee Williams on the big screen
Tennessee Williams on the big screen
Tennessee Williams on the big screen
Tennessee Williams on the big screen
Tennessee Williams on the big screen
Tennessee Williams on the big screen
Tennessee Williams on the big screen
Tennessee Williams on the big screen
Tennessee Williams on the big screen