STORY HIGHLIGHTS
NEW: Chat messages show Reeva was afraid of Pistorius sometimes
Prosecutor Gerrie Nel is known for surprises, including hints his case may be nearly over
Pistorius is accused of intentionally killing girlfriend Reeva Steenkamp in 2013
Pistorius says he thought she was an intruder and shot in self-defense
Pretoria, South Africa (CNN) -- Reeva Steenkamp told Oscar Pistorius she was afraid of him and his temper less than three weeks before he shot and killed her, the judge in his murder trial was told Monday.
"I'm scared of you sometimes, of how you snap at me," the South African model told Pistorius in a long chat message.
"You have picked on me incessantly," she wrote, calling Pistorius "nasty" after he apparently accused her of flirting with someone at a party.
"I was not flirting with anyone today and I feel sick that you suggested that," she told him via WhatsApp, according to the police officer who downloaded their chats after Pistorius shot and killed her.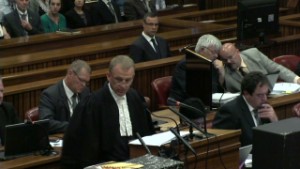 Pistorius witness: I heard screaming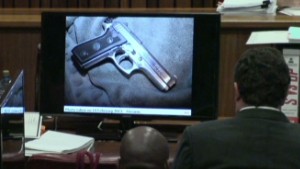 Oscar Pistorius trial week three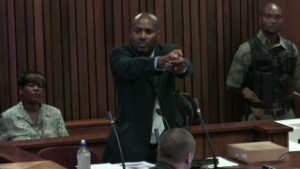 Pistorius trial adjourned
"You do everything to throw tantrums," she said, concluding the message: "I'm certainly very unhappy and sad."
Police Capt. Francois Moller, who downloaded the messages from Steenkamp's iPhone, said that 90% of the chats between the two were normal and loving.
But there were several that accused Pistorius of jealousy and possessiveness.
Less than a week before he killed her, she wrote him another long message after he apparently lost his temper with her as they left a public event together.
She reached the exit before he did, she wrote, adding: "I didn't think you would criticize me for doing that, especially so loudly that others could hear.... I regard myself as a lady and I didn't feel like one after we left."
Pistorius admits that he killed Steenkamp, firing four shots through a closed door in his house in the early hours of February 14, 2013. Three hit her, with the last one probably killing her almost instantly, according to the pathologist who performed the autopsy.
But Pistorius says he thought she was a nighttime intruder in his pitch-black house and believed he was firing in self-defense. He pleaded not guilty to murder.
'Terrified screaming'
Moller's testimony came after a neighbor of Pistorius said on the witness stand that she heard "terrified, terrified screaming" the morning the Olympian killed his girlfriend.
Questioned by prosecutor Gerrie Nel, Anette Stipp said she awoke early the morning of February 14, 2013, and heard "terrified, terrified screaming ... It sounds to me as if there's a family murder, why else would she scream like that."
Stipp described hearing a series of three shots, a woman screaming, also a man screaming, and then three more shots before the screaming stopped.
Her husband, Dr. Johan Stipp, testified earlier in the trial.
The trial was originally scheduled to last until March 20 but will now continue until the middle of May, the South African court hearing the case said Sunday.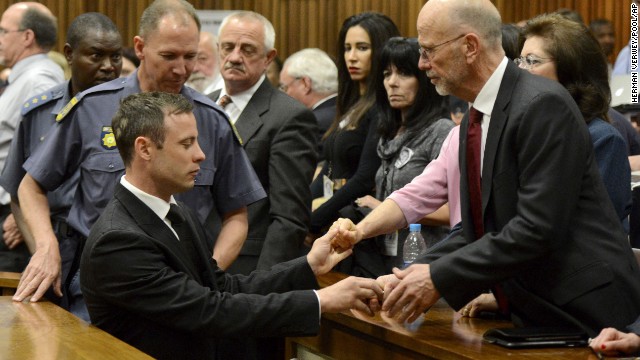 Oscar Pistorius reaches out to his uncle Arnold Pistorius and other family members as he is led out of court in Pretoria, South Africa, after being sentenced to five years in prison on Tuesday, October 21. Pistorius, the first double-amputee runner to compete in the Olympics, was sentenced for culpable homicide in the February 2013 death of his girlfriend, Reeva Steenkamp.
Pistorius leaves the high court in Pretoria on Monday, October 13. A judge cleared Pistorius of premeditated murder last month, but he was found guilty of culpable homicide -- the South African term for unintentionally, but unlawfully, killing a person.
Pistorius speaks with his uncle Arnold Pistorius during his trial at the Pretoria High Court on Friday, September 12.
Pistorius cries on the stand in Pretoria on Thursday, September 11, as the judge reads notes while delivering her verdict.
Pistorius arrives at court on September 11.
Pistorius speaks to someone in court as his murder trial resumes in Pretoria on Thursday, August 7.
Pistorius sits in court in Pretoria on Tuesday, July 8.
Pistorius arrives at court in Pretoria on Monday, July 7.
Pistorius yawns during day 37 of his murder trial on June 3.
Pistorius hugs a supporter Wednesday, July 2.
Pistorius listens to evidence being presented in court on Monday, June 30.
Pistorius leaves the court in Pretoria on Tuesday, May 20.
Pistorius reads notes during his trial on Monday, May 12.
Ballistics expert Tom "Wollie" Wolmarans testifies for the defense on May 12.
A red laser dot points at bullet holes in the bathroom door for a forensic demonstration during the trial on May 12. Pistorius admits firing four bullets through the closed door, killing Steenkamp, but says he thought he was protecting himself from a burglar.
Pistorius returns to court as his murder trial resumes Monday, May 5, after a break of more than two weeks.
Pistorius gets a hug from a woman as he leaves court in Pretoria on Wednesday, April 16.
Pistorius rubs his eye Tuesday, April 15, after testifying during his murder trial.
Pistorius arrives at the court in Pretoria on Monday, April 14.
Pistorius' sister, Aimee, cries in court as she listens to her brother's testimony on Tuesday, April 8.
June Steenkamp, Reeva Steenkamp's mother, reacts as she listens to Pistorius' testimony on April 8.
Pistorius is hugged by his aunt Lois Pistorius in court on Monday, April 7.
Pistorius sits inside the courtroom as members of his defense team talk in the foreground Friday, March 28.
Pistorius leaves court on March 28. The trial was delayed until April 7 because one of the legal experts who will assist the judge in reaching a verdict was sick.
Steenkamp's mother, right, and family friend Jenny Strydom react in court Tuesday, March 25, during cross-questioning.
Cell phone analyst Francois Moller testifies during the trial on March 25. Questioned by the prosecution, Moller listed in order the calls made and received by Pistorius after he shot Steenkamp.
Pistorius cries as he sits in the dock during his trial on Monday, March 24.
Pistorius talks to defense attorney Barry Roux on March 24.
Pistorius holds his head while members of his family talk behind him on Tuesday, March 18.
Steenkamp's mother, wearing the white collared shirt, looks on while a police officer takes notes in court March 18.
Pistorius is hugged by his aunt Lois on March 18.
Pistorius takes notes Monday, March 17, as his murder trial enters its third week.
Pistorius covers his head as he listens to forensic evidence Thursday, March 13.
Forensic investigator Johannes Vermeulen, left, is questioned during the trial March 13.
Pistorius listens to questions during his trial on Wednesday, March 12.
A police officer takes part in a court reconstruction March 12. A police forensic expert said Pistorius was on the stumps of his amputated legs when he knocked down a locked toilet door with a cricket bat to reach his shot girlfriend. That counters the track star's assertion he was wearing his prosthetic legs at the time. Defense attorney Barry Roux countered by suggesting that even with his prosthetic legs on, Pistorius would not be swinging a bat at the same height as an able-bodied person.
Pistorius listens to cross-questioning on Monday, March 10.
Friends of Steenkamp's family watch Pistorius during his trial on March 7.
Pistorius covers his ears on Thursday, March 6, as a witness speaks about the morning Steenkamp was killed.
Pistorius' sister, Aimee, right, speaks with members of Steenkamp's family on March 6.
Pistorius sits in court on the third day of his trial Wednesday, March 5.
Pistorius appears on the second day of his trial Tuesday, March 4.
Members of the media work during a break in proceedings March 4.
Pistorius talks with Roux inside the court on March 4.
Pistorius speaks with his legal representatives on March 4.
Pistorius is escorted out of the court Monday, March 3, after the first day of his murder trial.
People try to get a glimpse of Pistorius as he leaves the court building on March 3.
Pistorius is seen shortly after arriving for his trial on March 3.
Pistorius walks into the courtroom on March 3.
Pistorius takes a drink of water March 3 during his trial.
The case has captivated South Africa. Here, Lauren Wentzel watches the proceedings from her home outside Cape Town on March 3.
June Steenkamp arrives at the court building for the start of the trial.
Pistorius' relatives wait inside the courtroom on March 3.
People at the court building wait for Pistorius' arrival on March 3.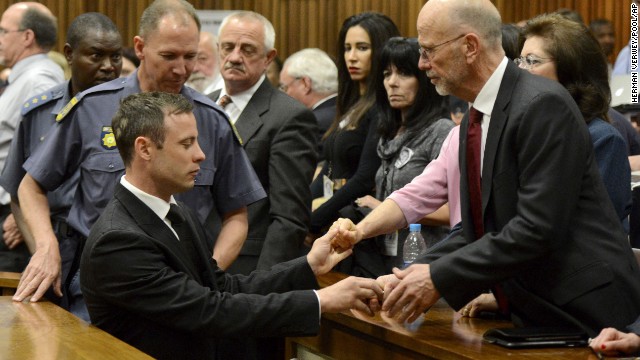 Photos: Oscar Pistorius trial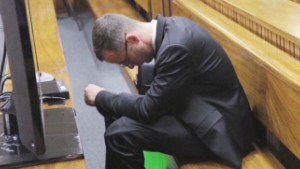 Narratives develop in Pistorius trial
The trial, which entered its fourth week on Monday, will continue until April 4, then break for a one-week recess before resuming from April 14 until May 16, the Pretoria court announced in a written statement. It said "all parties involved" had agreed to the dates. The trial began March 3.
There has been intense media interest in the case in South Africa and beyond. Pistorius first achieved global fame as an outstanding double amputee sprinter who ran with special prostheses that earned him the nickname "Blade Runner."
Judge Thokozile Masipa will decide the verdict with the help of two lay people called assessors. South Africa does not have jury trials.
In South Africa, premeditated murder carries a mandatory life sentence with a minimum of 25 years. Pistorius also could get five years for each of two unrelated gun indictments and 15 years for a firearms charge he also faces.
If he isn't convicted of premeditated murder, the sprinter could face a lesser charge of culpable homicide, a crime based on negligence.
The sentence for culpable homicide is at the judge's discretion.
Almost the entire trial has been televised, though individual witnesses can choose not to be shown on television.
CNN's Ed Payne and CNN legal analyst Kelly Phelps contributed to this report.