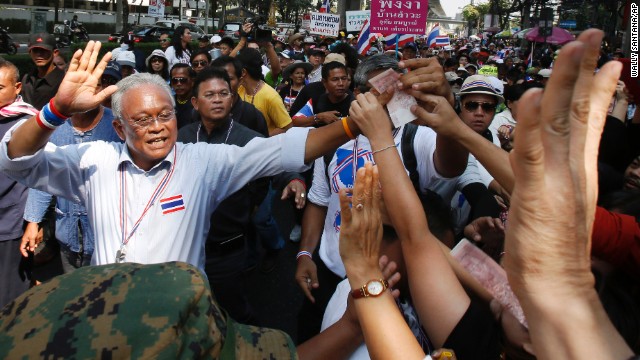 Protest leader Suthep Thaugsuban greets supporters during a march in Bangkok, Thailand, on Monday, February 3. Anti-government protesters disrupted voting in roughly one-fifth of Thailand's electoral districts in national elections Sunday, February 2, authorities said.
Protesters stake out positions behind barbed wire during a rally in Bangkok on February 3.
Thai soldiers move in as anti-government protesters stage a rally in Bangkok on February 3.
A frustrated voter, holding her national identification card, shouts at police blocking the entrance to a polling station on Sunday, February 2.
Thai soldiers stand outside a closed polling station on February 2.
A man yells at police and officials as residents protest over not being able to cast their ballots.
Thai Prime Minister Yingluck Shinawatra casts her ballot on February 2.
An injured government supporter is carried to a hospital during clashes with anti-government protesters in Bangkok on Saturday, February 1. Gunshots were fired during a confrontation, injuring at least six people.
A soldier takes cover as violence escalates before the elections on February 1.
An anti-government protester inspects bullet holes in a window of his comrade's truck.
An injured man gestures after fleeing from the gun shots.
Protesters take cover as gun shots are fired.
Anti-government protesters wave national flags during a parade in Bangkok.
Anti-government protest leader Suthep Thaugsuban cheers during a march through Bangkok's Chinatown.
Thai electoral officials prepare material for the general elections at a district office in Bangkok on February 1.
Protests in Thailand's national election
Protests in Thailand's national election
Protests in Thailand's national election
Protests in Thailand's national election
Protests in Thailand's national election
Protests in Thailand's national election
Protests in Thailand's national election
Protests in Thailand's national election
Protests in Thailand's national election
Protests in Thailand's national election
Protests in Thailand's national election
Protests in Thailand's national election
Protests in Thailand's national election
Protests in Thailand's national election
Protests in Thailand's national election