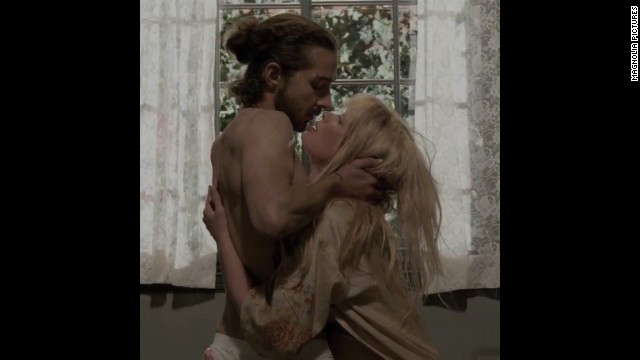 From its title to its promotional posters --
close-ups of actors such as Shia LaBeouf, left, making passionate grimaces
-- "Nymphomaniac" has sold us on its sex appeal. The movie, directed by Lars von Trier, has been split into two parts and was released in spring 2014. But before von Trier's film titillated audiences, it was these risque scenes that had moviegoers on edge:
resulted in an X rating
at first and has fans still wondering, did they or didn't they?
The graphic sex scenes between Donald Sutherland and Julie Christie in "Don't Look Now"
except maybe Roger Ebert
-- but it had couples acting out that
food scene.
"Nine 1/2 Weeks," starring Mickey Rourke and Kim Basinger, wasn't a huge commercial success, and critics didn't love it --
Daniel Day-Lewis and Lena Olin had some sexy scenes in "The Unbearable Lightness of Being."
Gay activists protested "Basic Instinct
," starring Michael Douglas and Sharon Stone, as they felt that the portrayal of her bisexual character was offensive.
Jane March and Tony Leung Ka Fai star as a young girl and her older lover in "The Lover."
Naomi Watts, left, and Laura Harring got hot and heavy in "Mulholland Drive."
Gina Gershon, left, and Jennifer Tilly play lovers in "Bound."
"Love Jones" is the story of a poet and photographer trying to figure out if they'd found lasting love, and it's filled with scenes of their lustful explorations. Their initial sleepover, set to the tune of Maxwell's "Sumthin' Sumthin'," is one that'll threaten to set fire to your TV.
Matt Dillon and Denise Richards helped steam things up in the erotic thriller "Wild Things," which included a menage a trois scene with Neve Campbell.
The cast of "Cruel Intentions" had chemistry all the way around, but the heat between the once-married Reese Witherspoon and Ryan Phillippe was palpable.
Halle Berry and Billy Bob Thornton dealt with some heavy emotional issues in "Monster's Ball" while engaging in some passion.
Gael Garcia Bernal, Diego Luna and Maribel Verdu form a passionate trio in "Y Tu Mama Tambien."
"Secretary," starring Maggie Gyllenhaal and James Spader, explores the relationship between a submissive secretary and her boss.
"The Notebook" has become the gold standard for romantic movies, but one scene in particular will have viewers pausing to rewind. When Ryan Gosling's Noah and Rachel McAdams' Allie Calhoun reunite, not even pouring rain can dampen the sensual scene that follows.
Heath Ledger, left, and Jake Gyllenhaal share a cowboy love that dare not speak its name in "Brokeback Mountain."
If there's any reason to see "Black Snake Moan," it's to see just how well Christina Ricci and Justin Timberlake work together in their love scenes.
Raphael Barker and Sook-Yin Lee star in "Shortbus," about a female sex therapist and a group of sexually adventurous New Yorkers.
Kate Winslet and David Kross played out the heat between a younger man and an older woman in "The Reader."
Ryan Gosling and Michelle Williams did such excellent work portraying sometimes-volatile lovers in "Blue Valentine" that the Motion Picture Association of America initially tried to give the movie an NC-17 rating.
Mila Kunis
Adele Exarchopoulos, left, and Lea Seydoux star in "Blue is the Warmest Color," which drew lots of attention upon its release because of its graphic sex scenes, including one that is more than six minutes long.
an interview
with The Daily Beast.
Margot Robbie and Leonardo DiCaprio could make pretty much anything look amazing, including enjoying one another on top of a pile of money. Turns out that steamy scene wasn't as fun for the actress: "If anyone is ever planning on having sex on top of a pile of cash: don't," Robbie said in
Hollywood's steamiest sex scenes
'Last Tango in Paris' (1972)
'Don't Look Now' (1973)
'Nine 1/2 Weeks' (1986)
'The Unbearable Lightness of Being' (1988)
'Basic Instinct' (1992)
'The Lover' (1992)
'Mulholland Drive' (1996)
'Bound' (1996)
'Love Jones' (1997)
Wild Things (1998)
'Eyes Wide Shut' (1999)
'Cruel Intentions' (1999)
'Monster's Ball' (2001)
'Y Tu Mama Tambien' (2001)
'Secretary' (2002)
'The Brown Bunny' (2003)
'The Notebook' (2004)
'Brokeback Mountain' (2005)
'A History of Violence' (2005)
'Black Snake Moan' (2006)
'Shortbus' (2006)
'The Reader' (2008)
'Blue Valentine' (2010)
'Black Swan' (2010)
'Blue is the Warmest Color' (2013)
'The Wolf of Wall Street' (2013)