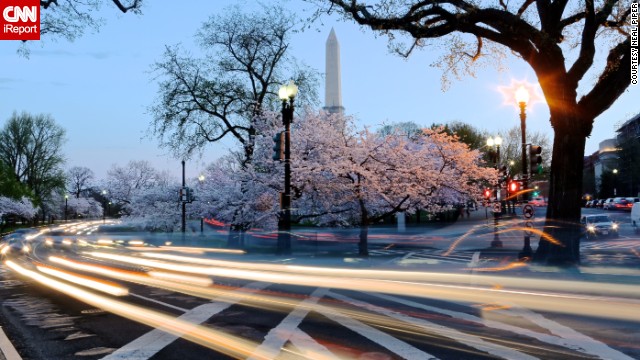 The National Cherry Blossom Festival starts on March 20 in Washington. Every year millions of pink petals transform the city's landscape, beckoning the start of spring. If you can't make a trip to the capital to see these delicate flowers bloom, enjoy their beauty through these photos taken over the years by
CNN iReporters
.
Navid Baraty
visited D.C. to see the cherry blossoms bloom in 2012. This was his first time at the festival and he says it was spectacular.
New York resident
National Cherry Blossom Festival
grew from humble beginnings, but now it's one of the largest springtime celebrations in the United States.
The
Baraty, a photographer by trade, rarely shoots images of flowers, but he made an exception while at the festival. "I knew it was going to be gorgeous, but wasn't quite prepared for how stunning of a show it really was," he said.
More than 1.5 million people travel to the capital to see these blooming flowers, according to the
A crowd walks under blooming cherry blossoms.
as early as March 15
in 1990 to as late as April 18 in 1958. After a brutal winter, they're expected to be at their peak in April this year.
D.C.'s cherry trees have hit their peak
The cherry blossom festival commemorates the gift of 3,000 cherry trees Japan gave to Washington in 1912.
2014 marks the 102nd anniversary of the cherry blossom gift from the Japanese.
The cherry trees' peak bloom, which is when 70% of the trees are blooming, is very much dependent on the weather.
The Thomas Jefferson Memorial sits behind a blooming cluster of cherry blossoms.
The National Park Service expects peak bloom to occur this year during the second week of April.
flowering dogwood trees
. The gift was in response to the cherry trees the United States received from Japan three years earlier.
In 1915, the United States government presented the people of Japan with
Neal Piper
, who lives in D.C. He took these photos in March 2013. He was disappointed the blossoms bloomed a lot later than usual last year because of cold weather.
Cherry blossoms are a familiar springtime sight for
Here, the cherry blossoms overlook the Tidal Basin in Washington.
earthquake caused cracks
in the monument in 2011, according to the National Park Service.
When Piper took these photographs, the Washington Monument was under repair. A 5.8 magnitude
The cherry blossom season can last as long as 25 days.
In the early 1980s, the United States government gave Japanese horticulturists some cuttings of cherry trees after a flood in Japan decimated many of the trees there.
Cherry blossoms bloom in a variety of countries during spring. You can find these delicate flowers in the United States, Japan, Germany, India and even Turkey, just to name a few nations this flowering plant calls home.
Ian Dixon
captured this photograph in March 2012. "Even at 7 a.m. it was getting tough to find good spots to shoot from due to all the photographers around," he said.
Travelers enjoy the sight of cherry blossoms so much that crowds start gathering in the park as early as sunrise, which is when
Winter blues bloom pink
Winter blues bloom pink
Winter blues bloom pink
Winter blues bloom pink
Winter blues bloom pink
Winter blues bloom pink
Winter blues bloom pink
Winter blues bloom pink
Winter blues bloom pink
Winter blues bloom pink
Winter blues bloom pink
Winter blues bloom pink
Winter blues bloom pink
Winter blues bloom pink
Winter blues bloom pink
Winter blues bloom pink
Winter blues bloom pink
Winter blues bloom pink
Winter blues bloom pink
Winter blues bloom pink