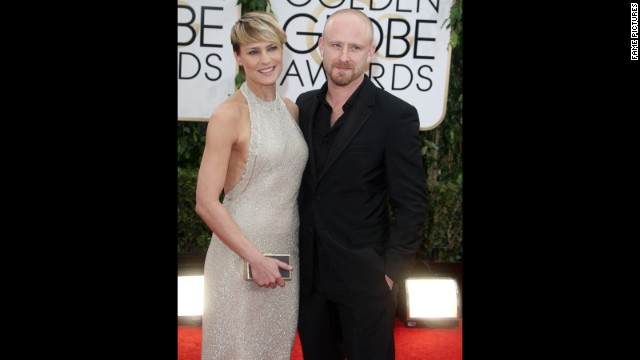 Robin Wright, 47, has found love with 33-year-old actor Ben Foster, and she knows their age difference has raised eyebrows. "If it was the inverse -- a younger woman with an older man -- not many would bat an eye,"
she tells Harper's Bazaar in its April issue
. "But an older woman with a younger man -- it's almost judged the way different religions judge doctrines of other religions." Wright, who announced the couple's engagement in January, is just one star who's open-minded about an age gap.
there have been rumors
that she's dating singer Austin Mahone, who's 17. But
they've been debunked.
Before going public with their relationship, Selena Gomez, 21, referred to Justin Bieber, 20, as her little brother. Following their most recent breakup,
Jennifer Lopez has found happiness with her boyfriend, Casper Smart, who is 18 years younger than the 44-year-old star.
Actress Melissa McCarthy, 43, and her husband, Ben Falcone, 40, have been married since 2005.
Jennifer Aniston, 45, is "thisclose" to marital bliss with her fiance, 42-year-old Justin Theroux. Before becoming engaged to Theroux, Aniston dated John Mayer, who's eight years her junior.
At 33, Nick Cannon is roughly a decade younger than Mariah Carey. The pair wed in 2008.
Cher's romantic history is filled with younger guys, including Gene Simmons, Val Kilmer, Tom Cruise and Gregg Allman, pictured here. Cher was involved with Allman, about two years her junior, on and off throughout the late '70s. The two could never quite decide if they wanted to stay married or not, but they were officially done by the end of the decade.
"The Place Beyond the Pines" co-stars Eva Mendes, 40, and Ryan Gosling, 33, have been attached since 2011.
Demi Moore became the poster woman for the cougar when she settled down with Ashton Kutcher and their nearly 16-year age difference. Since their breakup, Moore has been spotted with a number of younger guys, including Vito Schnabel, Harry Morton and Sean Friday.
After splitting from Tony Parker, left, who is more than seven years her junior, Eva Longoria began dating Eduardo Cruz, who is 10 years younger than she is. The pair have since called it quits.
Halle Berry's dating life has been all over the map. She's married to Olivier Martinez, who like Berry is in his late 40s. But ex-boyfriend Gabriel Aubry, left, is nine years younger than her. She once credited Aubry, a model and eventual father of her first child, for keeping her "mojo" going.
she said in 2012
. "I just met someone that I cared for, and this happened to be his age."
Madonna, 55, recently broke up with 26-year-old dancer Brahim Zaibat. She says her repeat May-December romances aren't intentional. "That's just what happened ... that's the romantic in me,"
In October, actress Jamie-Lynn Sigler, 32, had her first child with her fiance, 24-year-old baseball player Cutter Dykstra.
After splitting from Zac Efron in 2010, 25-year-old actress Vanessa Hudgens began seeing 22-year-old "Carrie Diaries" actor Austin Butler.
Gwyneth Paltrow, 41, married Coldplay's Chris Martin, 37, in 2003.
Stars who date younger men
Stars who date younger men
Stars who date younger men
Stars who date younger men
Stars who date younger men
Stars who date younger men
Stars who date younger men
Stars who date younger men
Stars who date younger men
Stars who date younger men
Stars who date younger men
Stars who date younger men
Stars who date younger men
Stars who date younger men
Stars who date younger men