STORY HIGHLIGHTS
NEW: ''The only thing I could do is fight," honoree Melvin Morris tells CNN
President Barack Obama honors 24 veterans with the Medal of Honor
White House says they were passed over for the top medal because of discrimination
Only three of them are still alive; they served in WWII, Korea and Vietnam
(CNN) -- If not for the hue of their skin or their ethnicity, 24 soldiers who faced death in service to their nation would have received the most prestigious medals for their valor long ago.
But they were born and fought in a time when such deeds were not always fairly acknowledged.
On Tuesday, the U.S. government corrected the oversight.
President Barack Obama honored 24 Army veterans with the Medal of Honor -- the country's highest military award, given to American soldiers who display "gallantry above and beyond the call of duty " -- for their combat actions in Vietnam, Korea and World War II.
"No nation is perfect, but here ... we confront our imperfections and face a sometimes painful past, including the truth that some of these soldiers fought and died for a country that did not always see them as equal," Obama said.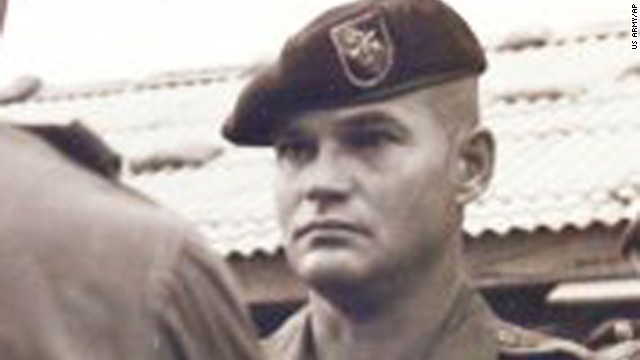 Army Command Sgt. Maj. Bennie G. Adkins is pictured in an undated U.S. Army photo. He is cited for his action at Camp A Shau in Vietnam in 1966, where the Army says he killed 135 to 175 enemy troops during a battle.
The Army says Spec. Donald Paul Sloat shielded his comrades from a grenade blast at the cost of his own life near Danang, Vietnam, in 1970.
Lt. Alonzo Cushing (center, back row) is shown with others at Antietam, Maryland, in 1862. He died at Gettysburg in July 1863 and is cited for defending Union positions against Pickett's Charge. He was killed during the action.
President Barack Obama awarded 24 U.S. Army veterans, including Spc. Santiago J. Erevia, pictured, with the Medal of Honor on March 18. The soldiers, only three of whom are still alive, received the country's highest military award for their courageous actions during Vietnam, Korea and World War II. Erevia was honored for his actions while serving as a radiotelephone operator in Vietnam on May 21, 1969. He is credited with tending to injured comrades when his position came under attack. He then charged the enemy before returning to care for the injured troops he left behind.
Sgt. 1st Class Melvin Morris was recognized for his heroic actions on September 17, 1969, near Chi Lang, Vietnam, where the Army Green Beret ignored his safety on no less than three occasions, charging into a hail of gunfire to save his injured comrades and retrieve the bodies of the fallen. He was wounded three times as he ran back toward friendly lines with casualties, but he did not stop until he reached safety.
Sgt. 1st Class Jose Rodela was recognized for his heroic actions on September 1, 1969, in Phuoc Long Province, Vietnam, while commanding a mobile strike force. He was wounded in the back and head while trying to save a comrade. He then single-handedly assaulted a rocket position before returning to lead his men. Of the 24 recipients Tuesday, only Rodela, Morris and Erevia are still alive.
Sgt. Candelario Garcia distinguished himself on December 8, 1968, while serving as a team leader during a company-size reconnaissance-in-force mission near Lai Khe, Vietnam. When his company came under intense fire, leaving several men wounded and trapped in the open, he single-handedly took out two machine gun bunkers. He then joined his company in an assault, which overran the remaining enemy positions.
Spc. Leonard L. Alvarado was recognized for his actions as a rifleman on August 12, 1969, when he disrupted an enemy attack that targeted an American platoon pinned down in Vietnam's Phuoc Long province. He crawled through a fusillade of fire to save several comrades and advanced on the enemy, laying down suppressive fire before dying from his wounds.
Staff Sgt. Felix M. Conde-Falcon is credited with leading soldiers in an advance on an extensive enemy bunker complex, later identified as a battalion command, on April 4, 1969, in Ap Tan Hoa, Vietnam. When they came under fire, Conde-Falcon single-handedly assaulted a fortification until he ran out of ammunition. While taking up another position, he was mortally wounded by an unseen assailant.
Spc. Ardie R. Copas was recognized for his actions in the early morning hours of May 12, 1970, while he served as a machine gunner near Ph Romeas Hek, Cambodia. Copas took to the machine gun on a burning vehicle, laying down fire so four of his wounded comrades could be saved. He continued firing at the enemy troops until he was mortally wounded.
Spc. Jesus S. Duran was honored for his selflessness on April 10, 1969, while he served as a machine gunner during a search-and-destroy mission during the Vietnam War. When his platoon was ambushed during the mission, he put himself in the direct line of fire to save a number of comrades.
Cpl. Joe R. Baldonado, a machine gunner, is credited with repelling an enemy attack at Hill 171 in Kandong, Korea, on November 25, 1950 -- an act that was chronicled in the book "Disaster in Korea: The Chinese Confront MacArthur." With most of the platoon out of ammunition, Baldonado laid down withering fire in an exposed position, forcing the enemy to retreat. As they fled, a grenade was thrown that killed Baldonado. His body was never found.
Cpl. Victor H. Espinoza was awarded the Medal of Honor for his actions on August 1, 1952, during what became known as the third Battle of Old Baldy in Chorwon, Korea. With his unit pinned down by enemy forces, Espinoza single-handedly took out a machine gunner and his crew, discovered and destroyed an enemy tunnel, and wiped out two bunkers.
Sgt. Eduardo C. Gomez was recognized for heroic actions on September 3, 1950, at Tabu-dong, Korea, where his company was attacked while readying defensive positions. He maneuvered across open ground to take out a tank. Wounded, he refused medical care and manned his post where his weapon overheated and burned his hands. He stayed at his post, providing protective fire as the troops were ordered to withdraw.
Pfc. Leonard M. Kravitz was recognized for his actions on March 6-7, 1951, in Yangpyeong, Korea, when his unit was overrun by enemy forces and forced to withdraw. He voluntarily remained at his position to provide suppressive fire for retreating troops, which forced the enemy to concentrate their attack on his position and saved his platoon. He was fatally wounded.
Master Sgt. Juan E. Negron distinguished himself on April 28, 1951, near Kalmaeri, Korea, where he refused to leave his post after learning enemy forces had broken through a roadblock and were advancing. He held his post throughout the night, hurling grenades and laying down fire to halt the enemy attack. He held the position until an allied counterattack was organized and launched.
Master Sgt. Mike C. Pena was posthumously honored for his actions on September 4, 1950, near Waegwan, Korea, where he led a counterattack after his unit was attacked. When his troops began to run out of ammunition, he ordered his unit to retreat and then manned a machine gun to cover their withdrawal. Single-handedly, he held back the enemy troops until the early hours the following morning when he his position was overrun and he was killed.
Pvt. Demensio Rivera was recognized for his actions on May 22-23, 1951, in Changyongi, Korea, where he held his forward position during an enemy attack. When his rifle became inoperable, he used a handgun and grenades. He then turned to hand-to-hand combat, using his last grenade as the enemy troops closed in. When his position was retaken, he was found wounded, lying among the bodies of four dead or dying enemy soldiers.
Pvt. Miguel A. Vera was posthumously honored for his actions on September 21, 1952, while volunteering for an assault in the Battle of Mount Baldy in Chorwon, Korea. He and others climbed a bare, rocky slope and got within 20 yards of enemy forces before they were forced to pull back because of intense fire. He remained behind to cover his comrades as they withdrew before being mortally wounded.
Sgt. Jack Weinstein was recognized for his actions on October 19, 1951, near Kumsong, Korea, where he is credited with single-handedly holding his position during an enemy counterattack to allow his men to withdraw. Wounded in the leg, he held the position until a platoon relieved him and pushed the enemy back.
Pvt. Pedro Cano was honored for his action in the Battle of Hurtgen Forest near Schevenhutte, Germany, in December 1944. During a two-day period, he eliminated 30 enemy troops, according to the Army. Sometime later, when his platoon was attacked, he laid motionless on the ground until enemy soldiers closed in. Then he tossed a grenade, wounding or killing all of them.
Pvt. Joe Gandara was recognized for heroic actions on June 9, 1944, in Amfreville, France, where his detachment came under enemy fire from German forces. The men were trapped for hours until Gandara advanced voluntarily and alone toward the German position, where he destroyed three machine gun positions before being fatally wounded.
Pfc. Salvador J. Lara was honored for his extraordinary heroism in action on May 27-28, 1944, near Aprilia, Italy, during the Battle of Anzio when his unit came under fire by German forces. He is credited with leading his rifle company to inflict a large number of enemy casualties. He was wounded during the fighting but did not stop to receive medical attention. As the fighting continued, he was credited with saving a number of U.S. troops after he crawled alone to a machine gun pit where he killed three German soldiers.
Sgt. William F. Leonard was honored for his actions while serving as a squad leader on November 7, 1944, near St. Die, France, where he led the eight survivors of his platoon, which had been decimated by enemy fire, in assault over a hill. Killing two snipers at ranges of 50 and 75 yards, he continued to fight even after being shot in the back. He knocked out a machine gun pit. After being stunned by a bazooka shell, he continued his advance and took out another machine gun pit and captured their objective -- a roadblock.
Staff Sgt. Manuel V. Mendoza was recognized for his action on October 4, 1944, in Mount Battaglia, Italy, where he is credited with single-handedly breaking up a German counterattack. Mendoza, already wounded in the arm and the leg in the attack, grabbed a submachine gun and opened fire on German troops advancing up a hill. When the German soldiers retreated, he grabbed a number of weapons dropped in the retreat. He also captured a wounded enemy soldier.
Sgt. Alfred B. Nietzel distinguished himself on November 18, 1944, in Heistern, Germany, where he is credited with holding his position long enough during a German assault to allow for reinforcements to arrive and stop the advance. As the enemy closed in on his position, he ordered the three remaining members of his squad to retreat and get reinforcements while he continued firing. He was killed by enemy grenade.
First Lt. Donald K. Schwab distinguished himself with his actions on September 7, 1944, when led his company over 400 yards of open ground near Lure, France, in an assault that was credited with leaving German troops so disorganized that it broke their line. As part of it, he attacked a machine gun nest, hit the German gunner with the butt of his rifle and dragged him back through a hail of fire to friendly lines.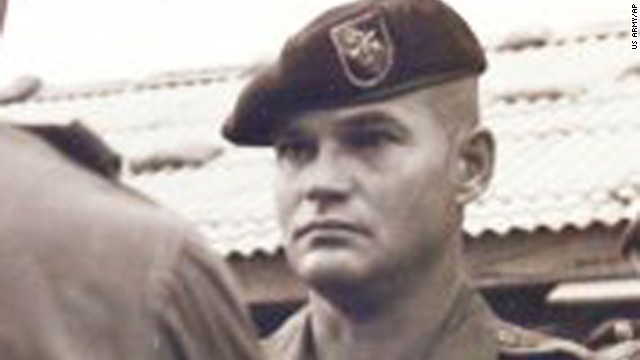 Medal of Honor recipients 2014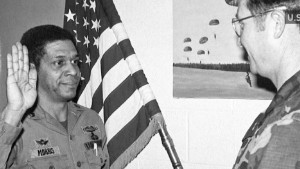 W.H. finally honors 24 minority vets
Only three of the soldiers are alive to receive the recognition.
The rest -- soldiers with last names including Garcia and Weinstein and Negron -- are dead.
Of the 24 honored, 10 never came home. The body of one -- Cpl. Joe Baldonado -- has never been recovered, Obama said.
For the few who survive, such as Melvin Morris, this day has been more than 40 years in the making.
He was fresh-faced and 19 when he volunteered to go to Vietnam. In 1969, the Army Green Beret "charged into a hail of fire" to save his injured comrades and retrieve the bodies of the fallen, even though he was shot several times and bleeding. The Army would later say his actions on the battlefield that day showed "determination possessed by few men."
"The staff sergeant recovered a fallen comrade ... and took out several bunkers even after he was shot several times," Obama said.
He was honored in 1970 with the Army's Distinguished Service Cross award.
Today, at age 72, Morris -- who is African-American -- received his nation's most esteemed military honor.
"It makes me very proud that they are going back and looking at records," Morris told CNN.
But it was never about a medal for Morris, who joined the Army in 1959.
On September 17, 1969, he was on a search-and-destroy mission with his company when he learned the commander of another company nearby had been killed.
"Immediately it came to me that I had to recover his body," Morris said. "...Leave no man behind under any circumstance."
Morris was shot three times -- in the chest, arm and left ring finger -- as he carried the casualties out of the line of fire. He was then trapped in the firefight.
"The only thing I could do is fight, to hope I could get out," he said.
And fight he did.
He was later evacuated from the battlefield. Less than a year later, he returned to duty in Vietnam where he would be decorated again for his actions in combat.
There are others, too.
Men like Santiago J. Erevia, a radiotelephone operator from Texas who in 1969 tended injured comrades in Vietnam's Quang Tin province when his position came under attack. According to the citation, Erevia took out three machine gun bunkers with grenades and gunfire. He then returned to care for his wounded comrades, crawling from one wounded man to another to administer aid.
And there were men like Jose Rodela, who, while commanding a mobile strike force in Vietnam's Phuoc Long province, "was wounded in the back and head by rocket shrapnel while recovering a wounded comrade," according to a military commendation. Still he single-handedly assaulted and knocked out a mortar position before returning to lead his men.
Morris, Rodela and Erevia wore Army uniforms as they accepted the medal, which was placed around their neck by Obama.
"In the thick of the fight all those years ago, for your comrades and your country, you refused to yield," the President said.
In 2002 Congress -- as part of the Defense Authorization Act -- set up a review of Jewish and Hispanic veterans who had served in combat since the middle of the century "to ensure those deserving the Medal of Honor were not denied because of prejudice," explained the White House. The congressional action was later amended to open the door for any serviceman or woman denied the award due to discrimination.
One of those who posthumously received the award is Leonard Kravitz, an assistant machine gunner in the Korean War. He is the uncle and namesake of actor and rock musician Lenny Kravitz.
CNN's Barbara Starr and Greg Botelho contributed to this report.