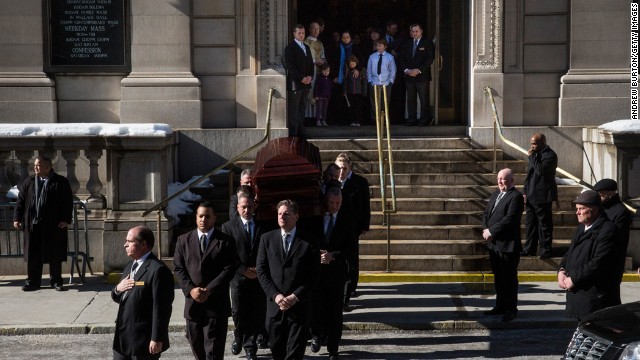 The casket carrying Oscar-winning actor Philip Seymour Hoffman leaves the Church of St. Ignatius Loyola after Hoffman's private funeral service Friday, February 7, in New York City. Hoffman, 46, was found dead in his Manhattan apartment February 1.
Hoffman's longtime partner, Mimi O'Donnell, watches Hoffman's casket as it is loaded into the back of a hearse.
Actress Cate Blanchett and her husband, Andrew Upton, leave the funeral service. Hoffman and Blanchett co-starred in "The Talented Mr. Ripley."
Director Mike Nichols and his wife, Diane Sawyer, attended the service. Nichols directed Hoffman on Broadway in "Death of a Salesman."
Actor Ethan Hawke hugs another mourner after the service.
Actor Joaquin Phoenix, left, exits the church. Phoenix appeared with Hoffman in "The Master."
Pallbearers lift Hoffman's casket into the back of a hearse.
Writer David Bar Katz, wearing glasses, is embraced as he arrives at the church. Katz found Hoffman's body.
Actress Meryl Streep, left, starred with Hoffman in "Doubt."
Actress Michelle Williams, wearing glasses, worked with Hoffman in "Synecdoche, New York."
Actress Ellen Burstyn and comedian Louis C.K. attended the funeral.
A man cleans the steps of the church.
Philip Seymour Hoffman's funeral
Philip Seymour Hoffman's funeral
Philip Seymour Hoffman's funeral
Philip Seymour Hoffman's funeral
Philip Seymour Hoffman's funeral
Philip Seymour Hoffman's funeral
Philip Seymour Hoffman's funeral
Philip Seymour Hoffman's funeral
Philip Seymour Hoffman's funeral
Philip Seymour Hoffman's funeral
Philip Seymour Hoffman's funeral
Philip Seymour Hoffman's funeral