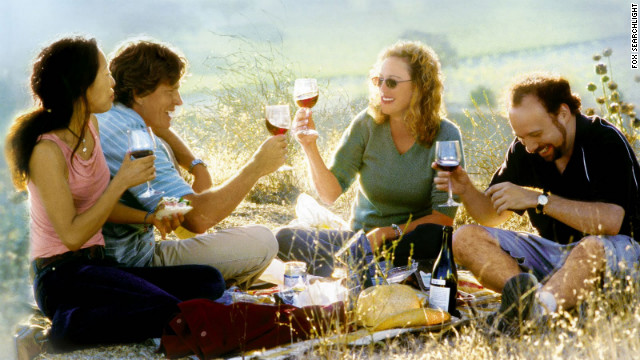 Whether it be for the hopeful coming of spring -- or a certain holiday often associated with a celebratory tipple or two -- we present to you some of the most memorable drinking movies through the years. Films like "Sideways" from 2004, which stars, from left, Sandra Oh, Thomas Haden Church, Virginia Madsen and Paul Giamatti. The movie put "pinot noir" on the palates of moviegoers.
Ray Milland goes on a four-day drinking binge in 1945's "The Lost Weekend." The groundbreaking film won best picture at the Academy Awards.
His love of the drink causes folks not to believe James Stewart's character in the 1950 film "Harvey" when he insists that his best friend is a tall, invisible rabbit.
Marlon Brando likes to hit the bottle in 1951 in "A Streetcar Named Desire."
The 1962 movie "Days of Wine and Roses," about two alcoholics, stars Lee Remick and Jack Lemmon.
John Belushi is everyone's favorite toga-wearing guzzler, John "Bluto" Blutarsky, in 1978's "Animal House." According to a closing "What happened to ... ?" scene, he became a U.S. senator.
Rick Moranis and Dave Thomas play a couple of Canadians who land jobs in a brewery in the 1983 film "The Adventures of Bob & Doug McKenzie: Strange Brew."
Mickey Rourke plays an alcoholic based on poet Charles Bukowski (who wrote the screenplay) and Frank Stallone a bartender he frequently clashes with in the 1987 film "Barfly."
Paul McGann's character is best friends with Richard E. Grants' outrageous alcoholic in the 1987 British film "Withnail and I."
"The Legend of Drunken Master" from 1994 stars martial artist Jackie Chan.
Elisabeth Shue tries desperately to get Nicolas Cage to stop drinking in "Leaving Las Vegas" from 1995. Cage won an Oscar for his performance as a suicidal screenwriter who, in one arresting scene, fills a shopping cart with booze.
Jon Favreau and Vince Vaughn love a good cocktail in the 1996 film "Swingers." Answering machine messages, not so much.
The cult classic "The Big Lebowski" (1998) stars Jeff Bridges, John Goodman, and Steve Buscemi. The Coen brothers film really ties things together.
Will Ferrell gets his drink on in "Old School" in 2003. It's one of many films with Ferrell in a state of undress.
Two brothers head for Oktoberfest in the 2006 film "Beerfest," which includes Kevin Heffernan, Paul Soter, Simona Fusco and Jessica Williams.
There's more than a bit of underaged boozing that goes on in 2007's "Superbad" with Christopher Mintz-Plasse, Jonah Hill and Michael Cera. There's also some McLovin going on.
"The Hangover" (2009) spawned two equally intoxicating sequels. Zach Galifianakis, Bradley Cooper and Ed Helms star.
Russell Brand stars in the 2011 remake of "Arthur." The original, from 1981, starred Dudley Moore in the role of a drunken heir.
"The Rum Diary," from 2011, stars Johnny Depp in a film based on a novel by Hunter S. Thompson.
There's actually a drinking game
for the 2012 film "Seven Psychopaths" starring Colin Farrell, Sam Rockwell and Christopher Walken.
Best drinking movies
Best drinking movies
Best drinking movies
Best drinking movies
Best drinking movies
Best drinking movies
Best drinking movies
Best drinking movies
Best drinking movies
Best drinking movies
Best drinking movies
Best drinking movies
Best drinking movies
Best drinking movies
Best drinking movies
Best drinking movies
Best drinking movies
Best drinking movies
Best drinking movies
Best drinking movies