STORY HIGHLIGHTS
Gory autopsy details and photographs of the crime scene shown at the trial
Oscar Pistorius is charged with murder in the slaying of his girlfriend, Reeva Steenkamp
He says her shooting death was an accident, not premeditated murder
The bathroom door through which she was shot was reassembled in court
Pretoria, South Africa (CNN) -- As it entered its second week, the Oscar Pistorius murder trial turned into an episode of "CSI," replete with gory autopsy details and photographs of the crime scene. Even the bathroom door through which he shot his girlfriend, Reeva Steenkamp, was reassembled and put up in court.
Drama from the trial came from a police expert swinging Pistorius' cricket bat at the door in court to try to determine whether he was wearing his prosthetic legs when he did it. It came as well from detailed descriptions of the damage hollow-tip bullets do to human flesh.
And then, of course, there was the effect of the evidence on Pistorius himself, who spent hours vomiting as he was forced to relive seeing Steenkamp's mortal wounds.
The sprinter admits that he killed Steenkamp, his 29-year-old girlfriend of about four months, on Valentine's Day 2013 but says it was a terrible accident, not premeditated murder.
Pistorius, 27, is pleading not guilty to murder and three other weapons charges.
Prosecution and defense battled all week over the meaning of four types of evidence.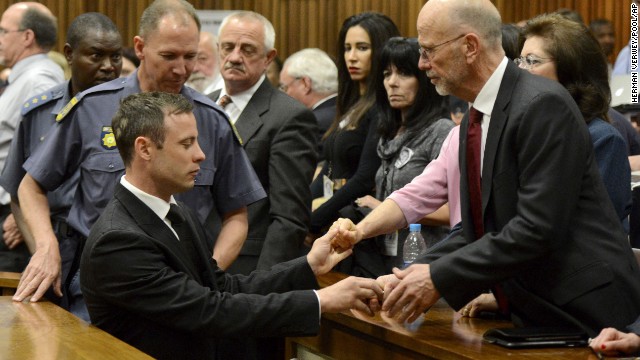 Oscar Pistorius reaches out to his uncle Arnold Pistorius and other family members as he is led out of court in Pretoria, South Africa, after being sentenced to five years in prison on Tuesday, October 21. Pistorius, the first double-amputee runner to compete in the Olympics, was sentenced for culpable homicide in the February 2013 death of his girlfriend, Reeva Steenkamp.
Pistorius leaves the high court in Pretoria on Monday, October 13. A judge cleared Pistorius of premeditated murder last month, but he was found guilty of culpable homicide -- the South African term for unintentionally, but unlawfully, killing a person.
Pistorius speaks with his uncle Arnold Pistorius during his trial at the Pretoria High Court on Friday, September 12.
Pistorius cries on the stand in Pretoria on Thursday, September 11, as the judge reads notes while delivering her verdict.
Pistorius arrives at court on September 11.
Pistorius speaks to someone in court as his murder trial resumes in Pretoria on Thursday, August 7.
Pistorius sits in court in Pretoria on Tuesday, July 8.
Pistorius arrives at court in Pretoria on Monday, July 7.
Pistorius yawns during day 37 of his murder trial on June 3.
Pistorius hugs a supporter Wednesday, July 2.
Pistorius listens to evidence being presented in court on Monday, June 30.
Pistorius leaves the court in Pretoria on Tuesday, May 20.
Pistorius reads notes during his trial on Monday, May 12.
Ballistics expert Tom "Wollie" Wolmarans testifies for the defense on May 12.
A red laser dot points at bullet holes in the bathroom door for a forensic demonstration during the trial on May 12. Pistorius admits firing four bullets through the closed door, killing Steenkamp, but says he thought he was protecting himself from a burglar.
Pistorius returns to court as his murder trial resumes Monday, May 5, after a break of more than two weeks.
Pistorius gets a hug from a woman as he leaves court in Pretoria on Wednesday, April 16.
Pistorius rubs his eye Tuesday, April 15, after testifying during his murder trial.
Pistorius arrives at the court in Pretoria on Monday, April 14.
Pistorius' sister, Aimee, cries in court as she listens to her brother's testimony on Tuesday, April 8.
June Steenkamp, Reeva Steenkamp's mother, reacts as she listens to Pistorius' testimony on April 8.
Pistorius is hugged by his aunt Lois Pistorius in court on Monday, April 7.
Pistorius sits inside the courtroom as members of his defense team talk in the foreground Friday, March 28.
Pistorius leaves court on March 28. The trial was delayed until April 7 because one of the legal experts who will assist the judge in reaching a verdict was sick.
Steenkamp's mother, right, and family friend Jenny Strydom react in court Tuesday, March 25, during cross-questioning.
Cell phone analyst Francois Moller testifies during the trial on March 25. Questioned by the prosecution, Moller listed in order the calls made and received by Pistorius after he shot Steenkamp.
Pistorius cries as he sits in the dock during his trial on Monday, March 24.
Pistorius talks to defense attorney Barry Roux on March 24.
Pistorius holds his head while members of his family talk behind him on Tuesday, March 18.
Steenkamp's mother, wearing the white collared shirt, looks on while a police officer takes notes in court March 18.
Pistorius is hugged by his aunt Lois on March 18.
Pistorius takes notes Monday, March 17, as his murder trial enters its third week.
Pistorius covers his head as he listens to forensic evidence Thursday, March 13.
Forensic investigator Johannes Vermeulen, left, is questioned during the trial March 13.
Pistorius listens to questions during his trial on Wednesday, March 12.
A police officer takes part in a court reconstruction March 12. A police forensic expert said Pistorius was on the stumps of his amputated legs when he knocked down a locked toilet door with a cricket bat to reach his shot girlfriend. That counters the track star's assertion he was wearing his prosthetic legs at the time. Defense attorney Barry Roux countered by suggesting that even with his prosthetic legs on, Pistorius would not be swinging a bat at the same height as an able-bodied person.
Pistorius listens to cross-questioning on Monday, March 10.
Friends of Steenkamp's family watch Pistorius during his trial on March 7.
Pistorius covers his ears on Thursday, March 6, as a witness speaks about the morning Steenkamp was killed.
Pistorius' sister, Aimee, right, speaks with members of Steenkamp's family on March 6.
Pistorius sits in court on the third day of his trial Wednesday, March 5.
Pistorius appears on the second day of his trial Tuesday, March 4.
Members of the media work during a break in proceedings March 4.
Pistorius talks with Roux inside the court on March 4.
Pistorius speaks with his legal representatives on March 4.
Pistorius is escorted out of the court Monday, March 3, after the first day of his murder trial.
People try to get a glimpse of Pistorius as he leaves the court building on March 3.
Pistorius is seen shortly after arriving for his trial on March 3.
Pistorius walks into the courtroom on March 3.
Pistorius takes a drink of water March 3 during his trial.
The case has captivated South Africa. Here, Lauren Wentzel watches the proceedings from her home outside Cape Town on March 3.
June Steenkamp arrives at the court building for the start of the trial.
Pistorius' relatives wait inside the courtroom on March 3.
People at the court building wait for Pistorius' arrival on March 3.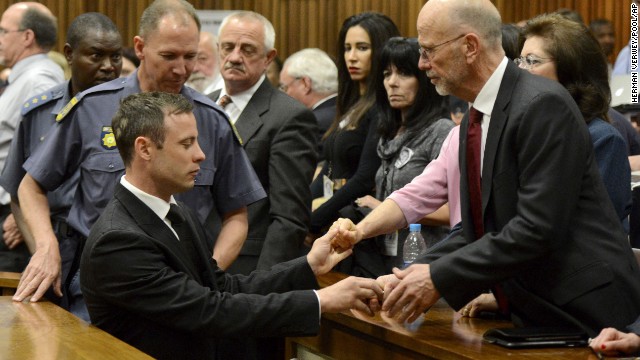 Photos: Oscar Pistorius trial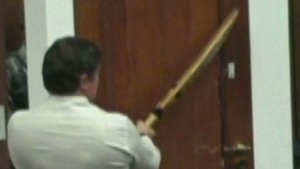 Pistorius: Cricket bat shown in court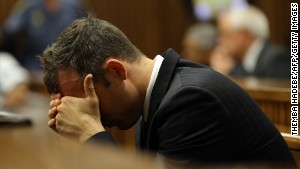 Pistorius gets physically ill again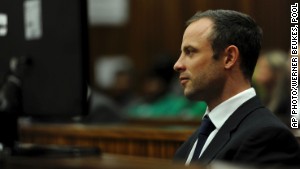 Defense looks for forensic mistakes
One: The autopsy
Steenkamp died of multiple gunshot wounds, including one that passed through her brain from above her right eye to the base of her skull, pathologist Gert Saayman testified.
That wound was probably almost instantly fatal, he said, but either of the two other bullets that hit her in the hip and the right arm could have been fatal on their own, he said. She also had a wound between the fingers of one hand, he explained.
The angle of the bullet that fractured her skull suggested she might not have been standing when she was hit, Saayman said.
The bullets that hit her were hollow-tipped, designed to cause maximum tissue damage, he testified.
Steenkamp was wearing Nike shorts and a black sleeveless top when she died, Saayman said.
There's no dispute that Pistorius fired the bullets that killed Steenkamp through his bathroom door, so the most important area of debate from the autopsy was the state of food in her stomach.
Saayman said it suggested she had eaten about two hours before she died, which contradicts Pistorius' version of events that they had been asleep in bed for hours before the killing.
Pistorius' defense lawyer, Barry Roux, fought tooth and nail to cast doubt on Saayman's finding about the stomach contents, but Saayman gave no ground.
Two: The door
The actual door through which Pistorius fired the bullets into Steenkamp was on display in court for much of the week, a mock-up of the toilet room behind it. Four bullet holes and several other marks in the wood were clearly visible.
Prosecution and defense disagree on whether Pistorius put his legs on before or after bashing the door with a cricket bat to get to his girlfriend.
Police forensic analyst J.G. Vermeulen testified that the angle of the bat marks in the door indicated Pistorius was still on the stumps of his legs at that point, demonstrating in court the angle of the swing.
But the defense disputed his version, with two lawyers from the Pistorius team taking their own swings at the door during a break, then making Vermeulen swing on the door from his knees.
Vermeulen insisted that the stances the defense made him adopt were "unnatural," to which Roux responded: "Unnatural for you."
There was also discussion of another mark in the door that Vermeulen said was not from a cricket bat.
The defense says it's where Pistorius kicked the door with his prosthetic leg before going for his bat. Vermeulen said that was a possibility but refused to accept it was the only explanation. He said he had not tested the mark because his assignment had been only to check the cricket bat marks.
There was also discussion about footprints that appeared on the door in some photos but are not there now.
Vermeulen said they were consistent with police shoes.
Roux used their disappearance to suggest the door had been handled sloppily by police -- stepping on it when it was on the floor and later wiping the marks off -- to cast doubt on its reliability as evidence.
Three: Police photos of the house
The court saw more than 150 photos of Pistorius' house taken by police in the hours and days after Steenkamp was killed, showing shocking images including a blood-spattered toilet and the Olympian's gun, still cocked, on a blood-stained floor.
The position of several key objects could help determine whether Pistorius is telling the truth about the events leading up to Steenkamp's death.
Attention focuses on the position of spent bullet cartridges on the floor, two iPhones and the fan that Pistorius says he went out onto his balcony to get before the heard the noise which he thought was a burglar.
The photos also show the trail of blood from the bathroom to the lower floor from when Pistorius carried Steenkamp's body down the stairs.
Four: Phone records
Pistorius and several of his neighbors made calls to security in the minutes after the shooting. The record of the calls between about 3:15 and 3:22 a.m. have helped establish a timeline of events, even as witnesses dispute who called whom and when.
Ex-police commander's testimony aids defense