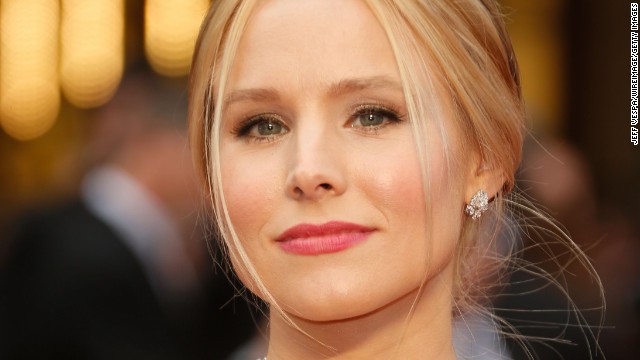 Kristen Bell is the kind of celebrity everyone wants to be friends with, and it's not hard to see why. With her "Veronica Mars" movie arriving in theaters this weekend, we're counting the ways we adore K. Bell:
A Midwestern girl at heart -- she was born and raised in Michigan -- Kristen Bell is about as anti-Hollywood as you can get. When she gave birth to her daughter, Lincoln, last March, Bell made it loud and clear that she wouldn't participate in Tinsletown's "baby weight rat race," in which new celebrity moms typically shed pounds as fast as they can. "If this is where my body wants to be, so be it," Bell has said. "I gave life to my new BFF, and she gave me a comical amount of midsection skin."
If we could bottle Kristen Bell's ability to deliver a punchline, we probably wouldn't even sell it out of a selfish desire to keep that talent all to ourselves. From TV shows such as "House of Lies" to movies such as "You Again," Bell can land a joke with a straight face better than most trained comedians.
and a great SAT score, people.
Girlfriend not only got into New York University, but NYU's elite Tisch School of the Arts. That takes talent
And that reminds us: While Bell is mostly known for a handful of standout roles, she does have range. While at NYU, she trained in musical theater and has performed on Broadway, which is why her blockbuster turn as Anna in Disney's song-heavy "Frozen" makes sense.
For Bell, it would be easy to parlay the public's adoration into a steady stream of girl-next-door roles that would have audiences eating from the palm of her hand. But instead, Bell's portrayed some pretty hideous people, from the callous Sarah Marshall in the 2008 rom-com "Forgetting Sarah Marshall" to a 20-something journalist with a severely inappropriate dating life in "The Lifeguard."
When Bell's gay friends couldn't get married, she and her then-fiance, Dax Shepard, decided they wouldn't either. As Shepard put it, "We're not going to have a party when half of our friends ... can't do that thing we're doing. We're not going to ask them to come celebrate a right they don't have. That's just tacky! Forget like anything else, it's like really tacky for us."
The tacky factor was just one reason Bell didn't want to tie the knot until same-sex marriage was accepted as a legal institution. "I don't believe in standing in the way of love, and I want to stand up for that right," she said in 2012. After that goal was accomplished, Bell and Shephard, now her husband, moved on to another deeply felt cause: preventing photographers from taking unwilling photos of celebrity kids.
Bell's effort to make the world a better place isn't limited to those issues that would affect her. She's gone on a charity date to benefit Invisible Children, asked for donations to fuel a clean water project in northern Ethiopia on her birthday and has advocated for organizations such as the Red Cross and Somaly Mam, which works to end human trafficking.
She's an animal lover, especially when it comes to slot. She's opened her home to three rescue dogs, one of which she adopted from New Orleans after the devastation of Hurricane Katrina, and she launched a special project with the Humane Society in 2010 to help pets with special needs. Her soft spot for furry creatures is probably most evident when she's confronted with a sloth.
Vegetarian Times
that she has dessert with everything, "even after breakfast. I like having something sweet to finish a meal, and I'm not ashamed of that!" Genius, we say.
Bell, a vegetarian, once told the
Bell had racked up a number of TV and film appearances by the time she signed up to play the tough, smart teen PI on "Veronica Mars." But it was that role in Rob Thomas' darkly funny series that won her a devoted -- and we mean staunchly so -- fan base. When it comes to Bell, "Veronica Mars" fans are nothing but marshmallows.
11 reasons we love Kristen Bell
1. She doesn't play by Hollywood's rules
2. Her comedic timing
3. She's a smartypants
4. She's multitalented
5. She takes risks
6. She sticks by her friends
7. She stands up for what she believes in
8. She cares about important issues
9. She's an animal lover
10. She eats dessert after every meal
11. She was Veronica Mars