Winter's last hurrah? Storm spreads snowy misery from Illinois to Maine
updated 8:53 AM EDT, Wed March 12, 2014
STORY HIGHLIGHTS
Chicago could see up to 8 inches of snow.
Blizzards warnings are up for western New York.
Parts of New England could see snowfall reach 20 inches
Warming weather causes flooding out West
Affected by the weather? Send your photos and videos to iReport.
(CNN) -- You've got to give the groundhog credit. He's getting every last drop out of his forecast of six more weeks of winter.
Just as the jonquils and tulips are poking their leaves above ground, a monster of a storm is sweeping across the Midwest, up the Great Lakes and into the Northeast.
Look at these snowfall predictions with the official start of spring just over a week away.
Chicago-area commuters could be facing up to 8 inches of fresh new snow as they head to work Wednesday.
Sorry Cleveland, it looks even worse for you. Close to a foot of snow is possible by the time the storm passes.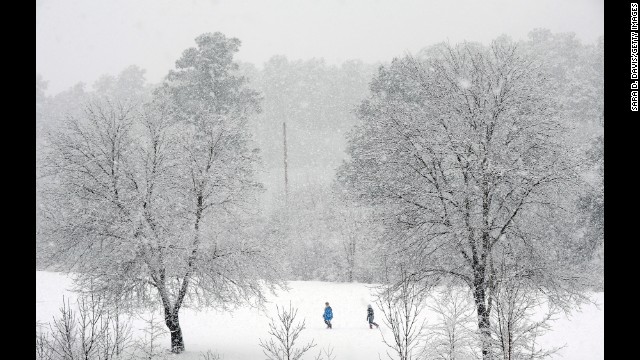 People trek through a golf course in Durham, North Carolina, as heavy snow falls on Thursday, February 13.
A man skis in front of the Capitol building in Washington on February 13.
People run before throwing snowballs in the Dupont Circle neighborhood of Washington on February 13.
A family walks along letters spelling the word "love," which was carved out of ice covering a Manhattan playground Saturday, February 8, in New York.
Ice forms on the Niagara River in front of the American Falls on the left and the Canadian Horseshoe Falls on the right on Wednesday, February 5.
Children play in the snow Tuesday, February 4, in New York's Central Park.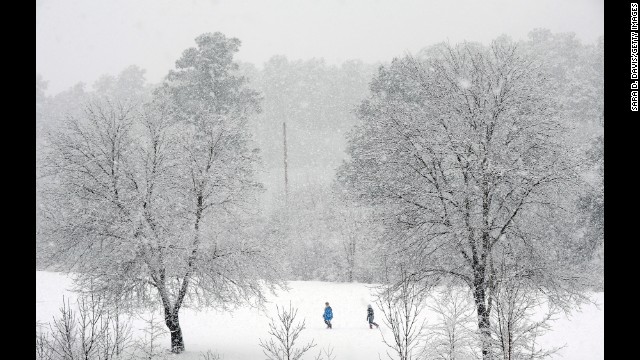 The beauty of snow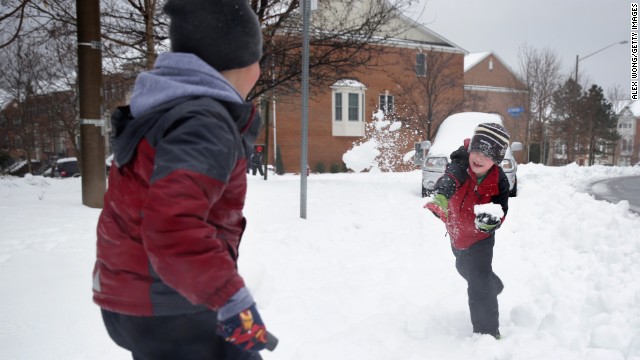 Schools around the country grappled this winter with rough weather, unsafe roads and power outages, which meant a lot of time for students -- including these from the Washington, D.C., area -- to play in the snow. After 10 snow days, schools in Prince William County, Virginia, are reducing elementary recess to 10 minutes per day and adding other instructional days. Here's how other schools with extreme bad weather cancellations are making time for students to learn.
After 10 snow days, students in Logan County, West Virginia, will attend full days of school on some planned early release days, and will attend extra days of school at the end of the year. These students in nearby Beckley, West Virginia, had some time off for snow angels in mid-February.
Students in Rossville, Indiana, will be attending school on Saturdays to make up for 10 snow days the district had called by mid-February, CNN affiliate WLFI reported. Here, a mother and child cleared snow in northern Indiana after several inches fell in early February.
Many Georgia schools canceled more days than usual due to snow and ice, including during this mid-February storm that made Braselton, Georgia, area interstates tough to handle. Catoosa County, Georgia, school officials plan to add 20 minutes to the school day. "I believe adding 20 minutes each day is better for families, and for student achievement, than using spring break or adding days at the end of the year," Superintendent Denia Reese said in a statement to families.
Illinois Department of Transportation snow plows worked the roads in the southwestern part of the state in early February, when inches of snow came down and wind chills fell below zero. Students from Edwardsville, Illinois, schools expect to end school on May 28 instead of May 20, and might use an "act of God" exemption to prevent making up even more days, CNN affiliate KMOV reported.
Schools across the state struggled with heavy snow and ice, like this storm that hit Charlotte, North Carolina, in mid-February. Students in Watauga and Avery counties missed days in the double digits by then. Some schools planned to extend the school year by a few days, add minutes to school days and add classes on Saturdays.
Several Michigan school districts saw greater-than-average numbers of cancellations due to snow and ice. Portland Public Schools used 10 snow days before the end of January, and planned to add extra days to the end of the school year. "This is unprecedented certainly in my 23 year tenure as the superintendent in Portland and actually, I've never experienced this in my 40 years in education," Portland Superintendent Charles Dumas told CNN affiliate WXMI.
Many school districts around Springfield, Missouri, had high numbers of snow days. Schools build at least six snow days into their calendars, but districts like Fair Grove schools turned holidays and teachers' professional development days into instructional days.
Students from Henderson County, Kentucky, headed to buses after an early dismissal due to weather on February 4. Around the state, several districts held school on President's Day, while others cut back on planned days off.
Rough weather had residents of eastern Pennsylvania pushing out of snow and ice throughout the winter. For students in the Pocono Mountain schools and other districts, that means heading to school on previously planned holidays and teacher development days.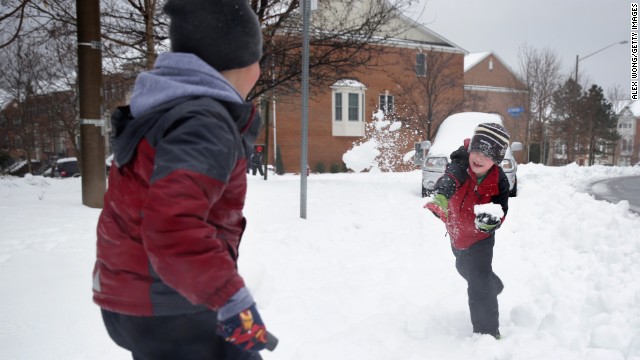 10 places with 10 snow days
Blizzard warnings are up for western New York. Up to 18 inches of snow is forecast for Rochester. Winds will gust up to 44 mph.
Ready to cry uncle yet?
Burlington, Vermont, is in the cross hairs too. Folks there will see winds up to 32 mph. Snowfall could reach 20 inches before it's all over.
And so it goes, all the way into Maine. People in Bangor can look forward to up to 19 inches of snow before the system exits New England Thursday.
Out West, the weather's warming up, but even that comes with problems.
The melt from a heavier-than-normal snowpack has turned into flooding along the Bighorn River in north-central Wyoming, forcing folks from their homes.
"We actually have about 60 residences that we've evacuated," Worland Police Chief Gabe Elliott told CNN affiliate KCWY. "Probably around 80 people who reside in those residences."
Police are preparing for the worst, he said.
"The area's just getting larger and larger and further northbound," according to Elliott. "So it's definitely expanding as we speak."