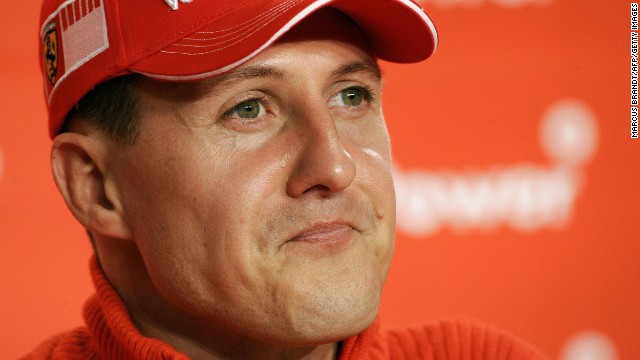 Seven-time Formula 1 champion Michael Schumacher was hospitalized December 29 after suffering "severe head trauma" from a ski accident in the French Alps. He is no longer in a coma and has since been transferred to a hospital in Lausanne, Switzerland for rehabilitation. Here's a look back at his personal and career highlights:
Schumacher is hoisted by his pit crew at the Australian Grand Prix track in Adelaide, Australia, after winning the Formula 1 World Drivers Championship in 1994.
Schumacher holds up the victory trophy, left, and the French Republic President's trophy after winning the French Formula 1 Grand Prix in Magny Cours, France, in 1995.
Schumacher meets Pope John Paul II in 1999.
King Juan Carlos of Spain congratulates Schumacher after he won the Spanish Formula 1 Grand Prix in 2001.
Schumacher checks out an Enzo Ferrari at Frankfurt's International Motor Show in 2003.
Schumacher steers his Ferrari in front of a Eurofighter on the track of a military airport in Grosseto, Italy, in 2003.
Schumacher sits in his car before the start at the inaugural Chinese Grand Prix in 2004 in Shanghai.
A man rides past a poster with Schumacher's likeness in Bahreman, Iran, in 2005.
Felipe Massa hugs Schumacher after Massa won first place in the Formula 1 Grand Prix of Turkey in Istanbul in 2006.
Schumacher drives during a practice session at the Australian Formula 1 Grand Prix in Melbourne in 2006.
Schumacher celebrates his win at the Formula 1 Grand Prix of Germany in 2006 in Hockenheim, Germany.
Schumacher's pit team works on his car during the Formula 1 Grand Prix of China in Shanghai in 2006.
Schumacher arrives for an awards ceremony in Oviedo, Spain, in 2007.
Schumacher autographs the T-shirt of an earthquake victim in Costa Rica in 2009.
Shumacher presents the new Mercedes SLS AMG, also the 2010 Formula 1 safety car, in Geneva in 2010.
Schumacher visits the European Parliament in Strasbourg, France, to test eSafety technologies in 2011.
Formula 1 champion Michael Schumacher
Formula 1 champion Michael Schumacher
Formula 1 champion Michael Schumacher
Formula 1 champion Michael Schumacher
Formula 1 champion Michael Schumacher
Formula 1 champion Michael Schumacher
Formula 1 champion Michael Schumacher
Formula 1 champion Michael Schumacher
Formula 1 champion Michael Schumacher
Formula 1 champion Michael Schumacher
Formula 1 champion Michael Schumacher
Formula 1 champion Michael Schumacher
Formula 1 champion Michael Schumacher
Formula 1 champion Michael Schumacher
Formula 1 champion Michael Schumacher
Formula 1 champion Michael Schumacher
Formula 1 champion Michael Schumacher