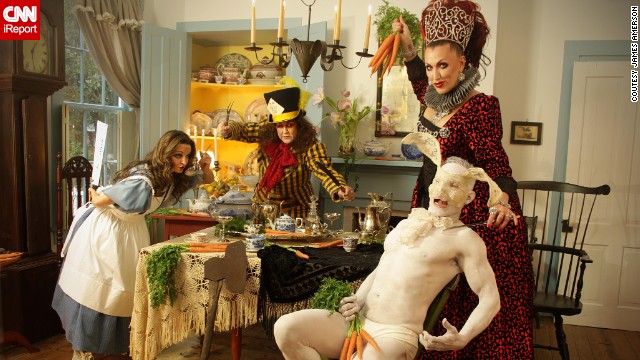 This is clearly not the Disney version of "Alice in Wonderland." The Mad Hatter invites some friends 'round for tea in part of the photo series Appetite 4 Life, which was conceptualized by photographer James Amerson to raise awareness of hunger. Click through the gallery to see other images from the series.
"Sweeney Todd" -- Mrs. Lovett rolls out bloody meat pies in a cloud of flour.
Cherry pie filling is applied to model Errin Green's neck to look like blood.
Here, the cooks take a break from assembling a pie to strike a pose with a bloody knife and rolling pin.
"Dexter" -- Dexter Morgan, TV's lovable serial killer, is depicted hacking into a juicy watermelon.
"Marie Antoinette" -- An un-ladylike image of Marie Antoinette shows her biting into a scarlet slice of red velvet.
It's good to be queen? Here, a behind-the-scenes shot shows model Camille Dauchez as Marie Antoinette, enveloped in dessert.
"Willy Wonka and the Chocolate Factory" -- The candy man is reimagined here as a woman in pink.
"Alice in Wonderland" --The White Rabbit spared some time to pose with carrots for this provocative picture.
photographer James Amerson's
friend, Shirley Watson. "I didn't have to do very much with this set as her home really looks like this," he said.
The setting for the Mad Hatter's tea party was the dining room of
"Overboard" -- Models recreate a scene from the 1987 film starring Goldie Hawn.
"Fried Green Tomatoes" -- Idgie Threadgoode is portrayed as an older woman at work in her kitchen. Shirley Watson's kitchen was used for the setting and Watson portrayed Idgie.
"American Beauty" -- Cabbage leaves, instead of rose petals, were used to recreate this scene from the Academy Award-winning film.
Crew members carefully place the leaves around model Camille Dauchez.
"The Seven Year Itch" -- Everyone knows the scene: Marilyn Monroe steps over a subway grate and her skirt billows up. In this recreation, the model can't seem to keep her milk dress from splashing up. Milk was poured and tossed at the model from different directions and the images were layered to appear as one dress.
Food for thought
Food for thought
Food for thought
Food for thought
Food for thought
Food for thought
Food for thought
Food for thought
Food for thought
Food for thought
Food for thought
Food for thought
Food for thought
Food for thought
Food for thought
STORY HIGHLIGHTS
Community art project combines food with iconic film images to start discussion about hunger
CNN iReporter James Amerson conceptualized Appetite 4 ART project with Florida nonprofit
Photos reimagined scenes from films like "American Beauty" and TV shows like "Dexter"
Bill Shore of Share Our Strength said creativity gets people to pay attention
(CNN) -- When you think about the images typically associated with hunger, a recreation of the Mad Hatter's tea party from "Alice in Wonderland" might not spring to mind.
But one Florida nonprofit is using recreated scenes from popular movies, musicals and TV shows to get people talking about poverty and hunger.
The Pensacola group Appetite 4 Life provides food to children, the elderly, people with disabilities and terminally ill patients.
Looking for an edgy way to raise awareness about poverty and hunger in the local community, the group turned to CNN iReporter James Amerson, a photographer and long-time friend of many of the board members of the nonprofit.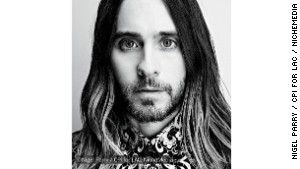 Leto, Leo and Meryl Streep exposed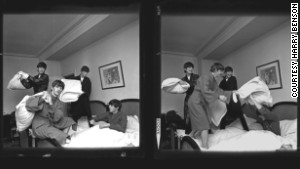 Harry Benson on his life of photos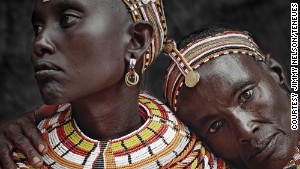 Photographing them 'Before They Pass Away'
Amerson conceptualized the community art project Appetite 4 ART, which combines food with images of iconic films, musicals and TV shows to get people talking about hunger and poverty.
Images like Marie Antoinette savagely biting into a blood-red slice of red velvet or Marilyn Monroe trying to hold down a white dress of splashing milk are meant to provoke people to question the message behind them, said Amerson, who served as creative director.
"I want the images to first seem obvious, but then get the viewer to stop and take a second, deeper look to connect the purpose behind the photos," he said.
Amerson was inspired by the global art project "Inside Out" started by Parisian photographer JR, who wanted to get people talking about social issues like poverty, hunger and homelessness through large wall postings.
With a grant from the Great Gulfcoast Arts Festival, Amerson and a small group of volunteer photographers and models were able to afford the props, food, sets and printing costs needed to create the images of lavish decadence. The shoots took several weeks to organize and produce.
They mostly chose scenes from films that already had food in them, but took creative license with the images inspired by "American Beauty," "Dexter" and "The Seven Year Itch." The collection isn't intended to portray hunger, he said, but to raise awareness about the organization's efforts.
Don't miss out on the conversation we're having at CNN Living.
Follow us on Twitter
and
Facebook
for the latest stories and tell us what's influencing your life.
The pictures will be displayed on the side of the Appetite 4 Life building in early April for four weeks before they travel to local galleries, starting with the Anna Lamar Center for Visual Arts at Pensacola State College.
While the images are meant to raise awareness more than money, Appetite 4 Life has received offers from people interested in buying the photos. The organization is considering making the images available to purchase, with all of the proceeds going to support the organization.
Bill Shore, founder and CEO of the national hunger nonprofit Share Our Strength, said organizations need to get creative to get people to pay attention to hunger and poverty, perennial issues.
"Data speaks to a person's mind; emotion speaks to their heart," Shore said. "Creativity is the bridge between the two. The more creative the communication, the more likely people will notice and be willing to give of themselves."