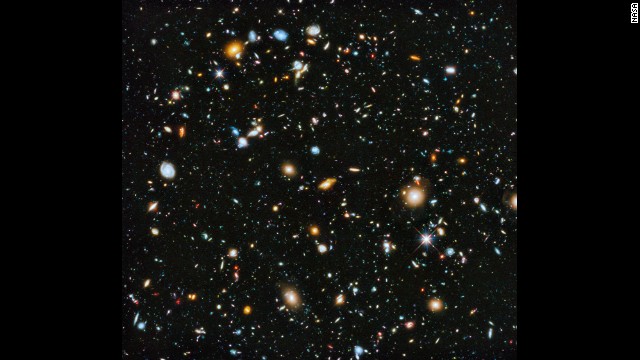 Astronomers using the Hubble Space Telescope have pieced together this picture that shows a small section of space in the southern-hemisphere constellation Fornax. Within this deep-space image are 10,000 galaxies, going back in time as far as a few hundred million years after the Big Bang. Click through to see other wonders of the universe.
Planetary nebula Abell 33 appears ring-like in this image, taken using the European Southern Observatory's Very Large Telescope. The blue bubble was created when an aging star shed its outer layers and a star in the foreground happened to align with it to create a "diamond engagement ring" effect.
deepest-ever picture taken of a cluster of galaxies. The cluster,
called Abell 2744, contains several hundred galaxies as they looked 3.5 billion years ago; the more distant galaxies appear as they did more than 12 billion years ago, not long after the Big Bang.
This long-exposure image from the Hubble Telescope is the
NASA's NuSTAR telescope array generated the first map of radioactivity in the remnants of an exploding star, or supernova. Blue in this image of Cassiopeia A represents radioactive material.
A supernova was spotted on January 21 in Messier 82, one of the nearest big galaxies. This wide view image was taken on January 22.
The M82 supernova, seen here, has been designated SN2014J because it is the 10th supernova detected in 2014. At 11.4 million light years from Earth, it is the closest Type Ia supernova recorded since systematic studies with telescopes began in the 1930s.
NASA's Nuclear Spectroscopic Telescope Array, or NuSTAR
, took this image in high-energy X-rays, shown in blue. The image was combined with images from another space telescope, the Chandra X-ray Observatory.
Is that a giant hand waving at us? Actually, it's what's left of a star that died and exploded a long time ago. Astronomers nicknamed it the "Hand of God."
The center of the galaxy is mysterious
, researchers say, because it has a double nucleus -- a supermassive black hole that may be ringed by a lopsided disc of stars, giving it the appearance of a dual core.
The Hubble Space Telescope captured this image of the Southern Pinwheel Galaxy, one of the largest and closest galaxies of its kind.
Hubble scientists say this is the best-ever view of the Tarantula Nebula, which is located in one of our closest galactic neighbors, the Large Magellanic Cloud.
moderate-sized spot is about as big as Earth
. They occur when strong magnetic fields poke through the sun's surface and let the area cool in comparison to the surrounding area.
Those spots on our sun appear small, but even a
This Hubble image looks a floating marble or a maybe a giant, disembodied eye. But it's actually a nebula with a giant star at its center. Scientists think the star used to be 20 times more massive than our sun, but it's dying and is destined to go supernova.
Wonders of the universe
Wonders of the universe
Wonders of the universe
Wonders of the universe
Wonders of the universe
Wonders of the universe
Wonders of the universe
Wonders of the universe
Wonders of the universe
Wonders of the universe
Wonders of the universe
STORY HIGHLIGHTS
"Cosmos" premiered on Fox Sunday night
New series is a new version of popular 1980 PBS show with Carl Sagan
"Cosmos" hosted by astronomer Neil deGrasse Tyson
A goal: Present science with "glory and majesty and wonder"
(CNN) -- The "ship of the imagination" is roaring ahead into its second voyage.
"Cosmos," the new, updated version of Carl Sagan's popular 1980 documentary series exploring the hows, whats and whys of the universe, premiered Sunday night on Fox, the National Geographic Channel and various corporate cousins.
Its "ship of the imagination" -- a vehicle to take viewers through wonders large and small -- now has a new captain, astronomer Neil deGrasse Tyson, but the reaction to the show's debut shows that entertaining, informative science never goes out of style.
"I'll be eagerly tuning in for future episodes," wrote the Los Angeles Times' Jennifer Ouellette, praising Tyson as "affable" and "engaging" and noting the debut episode's lively use of ideas -- such as the "powers of 10" -- that could turn to cliché in other hands.
"Tonally the show strikes just the right balance between education and inspiration," wrote The Verge's Bryan Bishop, though adding that he believed the premiere tried too hard.
"It feels like it's missing its own point: that the greatest wonders aren't CG (computer generated) spectacle, but our own marvelous universe," he wrote.
Science fans -- and fans of the original series -- have been awaiting the new "Cosmos" for months. The show has the imprimatur of Sagan's widow, Ann Druyan, and is being produced by "Family Guy" mogul Seth MacFarlane, an avowed "Cosmos" geek.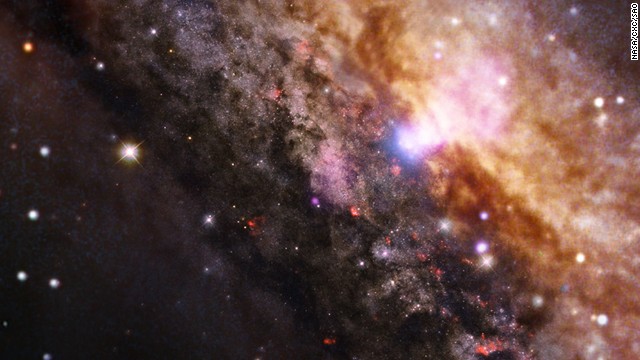 In honor of American Archives Month, NASA has released a selection of eight never-before-seen images from the Chandra X-ray Observatory, a telescope in space. This image is of a galaxy, NGC 4945, that is about 13 million light years away from Earth. It looks like the Milky Way, but it contains a supermassive black hole within the white area near the top of the image.
When radiation and winds from massive young stars impact clouds of cool gas, they can trigger new generations of stars to form. This is what might be happening in this object, known as the Elephant Trunk Nebula.
This galactic supernova remnant, known as 3C397, has an unusual box-like shape. Researchers think that is because the heated remains of the exploded star are running into cooler gas.
This supernova was likely produced by the collapse of a star's central core.
This region of glowing gas, in the Sagittarius arm of the Milky Way, is about 9,000 light years from Earth.
In the past century, eight supernovas have been observed in the arms of NGC 6946, a galaxy about 22 million light years away from Earth. NGC 6946 is also nicknamed the "Fireworks Galaxy."
This image was produced by the explosion of a massive star in the Milky Way.
Giant plumes of radiation are seen near galaxy 3C353, the tiny point at the center of this image.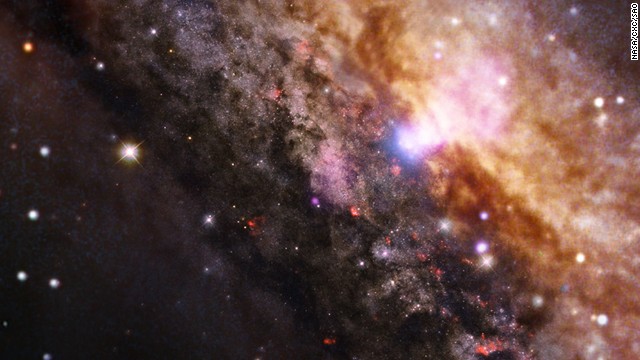 Photos: Never-seen images of the cosmos
Through it all, Tyson has maintained his good humor as he's promoted the show.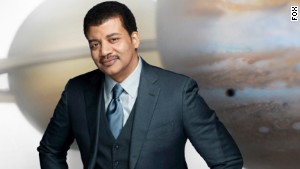 Neil deGrasse Tyson on 'Cosmos' debut
"The universe is hilarious!" he told GQ in a recent interview. "Like, Venus is 900 degrees. I could tell you it melts lead. But that's not as fun as saying, 'You can cook a pizza on the windowsill in 9 seconds.' And next time my fans eat pizza, they're thinking of Venus!"
Tyson told CNN's Brian Stelter that one of the ideas behind "Cosmos" is to reignite "that flame of curiosity in us all."
Neil deGrasse Tyson on "Cosmos" debut
"One of our mission statements in 'Cosmos' is to present science with all of its glory and the majesty and the mystery and the wonder -- the things we all take for granted as children," Tyson said on Sunday's "Reliable Sources."
Tyson acknowledged that he's bothered about the debate between science and religion that's became a mainstay of political campaigns and op-ed pages.
"There was a time when science and religion kind of co-existed under the same roof," Tyson told Stelter. "I find it odd that we live in a time where people who are strongly religious want to make everyone else the same kind of religious way they are, and break down the door of the science classroom to put their religious philosophies in there."
Though there was some tweaking of religion on social media -- "SPOILER ALERT: apparently the earth is not 6000 years old... Who knew!?" tweeted JaclynGlenn -- in general, people were impressed.
"That was the best commercial for science ever," tweeted Dan Treadway.
And Wil Wheaton -- who knows a little something about TV, entertainment and science, having been an actor on "Star Trek: The Next Generation" and "The Big Bang Theory" -- was positively effusive.
"Dear everyone involved in making #cosmos: Thank you. Thank you so much. I hope you inspire an entire generation to fall in love with science," he tweeted.
"Cosmos" will continue for 12 more episodes.