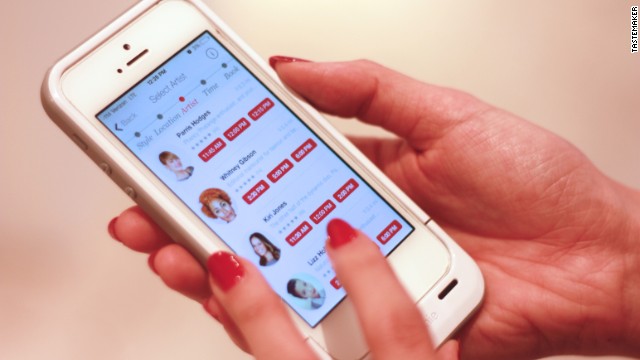 TopCoat, available in San Francisco and New York, helps users find local nail artists and book appointments in the comfort of their own home.
Clients can book specific artists or choose a particular style, like this one by TopCoat nail stylist Kiri Jones.
TopCoat often finds its nail artists, like Whitney Gibson, via social media.
TopCoat opened a pop-up shop in San Francisco in December 2013. The success of the salon has caused the business to re-evaluate its model of 100% in-home appointments.
Trumaker, out of San Francisco, creates built-to-fit shirts for men.
An "outfitter" measures the men for the shirts and suggests styles appropriate to the client's lifestyle.
Trumaker offers a limited number of fabrics to keep from overwhelming the client.
Tailored-to-you style
Tailored-to-you style
Tailored-to-you style
Tailored-to-you style
Tailored-to-you style
Tailored-to-you style
Tailored-to-you style
STORY HIGHLIGHTS
Some new companies bring beauty and style services into clients' homes
GlamSquad offers in-home blowout appointments
Nail art service TopCoat started in-home only and expanded to a brick-and-mortar store
(CNN) -- Beauty is in the eye of the smartphone holder these days, with apps that let users book cosmetic appointments or rent designer clothing with the click of a button.
Services like Lifebooker, Spafinder and Rent the Runway make finding beauty services easier than in the days of phone books and word of mouth referrals.
Now, an emerging group of Web-based companies is further capitalizing on the era of convenience by bringing the appointment to the client, an option that used to be reserved for celebrities and those with plenty of disposable income.
Pajama-friendly services like Trumaker, GlamSquad and TopCoat are free to download or access on the Internet and don't require cash on hand for tipping. Now that the option is at your fingertips, would you invite a stylist to your front door?
An app tailored to you
Bespoke tailoring is often associated with well-compensated Wall Street types, but San Francisco-based startup Trumaker wants to bring custom-made to a more casual level by offering built-to-fit, button-down shirts for men.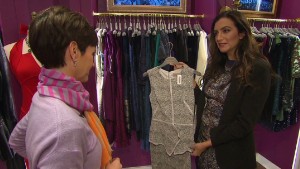 Designer dresses for rent
Whereas bespoke tailors create a new look for each individual, the Trumaker process is about eliminating the paradox of choice: The customer picks out one of Trumaker's approximately 50 fabrics, the fit (standard or slim) and collar and cuff details.
A stylist (the company calls them "outfitters") comes to the client's home to take measurements and offer style guidance based on the client's day-to-day lifestyle. The appointment is free, and shirts start at $98.
"We use the process to simplify it rather than complicate," says Trumaker CEO Mark Lovas, formerly of online retailer Bonobos. "There are plenty of options for guys that like to shop."
Lovas say he believes that just as competing brands can co-exist in the mall and online marketplace, there is room in the custom clothier realm amid existing powerhouse brands like J. Hilburn and Brooks Brothers' custom tailoring.
"Guys want certainty," he says. "Guys want to look better, they just don't want to do the work that goes along with that."
Blowing the doors off the salon
The new iPhone app GlamSquad sends hairstylists straight into the client's home (or office). The only requirement is that you have an electrical outlet for the tools and have hair washed and still wet at the time of appointment.
The in-home blowout service launched in January in New York, and prices for its "style menu" of services start at $50 without tax and tip; the price bumps up to $75 for a braid and $85 and up for an updo. In just a few months, the app has received rave reviews from popular style sites like Refinery29 and Harper's Bazaar.
But the system can have some flaws. For example, the in-home model relies on the stylist's punctuality, not the client's.
Co-founder Victoria Eisner said she conceptualized the company after New Year's Eve 2012: She couldn't get a last-minute blowout appointment after booking a car via Uber, ordering dinner via Seamless Web and picking out her dress via Rent the Runway.
Eisner, who admits she's a sucker for delivery, says the key in services like these is a level of affordability that competes with the salon experience. For example, New York blowout salon Drybar offers in-store blowouts for $40 -- but in-home service will cost $95.
"It's one level of stress that can be alleviated," she says. "We want people to be able to feel as good as they possibly can."
Nailing down the model
If you need to look good from head to well-manicured toe, there's TopCoat, which connects nail artists to clients in the area -- only New York and San Francisco for now.
Ali Wiezbowski, formerly of Microsoft, launched the concept in May 2013.
Don't miss out on the conversation we're having at CNN Living.
Follow us on Twitter
and
Facebook
for the latest stories and tell us what's influencing your life.
Like Eisner's GlamSquad, the company emerged from what Wiezboswki saw as a hole in the marketplace: She saw the popularity of nail art on Instagram, but found it hard to locate similar services -- especially of the intricate variety seen on celebrities and runways -- in her area.
Wiezbowski originally curated a portfolio of artists she reached out to via social media and vetted; the service now includes artists who have applied and gone through the same process.
"(T)he nail art community is a really vocal, self-promoting connected group of women," she says, noting that most of them previously got work via freelance appointments anyway.
The business model took an unexpected turn when TopCoat opened a pop-up shop in downtown San Francisco in December 2013; Wiezbowski says the majority of their business turned brick-and-mortar. She thinks most women still want to have a true salon experience.
"Get out of their realm," she says. "Women like going somewhere and like being social."
Although she envisioned the company with a purely digital business model like Uber or Lyft, it's veering toward a system where users can still book and pay for appointments online, but have the option to get out of the house.
Still, she adds: "At-home will be a piece we invest in."
Would you use in-home styling services? Share your opinion in the comments, on Twitter @CNNLiving or on CNN Living's Facebook page!