STORY HIGHLIGHTS
NEW: The nuns are mobbed by crowds as they arrive in a Syrian-Lebanon border town
Nuns and workers kidnapped last year reportedly freed, pro-Syrian regime media say
Lebanese official to state news: Nuns freed in exchange for Syrian prisoners' release
Christians make up 10% of Syria's population; many back al-Assad, fear Islamist militants
(CNN) -- Thirteen nuns and three workers kidnapped in late November from a Greek Orthodox monastery in Syria were freed Sunday, a pro-Syrian government news network and Lebanese state media reported.
A convoy of around 30 vehicles picked up the nuns and workers in one part of Syria and took them into Lebanon, the country's National News Agency reported late Sunday. The convoy traveled through Lebanon to another border crossing into Syria, the hillside village of Jdaidet Yabous. There, the group will be met by Greek Orthodox church officials, who will welcome them back into Syria, Syrian state news agency SANA reported.
The convoy was at one point delayed several hours for "logistical reasons" but later resumed en route to Jdaidet Yabous, Public Security Director Gen. Abbas Ibrahim told NNA.
When they did arrive overnight, the nuns -- some smiling, some solemn and at least one of whom appeared to be being carried -- were mobbed by an enthusiastic crowd that included church officials.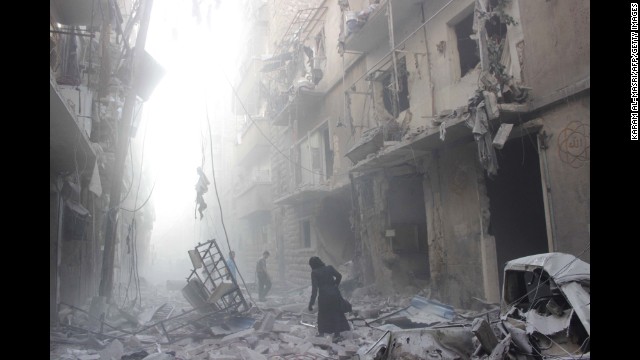 A woman walks amid debris after an airstrike by government forces Tuesday, July 15, in Aleppo, Syria. The United Nations estimates more than 100,000 people have been killed in Syria since an uprising in March 2011 spiraled into civil war.
People walk on a dust-filled street after a reported barrel-bomb attack by government forces in Aleppo on Monday, July 7.
Apartments and other buildings lie in ruins on Tuesday, June 3, in Aleppo, a city that "has had the life bombed out of it," according to CNN's Nick Paton Walsh.
A man carries a girl injured in a reported barrel-bomb attack by government forces in Aleppo on June 3.
A rebel fighter loads an anti-tank cannon outside Latakia on Sunday, June 1.
A rescue worker pulls a girl from rubble in Aleppo on June 1 after reported bombing by government forces.
A giant poster of Syrian President Bashar al-Assad is seen in Damascus, Syria, on Saturday, May 31, as the capital prepares for presidential elections.
Portraits of al-Assad dominate the cityscape in central Damascus on Tuesday, May 27. Al-Assad is firmly in power three years into the civil war, while the opposition remains weak and fragmented and extremists grow in numbers and influence.
The father of a 3-month-old girl weeps Monday, May 26, after she was pulled from rubble following a barrel-bomb strike in Aleppo.
A woman stands in a heavily damaged building in Aleppo on May 26.
An injured man lies in a hospital bed after alleged airstrikes by government forces in Aleppo on Sunday, May 18.
Buildings in Homs, Syria, lie in ruins Saturday, May 10, days after an evacuation truce went into effect. Thousands of displaced residents returned to the city.
Rescuers carry a man wounded by a mine in the Bustan al-Diwan neighborhood of Homs on May 10.
A Syrian woman carries a suitcase along a street in the Juret al-Shayah district of Homs on May 10.
Residents carry their belongings in the al-Hamidieh neighborhood of Homs on May 10.
A woman injured when a mine went off is carried in Homs on May 10.
Residents return to damaged dwellings in Homs on May 10.
Debris lies on a deserted street in Homs on Thursday, May 8.
A mosque is seen through shattered glass in Homs, where an evacuation truce went into effect on Wednesday, May 7.
A wounded man is treated at a makeshift hospital in Aleppo on Sunday, May 4.
Debris rises in what Free Syrian Army fighters said was an operation to strike a checkpoint and remove government forces in Maarat al-Numan, Syria, on Monday, May 5.
A man helps a woman through debris after reported airstrikes by government forces on Thursday, May 1, in the Halak neighborhood of Aleppo.
Syrians gather at the site of reported airstrikes in Aleppo on May 1. According to the Syrian Observatory for Human Rights, at least 33 civilians were killed in the attack.
A woman runs after two barrel bombs were thrown, reportedly by forces loyal to Syrian President Bashar al-Assad in Aleppo on May 1.
A boy runs in Aleppo on Sunday, April 27, after what activists said were explosive barrels thrown by forces loyal to al-Assad.
Security and emergency medical personnel work at the site of a car bomb explosion Monday, April 14, in the Ekremah neighborhood of Homs.
In this photo released by the state-run SANA news agency, Syrian forces take positions during clashes with rebels near the town of Rankous, Syria, on Sunday, April 13.
Flames engulf a vehicle following a car bomb Wednesday, April 9, in the Karm al-Loz neighborhood of Homs.
A man carries a child who was found in the rubble of an Aleppo building after it was reportedly bombed by government forces on Monday, March 18.
An elderly man and a child walk among debris in a residential block of Aleppo on March 18.
A woman with blood on her face carries a child following a reported airstrike by government forces Saturday, March 15, in Aleppo.
People attempt to comfort a man in Aleppo after a reported airstrike by government forces on Sunday, March 9.
Buildings in Homs lay in ruins on March 9.
Syrian forces fire a cannon and a heavy machine gun loaded on a truck as they fight rebels in the Syrian town of Zara on Saturday, March 8.
A handout photo released by SANA shows Syrian President Bashar al-Assad speaking March 8 during a meeting in Damascus to mark the 51st anniversary of the 1963 revolution, when Baath Party supporters in the Syrian army seized power. Al-Assad said the country will go on with reconciliation efforts along with its fight against terrorism.
Syrians inspect the rubble of destroyed buildings in Aleppo following a reported airstrike by Syrian government forces on Friday, March 7.
People dig through the rubble of a building in Damascus that was allegedly hit by government airstrikes on Thursday, February 27.
A boy walks ahead of men carrying the body of his mother in Aleppo on Saturday, February 22. According to activists, the woman was killed when explosive barrels were thrown by forces loyal to al-Assad.
A man holds a baby who survived what activists say was an airstrike by al-Assad loyalists Friday, February 14, in Aleppo.
In this photo provided by the anti-government activist group Aleppo Media Center, Syrian men help survivors out of a building in Aleppo after it was bombed, allegedly by a Syrian regime warplane on Saturday, February 8.
Syrians gather at a site hit by barrel bombs, allegedly dropped by a regime helicopter on the opposition-controlled Mesekin Hananu district of Aleppo on February 8.
In this handout photo released by the state-run SANA news agency on February 8, civilians wave national flags in Damascus as they take part in a rally in support of President al-Assad.
A man stands next to debris in the road following a reported airstrike by Syrian government forces in Aleppo on February 8.
Medical personnel look for survivors after a reported airstrike in Aleppo on Saturday, February 1.
Syrians carry a dead body following an airstrike on February 1.
A man walks amid debris and dust on January 31.
An injured man is covered in dust after an airstrike on January 29.
A man tries to fix electrical wires in Aleppo on January 27.
Rebels and civilians check out a crater that activists say resulted from a Syrian government airstrike on an Aleppo bus station on Tuesday, January 21.
Men rush to a site that Syrian government forces reportedly hit in Aleppo on January 21.
Buildings lie in ruins in Aleppo on Sunday, January 19, after reported air raids by Syrian government planes.
A child collects items from a garbage pile in Douma, Syria, northeast of the capital, on Saturday, January 18.
A piece of exploded mortar lies in a street in Daraya, a Syrian city southwest of Damascus, on Friday, January 17.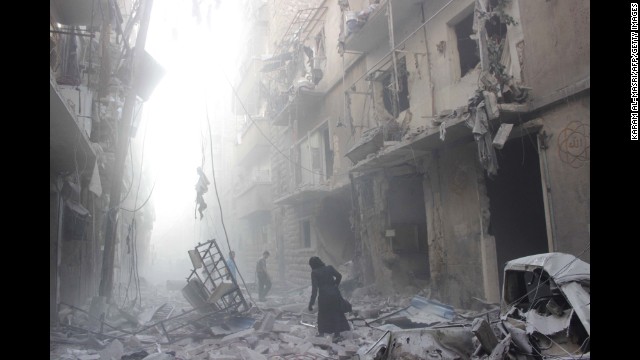 Photos: Syrian civil war in 2014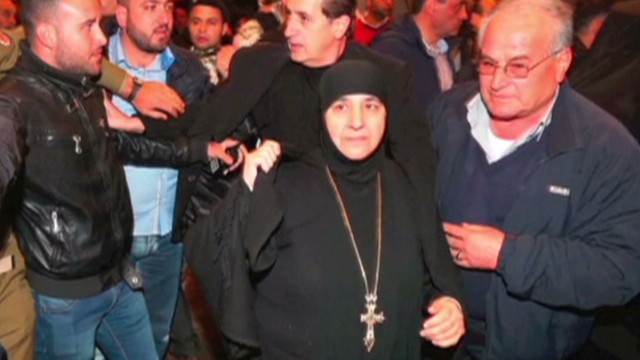 Kidnapped nuns set free

Charities combat 'donor-fatigue'
Ibrahim said that no money was paid to secure the release of the nuns, adding that it was part of a deal in exchange for 150 females that the Syrian government was holding.
Qatari intelligence chief Saadeh Kobeisi reportedly crossed deep into Syrian territory to obtain the release of the Syrian nuns. He crossed into Syria as part of a Lebanese Internal Security delegation, the state news agency said.
Senior Orthodox Bishop Lucas al-Khoury earlier Sunday spoke to pro-Syrian government Ikhbariya television. He stood on the Syrian side of the border hoping to greet the nuns and said the negotiations for their release took several months because the kidnappers "made false requests intended to stall the process."
The Greek Orthodox figure, who often speaks out on behalf of Syrian President Bashar al-Assad's government, added that the recent Syrian troop offensive on the opposition stronghold of Yabroud worked in favor of the nuns' release.
Days after the kidnapping, SANA reported that armed terrorists took the nuns, implying that rebels fighting to oust al-Assad were behind the attack.
The chief of an opposition group based in London told CNN he had confirmed that al-Nusra Front fighters abducted the nuns, but Rami Abdurrahman said the fighters did so to protect them from what the group believed would be an impending attack by Syrian government forces.
CNN could not confirm Abdurrahman's account of why the nuns were taken from the Monastery of Saint Tecla in the predominantly Christian village of Maaloula, about 40 miles west of Damascus. Abdurrahman leads the Syrian Observatory for Human Rights, based in Great Britain.
The U.S. State Department has designated the al-Nusra Front a terrorist organization with links to al Qaeda.
Christians make up about 10% of the population of Syria, but Christianity has a rich history there.
Jesus was baptized in the Jordan River, and some people believe it was in a location now along a part of modern-day Syria. Some of the earliest relics were found there. And Maaloula, in the Qalamoun Mountains, is one of the last places where the ancient Aramaic that Jesus spoke is still the main language.
Many of Syria's Christians support the al-Assad government, fearing that an end to his presidency could lead to instability and an Islamist power grab.
Meanwhile, on Sunday four rescue workers who rushed to help survivors of a barrel bomb attack in the city of Aleppo became victims themselves when more of the crude explosive devices were dropped by government helicopters, according to the Aleppo Media Center, a communication outlet run by rebels fighting to oust al-Assad.
At least 14 are reported dead in that incident, the outlet said.
In another neighborhood Sunday, rescue workers recovered the bodies of a husband, wife and five children ranging in ages from 5 to 14, the outlet reported. A barrel bomb had apparently leveled their home, it said. The attack killed at least 10 people total and destroyed six residential buildings, the outlet reported.
The father of one child victim wept and flailed his arms against his body as he cried, "Where is my son, my Hamoudi? They buried them alive. Oh God, they buried them alive!" a video on YouTube shows.
READ: Al Qaeda branch in Syria issues ultimatum to splinter group
READ: UN Security Council passes Syria aid resolution
READ: CNN Exclusive: Videos show brutality of radical group ISIS in Syria
CNN's Saad Abedine and Greg Botelho contributed to this report.