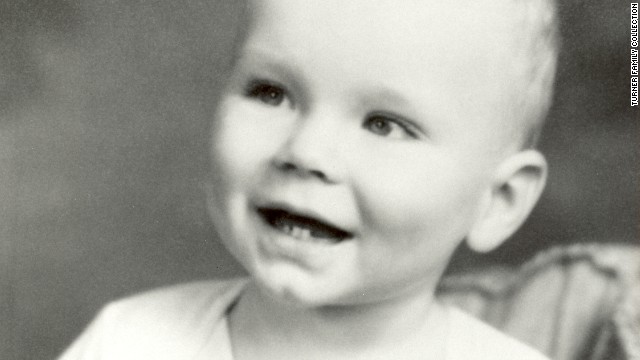 Robert Edward "Ted" Turner III was born November 19, 1938, in Cincinnati. Turner, the media mogul who founded CNN and Turner Broadcasting System, celebrated his 75th birthday in November.
Turner, seen here with his father at approximately 2 years old, was born to Florence and Robert Edward "Ed" Turner II. Turner's father ran a billboard advertising business.
Turner spent time in the U.S. Coast Guard after he left Brown University. He attended the school, in Providence, Rhode Island, from 1957-1960.
Turner married Judy Nye in 1960. The two had two children together -- Laura and Robert Edward IV -- before divorcing a few years later.
Turner with his father, Ed, on his wedding day. Ed Turner committed suicide three years later, in March 1963.
After his father's suicide, Turner took over the family business, Turner Advertising Co.
Turner remarried in 1964, to Jane "Janie" Smith. The two had three children together -- Beau, Rhett and Jennie -- and were married for more than 20 years.
Turner's five children when they were young: From left, Rhett, Beau, Jennie, Laura and Teddy.
Turner won the America's Cup, a prestigious sailing competition, in 1977. His racing yacht was named "Courageous," emblazoned on his sweater.
Turner bows after winning the 1977 America's Cup.
Turner at an America's Cup news conference.
Turner stands next to Atlanta Hawks star Tom McMillen before an NBA game at the Omni Coliseum in Atlanta in March 1982. Turner bought the Hawks in the same year he won the America's Cup. It became his second professional sports team; in 1976, he had purchased the Atlanta Braves baseball team.
On June 1, 1980, Turner launched CNN, the first 24-hour, all-news cable network.
Turner, right, talks on the set of an early CNN broadcast.
Turner at his desk in 1985.
Turner created the Goodwill Games, an international sports competition similar to the Olympics, in 1986. The first games took place in Moscow. After that, the event was held every few years until ending in 2001.
In 1987, Turner acquired all television rights to the classic film "Gone With the Wind."
Turner talks with former U.S. President Jimmy Carter in 1989.
A few years after divorcing his second wife, Turner married actress Jane Fonda in 1991.
Turner and Fonda take in a Braves game.
Turner was named Time magazine's "Man of the Year" in 1991.
With help from Fred Flintstone and Yogi Bear, Turner launches the Cartoon Network on October 1, 1992.
Turner talks to a reporter after the Braves won the World Series in 1995.
Turner hoists the Commissioner's Trophy after the Braves' triumph.
In 1996, Turner sold his company to Time Warner for $7.34 billion. He became vice chairman after the merger.
Turner gave the U.S. government $31 million to pay off a debt to the United Nations in 2001. Years earlier, Turner had donated $1 billion to the United Nations.
Turner speaks at United Nations headquarters in December 2002. One month later, he resigned as vice chairman from AOL Time Warner Inc.
Turner waits for his cameo in the 2003 film "Gods and Generals." He also financed the film, which was set during the Civil War.
Turner walks the runway during the Dressed to Kilt charity event in 2005.
Turner in his Atlanta office in 2007.
Turner tours Atlanta's CNN Center in 2010.
Turner at his Flying D ranch in Montana in 2011.
Ted Turner, a life in photos
Ted Turner, a life in photos
Ted Turner, a life in photos
Ted Turner, a life in photos
Ted Turner, a life in photos
Ted Turner, a life in photos
Ted Turner, a life in photos
Ted Turner, a life in photos
Ted Turner, a life in photos
Ted Turner, a life in photos
Ted Turner, a life in photos
Ted Turner, a life in photos
Ted Turner, a life in photos
Ted Turner, a life in photos
Ted Turner, a life in photos
Ted Turner, a life in photos
Ted Turner, a life in photos
Ted Turner, a life in photos
Ted Turner, a life in photos
Ted Turner, a life in photos
Ted Turner, a life in photos
Ted Turner, a life in photos
Ted Turner, a life in photos
Ted Turner, a life in photos
Ted Turner, a life in photos
Ted Turner, a life in photos
Ted Turner, a life in photos
Ted Turner, a life in photos
Ted Turner, a life in photos
Ted Turner, a life in photos
Ted Turner, a life in photos
Ted Turner, a life in photos