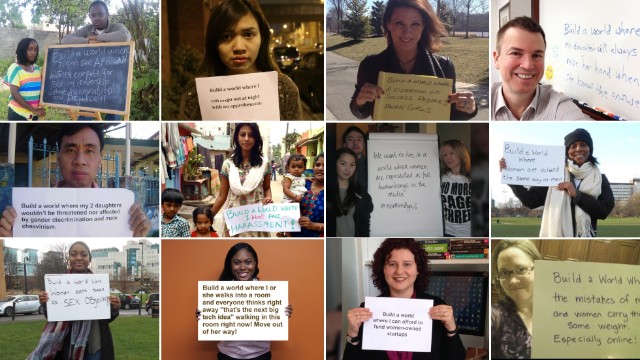 To celebrate International Women's Day on March 8, CNN asked you to finish this sentence: "Build a world where I can..." This is what you said.
Meera Vijayann
wants all of us to remember that we have the power to create a safe environment. "In streets and alleyways across Bangalore, communities are often vulnerable to crimes as they lack the power to report these crimes to the authorities," she says.
Indian iReporter
Shireen Mitchell
has been programming since she was just 10 years old. But even today, in a world where technology continues to infiltrate every facet of our lives, she says people find that hard to believe. For her, perceptions need to change.
Equal access to education is the dream for Texas-based iReporter Scott Baradell.
Australian iReporter Jessica Arvela says: "Throughout my undergraduate and postgraduate study, I have focused on gaining an understanding of the complex social, political, and even environmental forces behind human trafficking; in particular women and children. "
In Nairobi, Kenya, writer and publicist Corrie Mwende wants to build a world where female African leaders are the norm, not the exception. "My hope is that this notion changes and that soon women leaders will be recognized...and respected. A world of equality in all spheres," says Mwende.
"[I decided to run the organization] 'Women Who Tech' because I was tired of seeing so many talented women in tech who run startups overlooked," says Allyson Kapin.
Myriam Osei
. "I know being a female is not a crime, a mistake or an unfortunate situation." However, Osei says not every woman feels that way. And that is exactly why being independent is so important to her.
"I've never let my gender dictate my value or my worth," says UK-based iReporter
Kathy Korman Frey
is the founder of the
Hot Momma's Project
, an online library cataloguing stories of female success in business. She tells iReport that it is essential for women to make a concerted effort to come together in order to succeed.
Rummel Pinera
, a Filipino father, has a simple wish for his two daughters -- to be seen as equal members of society. "I want my daughters to grow up in a world that would not limit their opportunities just because of the fact that they're girls," he says.
Stephanie Davies-Arai
wants to live in a world where the media equally represent men and women. "I want to live in a society that respects women and girls with a media that celebrates them as full human beings."
Raffaella Quieti Cartledge
wanted to hear what people on the streets of London really want for women in the future. While taking a stroll in London, Cartledge started chatting with a student named Honey (pictured with her message).
iReporter
Cartledge
also met Anne Marie, an administrator for a London-based retail company. In her experience, she told Cartledge men are valued more highly than their female counterparts at work.
Kami Huyse
sent in her submission for International Women's Day. In addition to running a consultancy firm, she also serves on the board of directors for Civilination, a not-for-profit that aims to combat cyber-bullying.
Houston resident and iReporter
Boston-based iReporter
Omekongo Dibinga
says that while sexual and domestic violence affect both genders, young girls and women in general suffer at a disproportionate rate. "I want to build a world where no girl or woman has to suffer in silence for any reason," he says.
A world of hope
Fight discrimination
Change perceptions, shape minds
Education for all
Protect women
Female empowerment
Women run startups
Gender parity
Sisterhood
Equal opportunity
Reframe the conversation
More than an object
Equal pay for equal work
Stop cyberbullies
End the silence