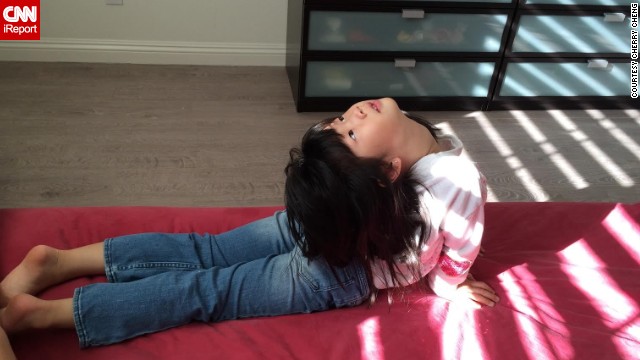 Cherry Cheng, a mom of two, says her daily exercise has rubbed off on her kids, including her 5-year-old daughter, Dora, who likes to do yoga and dance with her mom. "I don't tell them what to eat (and) what not to eat," said the Arcadia, California, resident. "They learn from (us)."
Jenni Conner of Santa Maria, California, and her 9-year-old daughter, Skylar, do a combat fitness program together at home every night. "I don't have to ask, she wants to do it," said Conner, a mom of two. "She has lost weight and built muscle. ... It's all because she watched her mom and chose to follow my lead."
Michael Joe Frausto Jr., a single father in Knox City, Texas, took up running as a way to spend time with his two kids, including his 10-year-old son, Michael Joe Frausto III, who did a 5K race with his dad. "I've always instilled in both children (that) with effort, so much more in life can be accomplished," he said.
"One of the most important things I can think of to get one's children to eat right is to cook at home," said Donna Gerepka of Timberlake, North Carolina, who said she almost always cooked at home when her two girls were growing up, including 22-year-old Sherri, pictured here. "Both are healthy, normal-weight adults now who cook for themselves and know what are wise choices when dining out."
Elisa Brooks of Mill Valley, California, talks to her 15-year-old daughter "gently and daily about establishing a healthy lifestyle now, because this is the groundwork for life." "When she leaves the gym, she is glowing and happy," said the mom of two.
James Prichard, a former stay-at-home dad in Oak Grove, Oregon, said there is no way to "ensure kids are getting a healthy lunch or breakfast unless you pack it yourself." So that's what he does. They now have their own chickens for eggs and built a cider press so they can freeze apple cider and have it throughout the year.
Tired of watching her high school students "scarf down Hot Cheetos with a Pop-Tart" for breakfast, Jessica Whiteside of Canton, Michigan, started buying fruit for her classroom. She now has a fruit basket on her desk at all times, spending from $50 to $80 a week "feeding her classroom." "Many students stop by on their way to other classes to grab a snack," she said.
Jessica Abalos, mom Marcus and Sabrina, ages 10 and 11, doesn't buy things that are "bad" for her kids: no sodas, candy, cereal or chips. "The moral of the story is, your family will eat healthy if you only buy healthy. When there is nothing left to eat, they will be forced to eat healthy or starve," said Abalos, of Dania Beach, Florida.
Julia Dunst, a mom of five in Reading, Pennsylvania, says that for years, they had no TV at home, and physical activities have always been part of their lives, including running, walking, volleyball, even push-up contests. "We challenged ourselves and the children. ... It was part of the fun."
Jennifer Hunt says she talks with her 13-year-old daughter, Julianne, about food and exercise almost every day. "She and I talk about performance more than exercising as a workout. In other words, what does she wish she could do physically? And how will she get from here to there?" said the Little Rock, Arkansas, mom of three.
"Everything in moderation" is what Kimberly Summer Denitz of Santa Barbara, California, tells her two kids, Sadie and Travis, ages 11 and 13. "Sure, I make a mean batch of double-fudge ding-dongs, but I'll give them a hefty helping of green beans with their baked chicken beforehand."
Gabriela Gilner, a mom of three, says bad food is a "treat" in their house. "My 7-year-old (Brent) asked the other day: 'What is a Twinkie?' " said the Virginia Beach resident. "I turned around and looked at my husband, and yes, I felt proud as a mother."
Alena Payne's idea to keep her kids, Ariana and ShyAnne, ages 10 and 14, on a healthy track was to toss out the scale. "I caught my oldest on the scale all the time complaining she was fat because she weighed more than the other children," said the Norfolk, Virginia, mom. "I don't want my girls feeling the need to match a number on a scale, so I got rid of it and told them that if they feel good and healthy, that is what matters."
When Megan O'Neil's nearly 18-year-old daughter was a toddler and an under-eater, she would lift up her lunchbox and say, "Wow, Mom, there must be a lot of protein in here!" Years later, the marathon-running mom has a new daily message for her daughter: "Hydrate; you need water!"
iReport: Healthy living tips for teens
iReport: Healthy living tips for teens
iReport: Healthy living tips for teens
iReport: Healthy living tips for teens
iReport: Healthy living tips for teens
iReport: Healthy living tips for teens
iReport: Healthy living tips for teens
iReport: Healthy living tips for teens
iReport: Healthy living tips for teens
iReport: Healthy living tips for teens
iReport: Healthy living tips for teens
iReport: Healthy living tips for teens
iReport: Healthy living tips for teens
iReport: Healthy living tips for teens