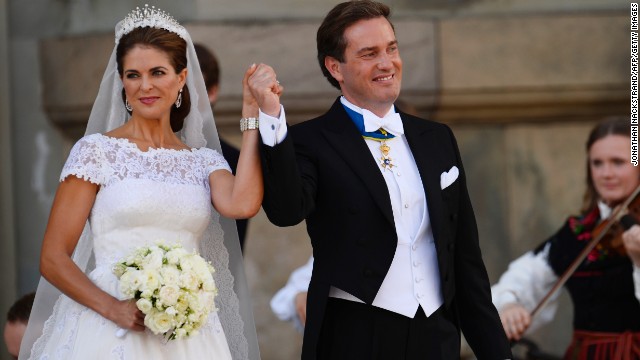 A trip down the aisle shouldn't mean stumbling into debt. Experts say it's important to determine your spending priorities as a couple -- and then skimp on the rest as needed.
Favors are frequently left behind on the tables. As one expert says, guests just don't care -- they're just there to party. If you really want your guests to go home with a token, consider making it edible.
Wedding cake makes a great photo op, but many guests just take a bite or two, if any. Consider a small "show cake" and a less-expensive dessert bar.
Wedding planners say full glasses of Champagne are routinely left un-sipped. Skip the Champagne toast and just have it as option at the bar, or offer sparkling cider.
A bride may have dreamed of a frothy, fancy designer dress since childhood, but many come to regret the expense and the discomfort of wearing it all night. Plenty of brides say they're just as happy having an off-the-rack or sample dress altered so it fits perfectly.
Fancy shoes also might not be worth the splurge. They're often hidden under the dress, and brides slip them off the first second they can.
A vintage veil that's been passed down for generations is one thing. But many brides find that the cumbersome veil they've spent a fortune on is the first thing to go the second the ceremony is over.
One bride says she worked out a deal with her florist to "rent" the flowers, which were collected at the end of the night and brought in to decorate local hotels and restaurants.
Printed programs and menus are lovely, but often skippable. If you're determined to have a menu for everyone, print each guest's name at the top so it becomes a place card.
It might seem incredibly necessary to drape every last surface with flowing fabric, it's often less expensive just to focus on better lighting. Plus -- guests are too busy drinking, dancing and merrymaking to look up and see what's above them.
Wedding $: Where to skip or splurge
Wedding $: Where to skip or splurge
Wedding $: Where to skip or splurge
Wedding $: Where to skip or splurge
Wedding $: Where to skip or splurge
Wedding $: Where to skip or splurge
Wedding $: Where to skip or splurge
Wedding $: Where to skip or splurge
Wedding $: Where to skip or splurge
Wedding $: Where to skip or splurge
STORY HIGHLIGHTS
Wedding etiquette isn't just for the betrothed -- there's an art to being a good guest
An open bar isn't an excuse for a free-for-all; tip well and don't get sloppy
If you're helping out, don't stress out the couple by being late
So the food may not be top-notch; just smile and say 'Congratulations!'
(CNN) -- Weddings can induce some crazy behavior.
Emotions are high, families are thrown together, and everyone must conform to a tight schedule, not to mention the shenanigans that ensue when there's an open bar involved.
Sarah Pease, a well-known New York City proposal planner, has been planning weddings since 2008 with her company Brilliant Event Planning. She's seen everything from the "bridezilla" stressing about every detail to guests showing up in white -- a major faux pas.
Pease shared a list of 10 ultimate wedding guest "don'ts" with Business Insider.
Don't deviate from a schedule
"It's not a very sexy idea, but planning can really impact your day and the happiness of everyone there," Pease said. "If you've got to be at the church by 6 p.m., the bride has to leave the hotel by 4:30 because it will take her a half-hour to get into her dress. The hair and make-up people need to know that everyone has to be done by 4:45 so they can help the bride get into her dress. And so on.
"If you're helping or attending, stick to the timeline so the bride only has to worry about her schedule."
Don't wing a wedding speech
"People who say they're just going to wing it crash and burn every time," she said. "You wouldn't show up to a half-marathon without training, so don't show up to the wedding without a prepared speech."
"And keep it short," Pease added. "A five-minute speech is long. Hit three general ideas. Don't ramble. In my experience, you'll get on a tangent and then start talking about something uncomfortable."
Business Insider: 23 Crazy Ways Couples Got Married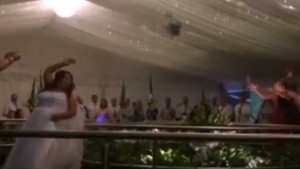 Woman goes over balcony for bouquet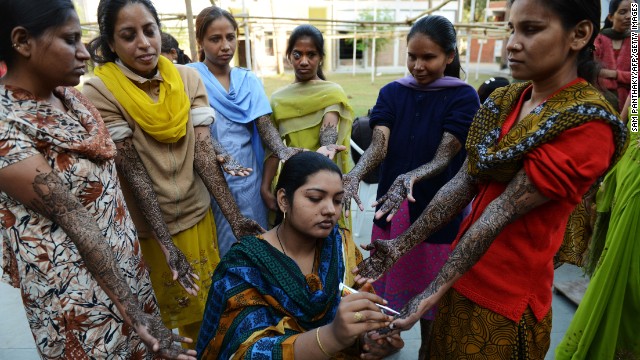 Farzana Shaikh applies henna to visually impaired brides at the Andh Kanya Prakash Gruh institute as part of a ritual ahead of their marriages in Ahmedabad, India.
A bride rides to church in the western Macedonian village of Galicnik.
Belorussian brides take part in an annual Bride Parade in central Minsk.
Rows of newly wedded brides and grooms mingle at the Unification Church's mass wedding at its headquarters in Gapyeong, South Korea, on February 17, 2013. About 3,500 couples matched by the church tied the knot.
An Indian Muslim bride during a mass wedding ceremony at the ancient Sarkhej Roja in Ahmedabad.
iReporter Mikael Ruttkay Hylin shared this striking photos from his trip to Mbour, Senegal, where he witnessed a traditional Muslim Senegalese wedding.
Pakistani brides attend a mass marriage ceremony in Karachi. Some 110 couples participated in the ceremony organized by a local charity welfare trust.
Brides line up with their grooms during a group Valentine's Day wedding at the National Croquet Center on February 14, 2013, in West Palm Beach, Florida. The group wedding is put on by the Palm Beach Country Clerk & Comptroller's office, and approximately 40 couples tied the knot.
Couples prepare for marriage during a mass wedding ceremony on December 12, 2012, in Yogyakarta, Indonesia. The day saw a surge in marriage around the globe to mark 12/12/12.
A Jewish bride is surrounded by relatives during her wedding to the great-grandson of the rabbi of the Tzanz Ultra-Orthodox Hasidic community in Netanya.
In Jerusalem, Hannah Batya Penet dances with her relative during her wedding to Rabbi Shalom Rokach, the grandson of the Belz rabbi.
A Japanese bride and her groom sail through a canal for their wedding procession after their wedding ceremony at Katori city in Chiba prefecture.
A bride checks her messages while getting ready for a group picture after a mass wedding outside a Chinese temple in Kuala Lumpur on December 12, 2012.
Musali Mohammed al-Mujamaie, a 92-year-old Iraqi farmer, sits next to Muna Mukhlif al-Juburi, his new 22-year-old wife, the new wives of his grandsons and one of his grandsons during celebrations after their group wedding in his home village of Gubban, Iraq.
A crowd cheers as a Lebanese bride and groom pose for pictures at the site of a car bomb just days before in Beirut, Lebanon.
Syrian soldiers celebrate with their their brides during a group wedding in Latakia province.
A dozen brides wait to be married during a ceremony for a radio station contest at the Little Chapel of the Flowers on December 12, 2012, in Las Vegas.
Lini Sasanto waits to fill out marriage papers at a busy City Clerk's office on December 12, 2012, in New York.
A bride walks holding her wedding dress at the Gandan monastery on October 18, 2012, a special day on the lunar calendar for wedding ceremonies, in Ulaanbaatar, Mongolia.
Luz Carmen Gonzalez marries Jesus Chacon in the last Maya wedding before the end of the Maya Long Count Calendar -- Baktun 13 -- and the beginning of a new era on December 17, 2012, in Merida, Mexico.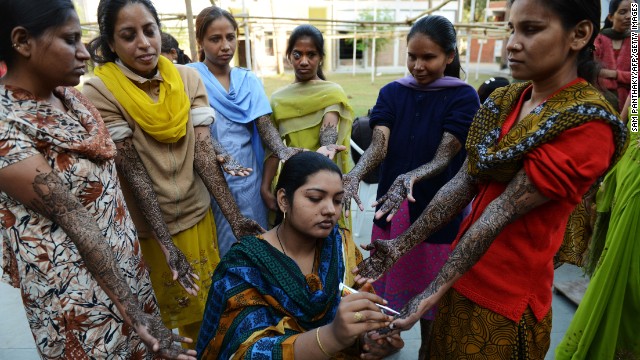 Brides around the world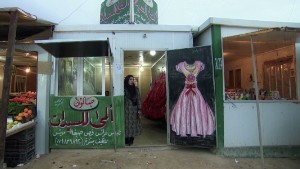 Bringing beauty to a refugee camp
Don't wear anything resembling white if you're not the bride
"The bride should be the only person wearing white," Pease said. "There's always at least one person, man or woman, who shows up to the wedding as a guest wearing white or a color too close to white."
Don't stiff the bartender
"You should still tip the bartender even at an open bar because they're making your drink right there," she said. "It's a nice service and they're there for a long time."
Business Insider: 15 Things You Never Knew About Walt Disney World
Don't get drunk
"This is really up to each person, but there's this idea of 'wedding drunk' that I find useful," she said. "Basically, don't become a hassle for the bride and groom."
Don't complain about the food
Wedding food is notoriously bad, but Pease advises sucking it up. "The rule of thumb is, ask yourself will this upset the bride and groom. If the answer is yes, you shouldn't do it."
"You could have a Michelin chef cooking for everyone and some people would still complain," she said. "Just focus on what's good about the wedding, like getting to celebrate with friends and family."
Business Insider: The 25 Richest Neighborhoods In America
Don't miss out on the conversation we're having at CNN Living.
Follow us on Twitter
and
Facebook
for the latest stories and tell us what's influencing your life.
Don't monopolize the bride and groom
"Cocktail hour is a great time to spend two minutes with the couple," Pease said. "Don't track them down and try to spend 30 minutes catching up. If they did that with all 200 of their guests, they'd run out of time."
"The best thing to do is say a quick congratulations," she said. "You can always schedule a phone call or lunch with the bride or groom for later."
Don't get too aggressive with the bouquet toss
"You've either got a wedding full of single girls or possibly some divorcees," Pease said, "but either way emotions can run high if you think about it as a literal sign for who's getting married next. I like when there's an alliance to flip it to a girl who really wants it."
"If guys want to get in on the action, by all means go for it," she added. "Just be gentle. Don't tackle anyone. It's not a contact sport."
Don't buy a gift the couple didn't put on their registry
"Going off registry is always a contentious subject," Pease said. "Some people think an off-registry gift is more personal or heartfelt. But honest to God, people really just want the stuff on their registry. That's why they picked it."
"But if you do choose to go off registry, cash is a better option than an alternate gift," she told us. "I prefer cash gifts where the giver says, 'Here's x-number of dollars for a helicopter ride in Hawaii, close to where you're honeymooning,' or 'Here's something to put toward your new mortgage.' Something like that to give the money a purpose."
Don't steal souvenirs from the wedding decorations
"Always check with the venue before you grab anything," Pease advised. "Don't ask the bride and groom, but you can ask a waiter or a wedding planner."
"Sometimes, depending on something like an agreement with a florist, you can take the whole centerpiece," she said. "Other times, the vases are rentals or the flowers are being donated to a local hospital the next morning. It's always best to check."
What's the worst guest behavior you've ever seen? We'd love to hear all about it in the comments below, on Twitter @CNNLiving or on CNN Living's Facebook page.
Copyright © 2011 Business Insider.