10 most affordable Caribbean hot spots
updated 2:31 PM EST, Thu March 6, 2014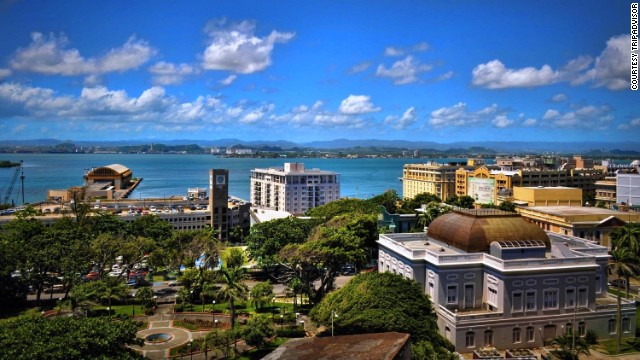 Puerto Rico ranks first for affordability on TripAdvisor's Caribbean TripIndex. The average cost for a trip for a group of four in March or April? $4,609.
Jamaica ranks second for affordability. With average round-trip airfare, seven nights in a hotel, six dinners and a snorkeling excursion, the cost for a group of four is about $4,631.
The same trip in Trinidad and Tobago runs about $4,771.
In the Dominican Republic, the group of four would pay about $5,315.
On the Dutch/French island of Sint Maarten/Saint-Martin, the getaway would run about $5,566.
In the Bahamas, the cost would be $5,815 ... not including golf.
The tab would run about $5,833 for the same trip in Curacao.
In Bermuda, which made the list despite its Atlantic Ocean location, the trip tops six grand at $6,064.
In Aruba, expect to pay $6,260 for your group of four.
Grenada's cost runs about $6,622 for the same trip.
1. Puerto Rico
2. Jamaica
3. Trinidad and Tobago
4. Dominican Republic
5. Saint Martin
6. Bahamas
7. Curacao
8. Bermuda
9. Aruba
10. Grenada
STORY HIGHLIGHTS
TripAdvisor's TripIndex looks at the cost of vacations to the Caribbean in March and April
Puerto Rico provides the most affordable getaway of the locations priced
St. Barthelemy is the most expensive destination on the list
(CNN) -- Who's ready for a Caribbean vacation?
Yes, that's what we thought.
TripAdvisor has priced 20 beautiful, primarily Caribbean, island destinations with its TripIndex Caribbean, comparing the cost of a one-week trip for a group of four for the period from March 1 through April 30. Included in the price analysis is the average cost of round-trip airfare from the continental U.S., a seven-night hotel stay, six dinners and a half-day snorkeling excursion.
Beach photos that will make you drool
Here are the top 10 value destinations, with the cost of a weeklong trip for four:
1. Puerto Rico - $4,609 2. Jamaica - $4,631 3. Trinidad and Tobago - $4,771 4. Dominican Republic - $5,315 5. St Maarten-St Martin - $5,566 6. Bahamas - $5,815 7. Curacao - $5,833 8. Bermuda - $6,064 9. Aruba - $6,260 10. Grenada - $6,622
By comparison, the cost of a weeklong stay at the most expensive destination TripAdvisor looked at -- St. Barthelemy -- is nearly $12,500.
Here are priciest destinations, for travelers with deeper pockets:
1. St. Barthelemy - $12,486 2. Anguilla - $10,709 3. British Virgin Islands - $9,712 4. Turks and Caicos - $8,812 5. St. Kitts and Nevis - $8,668 6. Cayman Islands - $8,082 7. Antigua and Barbuda - $7,972 8. St. Lucia - $7,627 9. U.S. Virgin Islands - $6,782 10. Barbados $6,710
TripAdvisor used spots with the most visits from U.S. travelers on TripAdvisor between November and January to create its Caribbean TripIndex.