Fighting in Iraqi city; injuries reported
updated 4:41 PM EST, Tue March 4, 2014
(CNN) -- At least four militants believed to be wearing suicide vests took over a city council building in the Iraqi city of Samarra on Tuesday and were fighting with security forces, police said.
Police gave this account: The attack started with a suicide car bomber striking the entrance of the building where security forces were positioned; militants then took over building.
At least 24 people were wounded in the attack.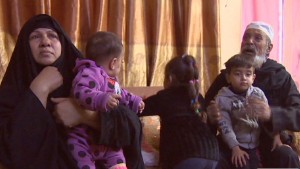 One family, 2 bombs, 3 sons killed
Iraq has been beset with political and sectarian violence for many months. More than 700 Iraqis were killed and nearly 1,400 others were wounded in terrorist attacks and other violence in February, the United Nations said Saturday.
Samarra is the site of the Askariya mosque. Eight years ago, bombers attacked the Shiite mosque, an act that spurred widespread Sunni-Shiite violence.
Iraq: Moderates are hard to find as 'bad old days' return in Baghdad
Two years after U.S. withdrawal, are things worse than ever?
Three sons, two bombs, one family's hell